Personal Info
Date of Birth

Age

37 Years Old

Famous Name

Tim Paine

Country Australia AU
Facts
Birth Name

Timothy David Paine

Birth Country

December 8, 1984

Famous Name

Tim Paine

Horoscope

Sagittarius

Father

John Paine

Father Nationality

Australian

Mother

Sally Paine

Mother Nationality

Australian

Net Worth

$6 million

Position in Team

Wicket keeper

Current team

Tasmanian Tigers

Nationality

Australian

Ethnicity

White

Profession

Cricketer

Current City

Hobart

Married to

Bonnie Maggs

Wife profession

Music celebrity
Tim Paine is an international cricket player based in Australia who plays in the Australian domestic cricket league. The Australian wicket-keeper currently plays for the Tasmanian Tigers and was also Australia's captain for Test Matches. He became Australia's 46th Test captain in 2018. He holds the 5th position to keep the most dismissals in a series and 3rd in the captains who have kept wicket (23).
In his more than 15 years of cricketing career, he has numerous records. In Test Match, he holds the 11th position for most runs in a career without a hundred with 1534 runs. Also, he has the most catches(63) in a series. In ODI also, he is the 11th cricketer with the most catches in an innings.
Who is Paine? His Bio and early career
Australian native Timothy David Paine was born on December 8, 1984, under the star sign Sagittarius. He is the son of his father John Paine and his mother Sally Paine. The thirty-four years old holds an Australian nationality and is of white ethnic background.
Australian cricketer Tim Paine
SOURCE: https://www.cricket.com.au/
He was into cricket since his early days. According to his father, he was always the smallest one to play. He said,
"We lived in a fairly quiet street and we lived right next to the beach so they used to play a fair bit of beach cricket. He was always the smallest one playing cricket."
He grew up in Tasmania along with his 5 siblings. His brother Nick Paine is also a professional football player playing in the Tasmanian Football League. Nick Paine's brother Tim was also very good at football, before moving to cricket professionally.
How much Paine earns from Australia?
Timothy Paine has an estimated net worth of $6 million equal to 44 crores Indians. Paine accumulated most of his income from cricketing both in clubs and internationally. Bonuses and incentives also add to his fortune.
He also earns from playing for the Tasmanian Tigers and must be earning well.
Tim Paine enjoying in the seaside
SOURCE: [email protected]
According to sources, he earns $278,000 as a base salary from Australia. Meanwhile Australia's captain Aaron Finch is the highest-paid Australian cricketer who earns $750,000 per year.
Read about:- How much is Caitlin Clark's Net worth in 2021?
The relationship status of Tim Paine; Who is his Wife?
Paine Tim is currently happily married to his wife, Bonnie Maggs. The love birds had their beautiful wedding ceremony with their close relatives and friends in 2016.
CAPTION: Tim Paine and his wife Bonnie Maggs
SOURCE: [email protected]
Tim's wife Bonnie is also a music celebrity by profession who is in the Elephant Rivals group since 2006. She was born on November 2, 1985, in Hobart, Australia.
Recently, Bonnie broke the news after her baby was seen being a babysitter by Rishabh Pant, an Indian cricketer.
The couple has a total of 3 children, Milla, Charlie, and Wilson.
Read also:- Is Malik Osborne Dating?
Tim Paine's scandal and his wife Bonnie's response to it
In 2017, Bonnie's husband Tim was found to be involved in a scandal where he sent a private message to one of the former employees of Tasmania cricket.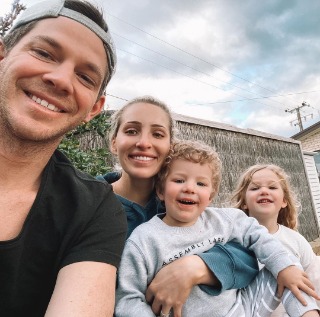 Tim Paine with his wife and children
SOURCE: [email protected]
Read also:- Who is Jones Dating? Know About His Girlfriend and Relationship Status
The news again came into the limelight in November 2021 and finally, she has opened her thought about it. She said,
"I felt betrayed, and I felt hurt, upset, and I felt ***sed off, I also had feelings of gratitude because he was being so honest with me."
Explore more athletes at PlayersWiki.