Caitlin Clark is a beautiful and talented American professional college basketball player for the Iowa Hawkeyes of the Big Ten Conference. Haweyes's Shooting Guard has been named Iowa Miss Basketball and Gatorade State Player of the Year and awarded the Tamika Catchings Award and the WBCA Freshman of the Year.
Clark was born on the 22nd of January 2002 in Des Moines, Iowa, to Brent Clark and Nizzi-Clark, where he grew up with her parents. The Iowa Hawkeyes Shooting guard Clark was raised in Iowa with her two brothers Blake and Colin. Clark used to play football with them during her childhood resulting in her good physicals.
Caitlin Clark of Iowa Hawkeyes: Childhood and Collegiate Basketball Career Stats
Caitlin Clark is a gifted basketball player. She excelled at Dowling Catholic High School, earning recognition as a two-time MaxPreps high school All-American and Naismith All-American. Off the court, Caitlin's dedication and commitment extend beyond her individual success. Her unwavering drive to uplift her teammates and inspire the next generation of athletes makes her a true role model.
Caitlin Clark during her tournament
SOURCE: instagram@caitlinclark22
Caitlin Clark Career Stats In Detail:
Caitlin Clark's basketball career has been exceptional, as seen in her 2022-23 season stats. With an average of 27.8 points, 7.1 rebounds, and 8.6 assists per game, she demonstrates her scoring ability, rebounding skills, and playmaking prowess. Shooting at 47.3% from the field and 38.9% from beyond the arc, her efficiency is commendable.
Overall, Caitlin's impressive performance establishes her as a dominant force in collegiate basketball. The Iowa Hawkeyes star played basketball at five with her brothers and father, while Maya Moore and Kevin Durant were her favorite players.
The Iowa Hawkeye's Star Player, Caitlin Clark's Achievements, Accolades, Medals as a Collegiate Athlete
Caitlin Clark, the star player of the Iowa Hawkeyes, has achieved remarkable success as a collegiate athlete.
In the 2020-21 season, she earned several accolades, including All-Big Ten 1st Team, AP All-America 2nd Team, and Big Ten Rookie of the Year.
Her outstanding performance led her to receive prestigious awards such as the USBWA Freshman of the Year and WBCA Freshman of the Year.
Continuing her stellar career, Clark garnered more recognition in the 2021-22 season, being named to the All-Big Ten 1st Team and AP All-America 1st Team.
She stood out as the Big Ten Player of the Year, solidifying her position as one of the top players in college basketball.
In the 2022-23 season, Clark's excellence was further acknowledged with the AP Player of the Year award and the Naismith Award, recognizing her as the best player in the nation.
She excelled in postseason play, earning accolades such as the Big Ten Tournament MVP, NCAA All-Tournament selection, and NCAA Tournament All-Region recognition.
Caitlin Clark's Social Media Presence
Clark is active on social media and frequently posts about her professional life, she has 48.5K followers on Instagram, and she goes by caitlinclark22.
Who is Caitlin Clark's Boyfriend?: The Iowa Hawkeyes' Star Player is Single !
While Caitlin Clark dazzles on the court as the Iowa Hawkeyes' shooting guard, her love life remains a mystery. The talented athlete has yet to find a special someone, as she pours her heart and soul into her flourishing career. With her focus firmly on basketball, Clark's romantic endeavors take a backseat for now.
Caitlin Clark is focused on her collegiate career.
SOURCE: Instagram- @Caitilinclark22
Being young and driven, Clark's journey has been all about chasing her dreams rather than chasing hearts. Will fate throw a surprising twist into her love story in the future? Only time will tell. As fans eagerly follow her Instagram, they catch glimpses of her professional triumphs and cherished family moments, wondering if a whirlwind romance awaits this rising star. Stay tuned for the next chapter in Caitlin Clark's captivating tale, both on and off the court.
How much is Caitlin Clark's Net worth in 2023?
Clark is one of the most successful and promising basketball players who has had a series of awards and records for her. The Iowa Hawkeyes Shooting guard started her career at such a young age, which reflects she has collected some good fortunes to date.
The Haweyes star is currently playing for the college levels, so she is facilitated in her accommodations and flooding, and there are great years ahead of her. Clark's net worth is $100,000 approximately, and it has been increasing significantly.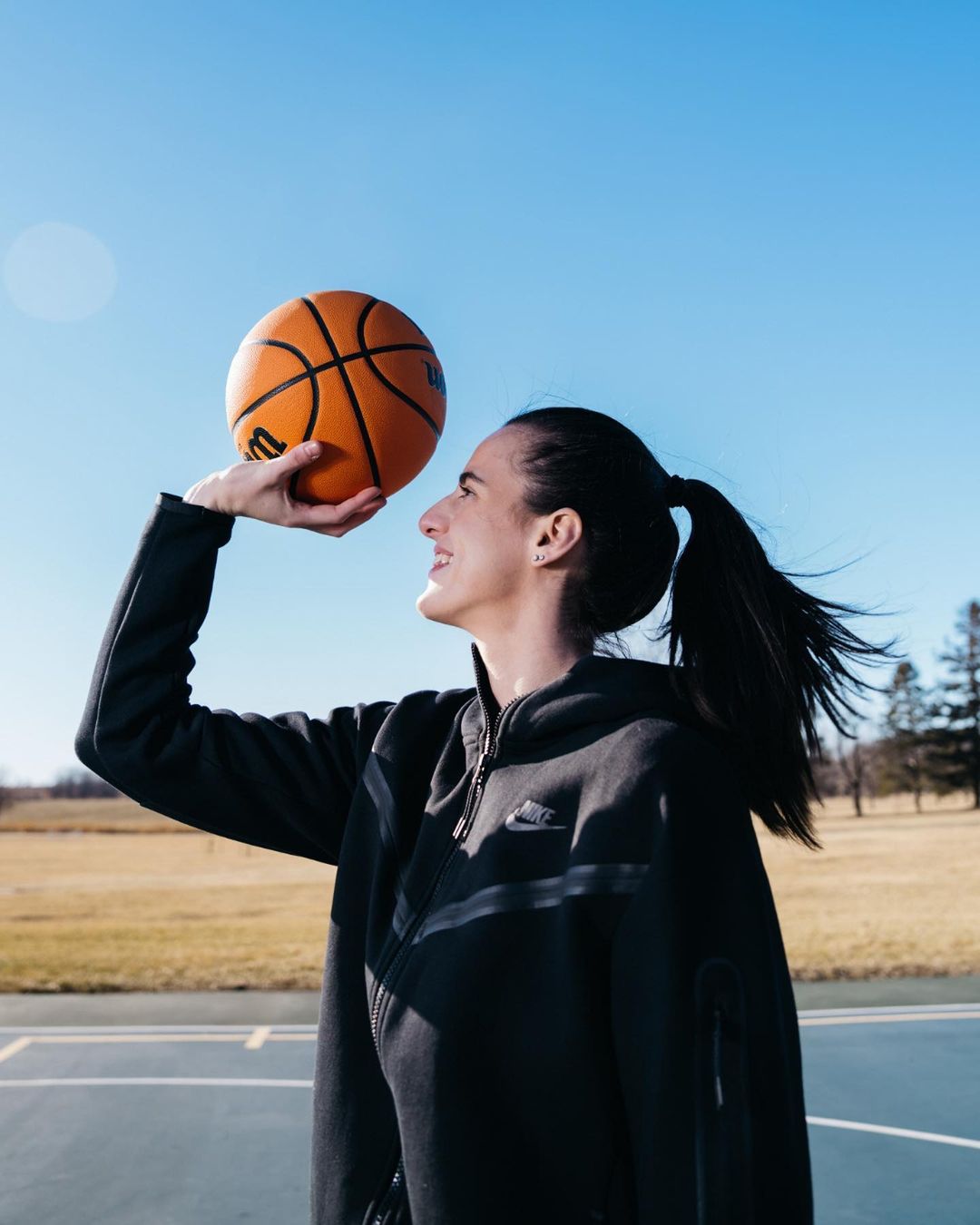 Caitlin Clark is the basketball star of the Iowa Hawkeyes.
SOURCE: Instagram- @Caitilinclark22
Caitlin will be listing her name in the upcoming WNBA draft and will be drafted among the top picks. The average salary of a WNBA player is above $100,000. Jewell Loyd and Arika Ogunbowale are among the highest-paid athletes with an annual salary of $234,500.
In addition, Clark must have earned a good amount for representing the USA National team in several international events and winning medals. Looking into her Instagram account, It seems like, Caitlin has an endorsement deal with Nike.