Sam Adekugbe is a professional football player from Canada and currently plays in the Turkish professional league called Super Lig. He plays in the left-back position for Hatayspor and has been playing for them since 2021. He wears jersey number 23 for the club.
Sa Adekugbe also plays for Canada's national team. He has been representing Canada's senior team since 2015. In 2015, he played in the CONCACAF Under 20 Championships but couldn't secure top position. He has also played in the Qualifier of the 2018 World Cup.
Adekugbe's Bio and Personal Information
Samuel Ayomide Adekugbe, famously known by the name Sam Adekugbe was born on January 16, 1995, in London, England. According to astrologers, his birth sign is Capricorn.
He was born to his father Ben Adekugbe and Dee Adekugbe. His parents are originally from Nigeria and moved to England in the early 2000s. Later in 2005, they migrated to Canada. Since then, Adekugbe's family is living in Canada.
Sam Adekugbe with his mom
SOURCE: instagram@samadekugbe
There is not much information about his father, but he is a proud son of his mother Dee. He has shared her photos on his social media and appreciated her sacrifices.
As he said in March of 2019,
"I just wanna make my mama proud"
He was born and raised along with his brother Elijah Adekugbe.
Are Sam and Elijah related?
According to Wikipedia, Sam and Elijah are related as brothers. They were born to the same parents. Elijah is 1 year younger than his elder brother Sam.
Elijah was born on April 26, 1996. He currently plays in the midfielder position for the Canadian club named Cavalry FC. But they joined different youth teams. Sam joined AFC Clayton while Elijah joined Manchester City's youth team.
Both Adekugbe brothers were fans of Manchester City. Both Adekugbe's siblings started playing football together during their early years.
How tall is Samuel? How much does he weigh?
As of 2022, Sam Adekugbe is just 27 years old and possesses a height of 5 feet 9 inches (1.75 meters).
His weight is around 65 kg and has long hair. During the match, he mostly wears a black band.
Read: Johnstone Bio and body measurements
How much is Sam's Net worth in 2022? What is his salary at Hataysur?
According to the sources, the net worth of Canadian defender Sam Adekugbe is estimated to be $600,000 approximately. His main source of income is from playing football professionally.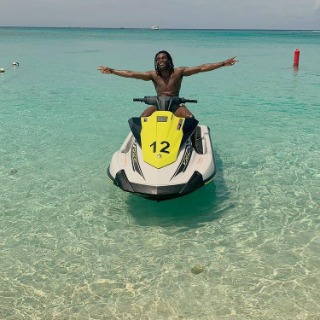 Sam Adekugbe enoying his vacation
SOURCE: instagram@samadekugbe
He is living a moderate lifestyle with his family in Canada.
Also Read: Takehiro's net worth and market value and Morocco Advanced To Knockout Stage of 2022 World Cup After Beating Eliminated Canada: Final Result and Match Highlights
Salary at Hatayspur
In August of 2021, Sam signed a 3-year contract with Hatayspor that was worth 400 thousand pounds. The contract;'s expires on June 30, 2024.
It is not sure how much he earns at Hatayspor, but it is estimated that he earns about 100,000 per year at his current club. During that time he used to play for MLS club Vancouver Whitecaps FC.
Sam Adekugbe signed a contract with Hataysur
SOURCE: instagram@samadekugbe
As per sportrac, the British-Canadian defender used to earn between the range of $50,000 to $80,000 from 2013 to 2017. In 2017, his salary was $80,000 while he earned $70,000 the previous year. Similarly, he earned $60,000 and $50,000 in 2015 and 2014 respectively.
Market Value of Sam A
Since joining, Hataysur, Sam's market value has increased rapidly. His market value in 2022 is 1.4 million pounds which is the highest he has ever had.
In December of 2020, it was just 400 thousand pounds.
In 2018, Valerenga bought him just 150 thousand pounds from Vancouver before he moved to Hataypur.
Who is the outfitter of Adekugbe?
As per transfermarkt, his current outfitter is Adidas.
Sponsors of Samuel Adekugbe
Though he has not been able to land any major sponsorships deals, he has some partners sponsoring him.
KidSport Calgary & Area
In October of 2020, he announced his partnership with a brand named KidSport Calgary & Area. He is the brand ambassador of the brand.
Sam Adekugbe promoting his sponsor
SOURCE: instagram@samadekugbe
It is not sure what is the exact monetary transactions exchanged between the business partners
Who is Adekugbe dating? His girlfriend and dating life
As of 2022, there is no news about his girlfriend and partner of Sam. He has never shared photos with any partners or love. So, it is very hard to predict whether he is currently dating anyone or not.
But if we visit his social profiles, we can see the comments of many girls. No doubt, he has many lady's followers.
Sam Adekugbe with his friends
SOURCE: instagram@samadekugbe
And the Hatayspor's number 23 barely appears with any girl in the public. He is a quite secretive persona and silent about his relationship status.
And it is sure that he is not married yet. So, he is believed to be single in 2021.
read: Daniel Wass's Relationship status and Married life
Adekugbe's Dog
Visiting his Ig, we can confirm that he loves dogs. He has shared many photos of his dog.
He has a cute dog of yellow color with large fur.
Youth Career of Adekugbe
He grew up being a Manchester City fan and playing football at the local level. In 1998, he joined the Manchester United Grassroots Program for 2 years.
At the age of 5, he joined AFC Clayton's youth team and later moved to Calgary Foothills in 2004. Then, Vancouver Whitecaps FC signed him in their youth team in 2011 and he spent 22 years there.
It was in 2013, he was finally included in the club's Under 23 team. Later in 2013, he joined the senior team officially.
Read More.Josip Pivaric
Social Media Presence
The Nigerian-origin Canadian left-back Sam Adekugbe is highly active on his Instagram. His Instagram username is @samadekugbe and has more than 9,000 followers.
He frequently posts about his private life, games, training and time with friends on his Ig.
Read More.Maxime Crepeau
Explore more athletes at PlayersWiki.