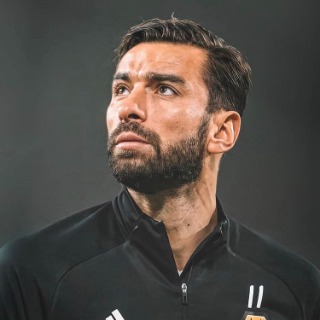 Personal Info
Date of Birth

Age

35 Years Old

Famous Name

Rui Patrício

Country Portugal PT
Facts
Father

Rui Patricio

No. of Twitter Followers

31,000 +

No. of Instagram Followers

807,000 +

Father Nationality

Portuguese

Mother

Beliza Patricio

Birth Name

Rui Pedro dos Santos Patrício

Net Worth

$12 million

Mother Nationality

Portuguese

Currently Married

Yes

Siblings

1 Nidia()

Salary

3 million +

Married to

Vera Ribeiro

Birth Country

Regueira de Pontes, Portugal

Famous Name

Rui Patrício

Children

Pedro and Eva

Divorce

Yes (Joana)

Wife profession

Nutritionist

Horoscope

Aquarius

Wife nationality

Portuguese

Nationality

Portuguese

Ethnicity

Portuguese

Sponsors

Puma and Samsung

Profession

Football player

Is played fifa word cup 2018

Yes
Rui Patricio is a professional football player from Portugal and currently plays in the Italian top league, Serie A. He plays in the goalkeeper position for Roma and has been playing for them since 2021. Before joining Roma, he used to pay for Wolverhampton Wolves where he was considered one of the best players in his position.
He also played in the Portuguese league for the club Sporting CP where they won Taca de Portugal 3 times. He won it in 2006-07, 2007-08 and 2014-2015. He is also a 1-time winner of Taca da Liga having it won in 2017-18. Individually, he was named the Sporting CP player of the Year in 2011 and 2012.
He was the main goalkeeper of the Portuguese team that won the UEFA European Championship in 2016 along with Cristiano Ronaldo In 2018-19, he won the UEFA Nations League. In 2017, he was also included in the SJPF Primeira Liga Team of the Year, which is a
Patricio's Personal Information and Family
Rui Pedro dos Santos Patrício, famously known as Rui Patricio was born on February 15, 1988, in Regueira de Pontes, Portugal. According to astrologers, his birth sign is Aquarius.
His mother's name is also Rui Patricio and his mother's name is Beliza Patricio.
Young Rui Patricio with his father
SOURCE: [email protected]
But as per sources, his family background is an athlete. His mom used to run all-around while his dad was also a professional runner who ran 100-meter hurdles.
He has not shared much information about his father's and mother's personal information. But once he posted a photo of himself with his father and appreciated him. He compared his relationship with his father to his current relationship with his son.
Read: Who is Lukas Klostermann? Who are his parents?
Rui's Siblings
He grew up along with his sister Nidia Patricio. His sibling is already married as of now.
There is no personal information about his sister Nidia.
R Patricio's Early Career
The young Portuguese started playing football in the streets of Leiria where he used to play as a striker. Along with the forward position, he sometimes used to play in his current position.
Young Rui Patricio
SOURCE: [email protected]
Scouts from Sporting CP discovered his goalkeeping strength and signed him in their youth academy. At that time, he was just 12 years old. He played for 6 seasons with their youth team before getting promoted to their senior team in 2006. He made his professional debut for the senior team on November 19, 2006.
He found his breakdown in Premier League in 2018 for the club Wolverhampton Wolves.
Rui's height and weight | How tall is he?
As of 2022, Rui Patricio is just 33 years old and possesses a height of 6 feet 3 inches (1.90 meters).
His weight is around 84 kg and has short black hair. He also has a well-trimmed beard.
Rui's Net worth || His market value, salary and Contracts
According to the sources, Rui Patricio's estimated net worth is $12 million approximately. His main source is playing football for different teams in different top leagues.
His net worth includes all of his assets, cars, houses, properties, earnings and others.
Besides, he also earns from sponsorships and brands deals.
Read: Charles Andres Brym's net worth and Career Earnings
Salary and Contract with Roma
Patricio is currently playing in the top leagues of Italy for Roma. As per the source, his yearly salary at Roma is £3,796,000 and weekly £73,000 in 2022.
The highest salaried player in Roma is Lorenzo Pellegrini who earns £6,344,000 per year at the club. Similarly, Tammy Abraham earns £5,824,000 and El Shaarawy earns £5,512,000 per year.
Salary at Wolves and Sporting CP
He spend 3 seasons with Wolves in Premier League where he used to earn £5,200,000 per year which is the highest salary he has earned in a year. In 2022 also, he earned £5,200,000 at Wolves.
Rui Patricio in front of an airplane SOURCE: [email protected]
Before, he used to earn just £1,456,000 in 2018 with the Portuguese club Sporting CP. In 2017 and 2017, he earned £1,404,000 and £1,352,000 respectively.
Market Value
According to transfermarkt, the market value of Rui P is 8 million pounds in January of 2022.
His highest market value is 20 million pounds which were in 2019 when he was at Wolves.
Transfer history
He is the youth product of Sporting CP from where he transferred to Wolves at the fee of 18 million pounds in 2018.
And in 2021, he was transferred to AS Roma for a fee of 11.5 million pounds.
Sponsorship of Rui
Being one of the top footballers of Portugal, Rui Patricio is sponsored by various brands. Some of his major sponsors are PUMA and Samsung.
PUMA
The Roma's goalkeeper Rui Patricio is sponsored by PUMA. PUMA is a German manufacturer of athletic and casual footwear.
Rui Patricio promoting his sponsor PUMA
SOURCE: [email protected]
Patricio can be seen frequently promoting his outfitter PUMA through his Instagram.
With Samsung
He was also involved in Samsung's mobile advertisement Galaxy S8.
In June of 2017, he promoted their new mobile series posting,
"I challenge you to meet me tomorrow at 12 noon at the Samsung store at Almada forum. Show me how good you are! #GalaxyChallenge #GalaxyS8."
Patricio's relationship status | Who is he married to?
Rui Patricio is currently happily married to his wife Vera Ribeiro. The couple has been in a relationship for more than 4 years as of 2022.
He frequently shares his photos with his current love.
Rui Patricio with his wife
SOURCE: [email protected]
Vera is not the only woman, Patricio is married to. Vera is his second wife and is living together in Italy.
Who is Rui's second wife Ribeiro?
Vera Ribeiro is a professional nutritionist and psychologist. She specializes in sex therapy and has been helping her husband in that matter.
Vera is also famous for becoming the wife of Portuguese goalkeeper Rui Patricio. Besides, she is also an Instagram model and has a huge fan following of more than 17,000 followers. and her Insta Id is vera.r.patricio.
We could not extract her further information as she has set her Insta Id private.
Rui Patricio's Frist Wife || Why did he get divorced?
Previously, Rui Patricio was married to his ex-wife Joana Pereira. The couple was in a relationship for several years before getting married in 2011.
They were childhood sweethearts and were very young during their marriage. Their relationship started as their family were close friends and used to meet often.
There is no exact source that can claim the exact date and venue of their wedding ceremony but according to Rui, the marriage took place normally in the presence of close friends and relatives.
Rui Patricio with his former wife Joanna
SOURCE: https://lifebogger.com/
Though the couple's relationship was seemingly nice before marriage, it did not go well after they tied their knot. Eventually, they decided to part their ways and got divorced in 2012, just one year after their marriage.
As per sources, Rui Patricia had to cut his wealth in half to give to his former wife.
Read: Who is Arne Mier dating? His relationship status
Why did Rui Patricio got divorced from his former wife?
Though it is open that Rui and his ex-wife Joanna did not have a great marriage life, there has been constant doubt about their reasons for divorce.
Both Rui and Joanna have different opinions regarding their marriage failure.
As per Rui, Joanna had a sexual relationship with her personal trainer. But Joanna has different views regarding this. According to Joanna, Rui was in a relationship with another woman, Liliana Aguiar. Liliana is a Portuguese model and was accused of having a relationship with Rui.
He was seen with his accused girlfriend Liliana in public even after his divorce from his former wife. So, his wife was not wrong.
Their relationship was not for long and eventually stopped dating in 2012.
Rui Patricio: Father of 2 children
Rui Patricio is blessed with 2 children from his second wife. He has a son and a daughter. His son's name is Pedro Patricio who was born in 2016. While his little baby girl's name is Eva Patricio.
Rui Patricio with his wife and children
SOURCE: [email protected]
He frequently shares their photos of his children on his Instagram.
Social Media Presence
Rui is also an active social media user who is active on Twitter and Instagram.
His Instagram username is @rpatricio1_ and has more than 31,000 followers. He frequently gives updates about his profession on Twitter.
He is also active on Instagram with the ID @rpatricio1 and has more than 807,600 followers. His Insta is filled with photos of himself, and his games and training.
Explore more athletes at PlayersWiki.