Personal Info
Date of Birth

Age

22 Years Old

Famous Name

Rodrygo Goes

Country Brazil BR
Facts
Father

Eric Goes

League Name

La Liga

Relationship Status

In Relationship

Weekly wage

£132,000

No. of Twitter Followers

2M

First Name

Rodrygo

Endorsment brands

Nike

No. of Instagram Followers

7.9M

Past Team

Real Madrid

Father Nationality

Brazilian

Market Value

€70.00m

Mother

Denise Goes

Wikipedia

https://en.wikipedia.org/wiki/Rodrygo

Last Name

Goes

Birth Name

Rodrygo Silva de Goes

Net Worth

$8 million

Mother Nationality

Brazilian

Facebook

Currently Married

Unmarried

Twitter

https://mobile.twitter.com/rodrygogoes

Salary

£6,864,000

Married to

Birth Country

Brazil

Endorsement earnings

$2 million annually

Instagram

https://www.instagram.com/rodrygogoes/

Horoscope

Capricorn

Position in Team

Forward

Date

January 9

Nationality

Brazilian

Current team

Real Madrid CF and Brazil national football team

Girlfriend

Luana Atik Lopes

Sponsors

Nike

Religion

Muslims

Profession

Foorball Player

School Location

Is played fifa word cup 2018

Not/No

Squad No

21

Started career as

Footballer

Currently Club

Real Madrid CF and Brazil national football team

School attended

Unknown
Rodrygo Goes is a Brazilian professional football player playing for the Real Madrid Club de Futbol, known as Real Madrid CF, which is a Spanish professional football club based in Madrid, Spain. Rodrygo also plays for Brazil's national team and has earned five International caps as a senior player. Rodrygo wears jersey number 21 for Real Madrid CF.
Rodrygo plays from a right-wing position. Before joining Real Madrid for €45 million in 2019, he started his career at Santos, where he played 80 games and scored 17 goals. At the age of only 18, Rodrygo earned his senior debut for Brazil at the international level in 2019. Rodrygo Goes has won multiple trophies including the prestigious trophy, UEFA Champions League.
Rodrygo's salary and net worth details
Real Madrid's emerging player Rodrygo started playing football professionally in 2017. Rodrygo played for several teams during his five-year, trained, and experienced football career. Rodrygo's football career may be primarily responsible for his mastery in life. Rodrygo enjoys a successful life because of his persistent work ethic.
According to salarysport, Rodrygo allegedly earns £6,864,000 per year and £132,000 per week playing football for his present club Real Madrid. The transfer market currently estimates Rodrygo's value to be £70.00 million. In 2022, Jong's net worth is $8 million. Rodrygo's highest market worth as of now is £70.00 million.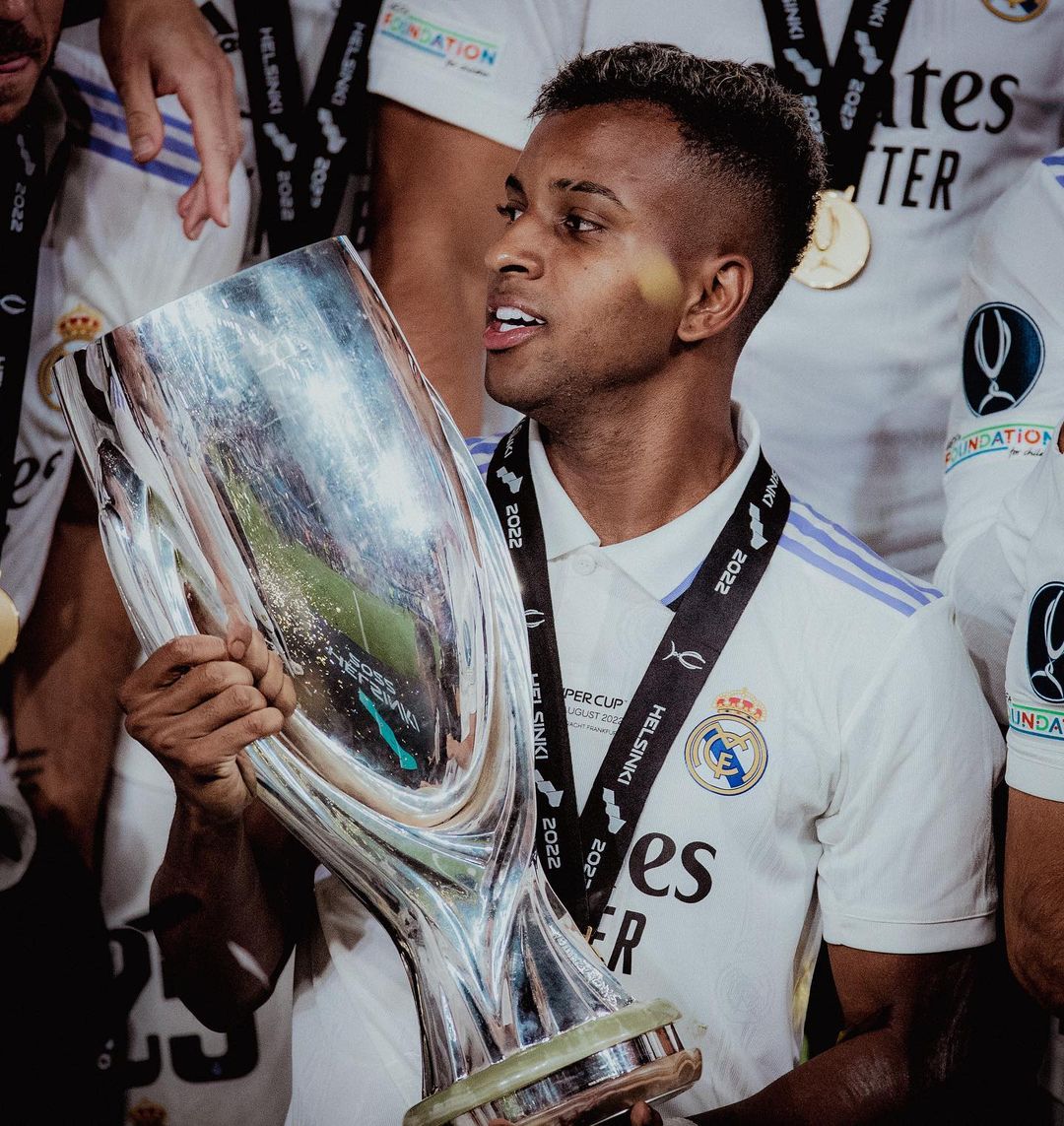 Rodrygo with Champions League trophy
SOURCE: [email protected]
Eden Hazard, a Belgian striker, is the highest-paid player for Real Madrid in 2022, earning £26,000,000 per year and £500,000 per week. Austrian defender David Alaba, who earns £18,668,000 annually with £359,000 per week, comes in second after Hazard.
Rodrygo also earns from different endorsement and sponsorship agreements. Rodrygo is currently endorsed by the Nike sports club. Rodrygo has his own home in Brazil. Rodrygo is a satisfied man who has a lavish automobile. Rodrygo is living his extraordinary life in his own house in Brazil with his family.
Also, read about Emerson Royal.
Rodrygo Relationship Status
Rodrygo is currently in a relationship with Brazilian lady Luana Atik Lopes. The enthusiastic and vibrant pair from Brazil has been in a connection for a very conversational time. Luana and Rodrygo first met in a stadium while Rodrygo was playing a football match. Since then, Rodrygo and Luana have been together.
Rodrygo with his girlfriend
SOURCE: https://ohmyfootball.com/
Luana Lopes and Rodrygo post pictures from their daily lives on social media. A proficient Real Madrid striker appreciates spending time with his girlfriend. Moreover, Luana is a passionate Instagram model. Rodrygo and Luana had only been dating a short while when they fell head over heels. Although Goes and Lopes haven't yet made their bond public, they have been seen jointly quite a few times since they repeatedly go out and discuss myriad topics.
Rodrygo Personal Details
Rodrygo Silva de Goes better known as Rodrygo Goes, was born in Osasco Brazil, on January 9, 2001. Rodrygo's star sign is Capricorn. Rodrygo is 21 years old as of 2022. Rodrygo is 5 feet 9 inches tall and weighs over 64.0 kg. Rodrygo spent most of his childhood in Brazil. The left winger from Real Madrid holds Brazilian citizenship and is a Brazilian national.
Rodrygo Goes on Real Madrid's outfit
SOURCE: [email protected]
Rodrygo went to a school that puts a lot of emphasis on Brazil. Rodrygo attended educational facilities and institutes there as well. Rodrygo's parents were both raised in Brazil. Rodrygo, however, has refrained from disclosing his parents' full identities and specializations of competence. However, Rodrygo's father's name is Eric Goes, and his mother's name is Denise Goes. Rodrygo has preserved the identities and sentiments of self of his siblings.
Who is Rodrygo Goes' father Eric Goes?
Rodrygo Goes's father Eric Goes full name is Eric Batista de Goes, Eric Goes is a retired football player. He was born on July 23, 1984. Eric is 5 feet 9 inches tall.
Rodrygo with his father and mother
SOURCE: https://ng.opera.news/
Eric used to play from the right-back position. He started his football career in 2007 debuting from the Brazilian club Rio Claro. Since then he had played for multiple football teams. He last played in 2016 for club Football club Cuiaba.
Rodrygo Goes International Career
Rodrygo was selected on March 30, 2017, to play for Brazil's under-17 team at the Montaigu Tournament. He scored his team's lone goal in a 2-1 defeat to Denmark in his championship debut, and he added two more goals against Cameroon and the United States.
Rodrygo and Santos teammate Yuri Alberto were both called up to the under-20s on March 7 of this year, but both were removed from the team six days later at the request of the club's president.
Rodrygo Goes on Brazilian outfit
SOURCE: [email protected]
Rodrygo received his first call-up to the Brazil senior squad in November 2019 for the Superclasico de las Americas match against rival Argentina in Riyadh, Saudi Arabia. He took the place of Willian for the final 20 minutes of the 1-0 defeat on November 15.
Social Media Presence
Professional Striker Rodrygo Goes uses social media extensively. Goes likes posting daily updates about his life on social media. Goes prefers Instagram above other social networks. Instagram user @rodrygogoes has a verified account with a blue checkmark.
Although he uses Instagram more regularly than Twitter, Goes utilizes both. @RodrygoGoes is Rodrygo's Twitter handle. He has 2.1M Twitter followers and 7.9M followers on Instagram. He is also among Real Madrid and Brazil's top athletes.
Read More.Barbara Cartaxo's Husband Paulinho 's Net Worth in 2018: Know about his Salary, Career Stats and Awards
You may uncover an ample range of sports information, buzz, and love concerns on Playerswiki.