A native of Tunisia, Ons Jabeur is a professional tennis player who is the current No. 1 Tunisian player. Also, she is the highest-ranked African and Arab tennis player in WTA and ATP rankings history. Besides, Jabeur has won three singles titles on the WTA Tour.
Likewise, Jabeur has also won 11 singles titles, and one doubles title on the ITF Women's Circuit. Jabeur achieved her first major final at the 2022 Wimbledon Championships. Apart from her professional life, Jabeur is also doing well in her personal life, as she is happily married to her husband.
Ons Jabeur Is Married To Her Husband
Jabeur is a married lady who lives happily with her supportive husband, Karim Kamoun. Her husband is a former Russian-Tunisian fencer who has worked as her fitness coach since mid-2017. Furthermore, Jabeur and Kamoun have been married for a long time now.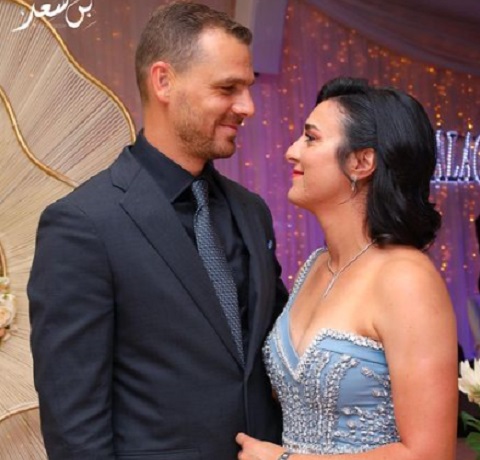 Ons Jabeur with her husband
SOURCE: Instagram @onsjabeur.com
They dated each other for years and walked down the wedding aisle in 2015. Since then, they have been together as a husband and a wife. Jabeur often posts images with her partner on her Instagram account.
We can follow Jabeur on Instagram as @onsjabeur.
Career Overview
Jabeur was passionate about playing sports from an early, and in August 2007, she started playing on the ITF Junior Circuit. Her junior Grand Slam debut came at the 2009 US Open. In 2008, Jabeur began playing on the ITF Women's Circuit when she was just 14 years old.
In February 2012, she made her WTA Tour main-draw debut at 17 as a wildcard at the Premier 5 Qatar Open. Later, Jabeur also played in a major championships and won some of them. Moreover, she participated in all four Grand Slam singles events in 2017 for the first time.
Read More.Alycia Parks
In 2019, she played all four Grand Slam main draws for the first time and stayed in the top 100 the entire year. Furthermore, Jabeur had a breakthrough at the Australian Open. Apart from that, she has also represented her nation in various championships.
She represented Tunisia at the Junior Fed Cup in 2009, together with Nour Abbes and Sonia Daggou. In 2011, Jabeur made her senior Fed Cup debut for Tunisia. Also, meet Stefanie Vogele, who is also a professional tennis player.
How Rich Is Ons Jabeur? Net Worth Explored
According to Celebrity Net Worth, Jabeur is estimated to have a net worth of around $5 million. She is one of the most prominent tennis players like Maddison Inglis, who has won multiple championships, which has also helped her earn a decent amount of money.
As of now, Jabeur has a whopping $8,964,743 as prize earnings for her matches. Besides making money from her career, Jabeur earns something from brand endorsement. In 2015, she signed a partnership deal with Qatar National Bank Tunisia.
Ons Jabeur thanking Monastir after a match
SOURCE: Instagram @onsjabeur.com
Likewise, Jabeur became sponsored by the Tunisian telecommunications operator Tunisie Telecom in 2020. And in February 2022, Jabeur signed a sponsorship contract with Talan, an innovation consulting firm. So, from all these, Jabeur has undoubtedly taken a fair profit.
Details On Her Early Life
Ons Jabeur was born to her parents on August 28, 1994, in Ksar Hellal, Monastir, Tunisia. Her parents are Samira and Ridha Jabeur. Moreover, Jabeur holds Tunisian nationality.
She also has two older brothers named Hatem and Marwen, and an older sister named Yasmine. She comes from an athletic family background, as her mother played tennis recreationally and introduced Ons to the sport at the age of three.
Read More.Sara Sorribes Tormo