Josip Stanisic is a professional footballer who plays as a defender for the Bundesliga club Bayern Munich as a right-back and center-back. Stanisic plays for the Croatia national team. The young footballer made his Bundesliga debut for Bayern Munich on April 10, 2021, playing against Union Berlin.
Furthermore, Stanisic is one of the most prominent players on his team, who has led them to win various titles, including the Bundesliga: 2020-21, 2021-22, and DFL-Supercup: 2021 & 2022. While playing for Bayern Munich II, Stanisic played an important role in helping the team win 3. Liga: 2019-20.
Everything On His Career Earnings & Net Worth
Stanisic has been playing for Bayern Munich since August 1, 2021. According to Salary Sport, Stanisic earns £16,000 per week and £832,000 per year playing for the team of Bayern Munich. Stanisic is making a good profit from his current team. According to Transfermrkt, the current market value of Stanisic is €4.00m.
While moving from FC Bayern II to Bayern Munich, Stanisic's market value was €400Th. So, from this, it becomes clear that Stanisic's income is increasing. Stanisic's net worth may be in the millions, but none of the media outlets have shared the exact details. So, Stanisic's net worth remains under review.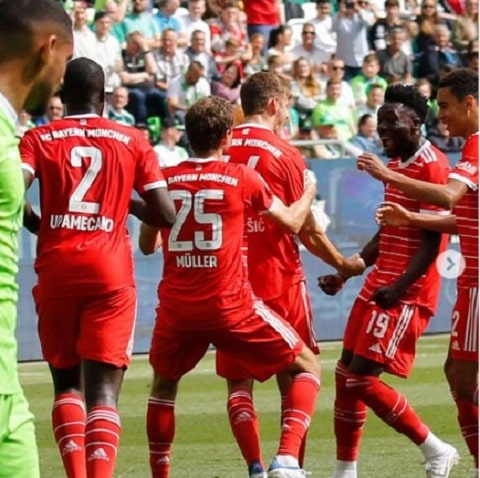 Josip Stanisic with his teammates
SOURCE: Instagram @josip_stanisic.com
Moreover, Stanisic lives a lavish life as he has earned a massive amount of money from his profession. The professional footballer shows off his lifestyle from his Instagram handle, where he features his day-to-day activities.
Also Read: Choupo Moting and Dani Ceballos
Relationship Status: Does Stanisic Have A Girlfriend?
The young football player appears to be leading a single life. So, there is no information about him being involved in any affairs. Also, his recent social media shows that Stanisic is highly focused on his career at the moment.
Apart from that, it also becomes clear that Stanisic likes to keep his personal life away from the media, as he has not made a single post regarding his love life on social media. As he has gained fans from different locations, they are concerned about his love affair.
Josip Stanisic with his group
SOURCE: Instagram @josip_stanisic.com
So, Stanisic may give some updates about his girlfriend in the future. To get updated on Stanisic's lifestyle, we can follow him on his social media accounts.
Also Read: Josip Brekalo
Career Overview
Josip Stanisic started his football career by playing with 1860 Munich. After that, he went on the team of SC Furstenfeldbruck. With the club's younger B-Juniors, Stanisic was one of the top performers from the beginning and was the second-best goalscorer on his team. In May 2016, Stanisic was pulled up to the U17, in which he also gave his best.
Later, he was noticed by FC Bayern Munich. So, in 2017, Stanisic came to the team and began playing for them. In the summer of 2018, he played the part of the season preparation with the professional team of FC Bayern and was also used in two matches in Klagenfurt and Philadelphia. He continued playing with the A-Juniors. Not only that, but Stanisic was the new team captain there in his second season.
Josip Stanisic during a match
SOURCE: Instagram @josip_stanisic.com
Moreover, Stanisic made his professional debut for Bayern Munich II on July 26, 2019, in 3. Liga by playing against KFC Uerdingen. In that game, Stanisic came as a substitute at half-time for Angelo Mayer. Similarly, Stanisic made his Bundesliga debut for Bayern Munich on April 10, 2021, in a match against Union Berlin. Stanisic signed a professional contract with Bayern on July 1, 2021.
Stanisic gave his best performance and also impressed Bayern coach Julian Nagelsmann during the pre-season. So, he remained with the senior team. Meanwhile, Stanisic made his Champions League debut on September 14, playing against BarcTheir team won the gameir team by 3-0. Stanisic's contract with the team was extended on October 15, 2021, which is until 2025.
Furthermore, Stanisic scored his first goal for Bayern on May 14, 2022, in a draw match against Wolfsburg. Talking about his international career, he holds German and Croatian citizenship. So, he is eligible to play for both nations. On August 23, 2021, Stanisic was called up to the Croatia U21 team by Igor Biscan to play against Azerbaijan and Finland at UEFA Under-21 Euro 2023 qualifiers.
But due to an injury, Stanisic couldn't play those games. Finally, Stanisic made his debut for the senior team on October 8 by playing against Cyprus.
You May Read: Mile Skoric
Details On His Age and Parents
Born on April 2, 2000, Josip Stanisic is 22 years old as of 2022. The 22-years-old footballer is a native of Munich, Germany, who was raised by his beloved parents, Damir (father) and Sandra (mother). His father is from Malino, while his mother is from Oriovac.
So, StanisicGerman and Croatian dual nationalityroatian and belongs to a mixed ethnic background. Moreover, Stanisic comes from a large family, but he has not talked much about them. So, Stanisic loves spending time with his family members during his spare time.
Josip Stanisic maintains his personal life private
SOURCE: Instagram @josip_stanisic.com
Back on June 19, 2022, Stanisic shared a family photo visiting a place with them. So, it can be said that Stanisic is a family person and has also received tremendous support from them.
Follow Stanisic On Instagram
Entering the topic, Stanisic is an active social media user who likes to feature his professional life on his handles. Stanisic is most active on Instagram, and his username is registered as @josip_stanisic. Stanisic posted his first post on Instagram on February 20, 2017.
So, we can say that Stanisic has been using the platform since 2017. Likewise, Stanisic has been followed by more than 72.1k people on Instagram, and his account has also been verified by IG. From this account, Stanisic keeps his fans updated with his various games and events.
Read More.Toma Basic