Personal Info
Date of Birth

Age

25 Years Old

Famous Name

Jamie Senegal

Country United States US
Facts
No. of Twitter Followers

11,700 +

Birth Name

Bryce Joseph Boyer

Net Worth

$100,000

Birth Country

Reading, Pennsylvania, US

Salary

$30,000

Famous Name

Jamie Senegal

Children

No

Horoscope

Virgo

Nationality

American

Girlfriend

Alex Ocean

Current City

Reading, Pennsylvania

Profession

Wrestler

School attended

Schuylkill Valley High School
Jamie Senegal is an American professional wrestler who is the first trans woman to ever wrestle for the NWA(National Wrestling Alliance). She also has appeared in Game Changer Wrestling(GCW), SHIMMER, No Peace Underground, and in many other wrestling matches organized by various wrestling promoting companies.
Jamie first made her professional wrestling debut on June 13, 2015, against "Twisted" Tate Hammer at Atomic Championship Wrestling in Stevens, PA. She is the winner of both, the cruiserweight championship and heavyweight championship during her time under ACW.
Jamie's Personal Information and Education
Bryce Joseph Boyer best known as Jamie Senegal inside the ring was born on September 13, 1997, in Reading, Pennsylvania, and her star sign is Virgo. She attended Muhlenberg School District and later graduated from Schuylkill Valley High School.
According to the sources, she also used to be a cheerleader, gymnast, and diver during her high school days.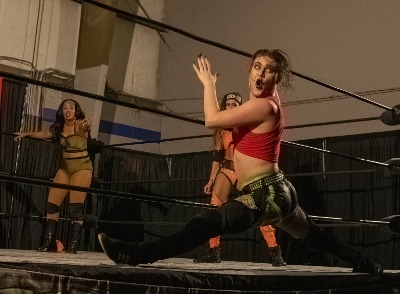 Jamie Senegal in the ring
SOURCE: [email protected]_ken
Regarding her family, Jamie herself has never revealed about them via any social media maintaining her privacy. Neither has she ever revealed anything about her siblings.
Net Worth and Earnings
Jamie Senegal earns money by fighting in various competitions, to sum up, her total earnings. Her net worth is supposed to be $100,000 approximately. Her salary is estimated to be approximately $30,000.
NWA's first-ever transgender fighter will also get an opportunity to make history on pay-per-view that will be held on August 28, 2021. She deserves it because of the best performance that she brings to the ring.
According to sources, a local NWA fighter can earn ranging from $250 to $1000 per month. Though it is quite a low salary, popular figures like Nick Aldis, current NWA World Heavyweight Champion earn six figures.
Read about NWA World Heavyweight Champion Nick Aldis's salary at NWA.
Jamie Senegal's Relationship Status
Jamie Senegal openly is a gay wrestler. According to the sources, Jamie is dating Alex Ocean. The duo is also called Gay Pro Wrestling Couple in the field. Both of them are affectionate towards each other including interviews.
Jamie Senegal's girlfriend Alex Ocean
SOURCE: [email protected]
The couple together seems to be having a great time with each other maintaining a smooth relationship. Since both of them share the same interest in the wrestling field, there is no doubt for the duo getting well along with each other. Also getting a lot of positive support in the field, the couple together has contributed a lot in the wrestling field.
As of 2021, there are no sources claiming the dispute between these 2 lovers. So it seems the pair are having a good time with each other.
Read about Nyla Rose's relationship status in Plyerswiki.
Senegal's Career
Jamie Senegal began training for wrestling when he was still in eleventh grade at a Pennsylvania-based promotion called Atomic Championship Wrestling and Rouge Women Warriors.
`She made her professional wrestling debut dates back on June 13, 2015, after training to wrestle on January 5, 2015. Jamie also debuted at Combat Zone's student show Dojo Wars in July 2016.
Jamie has wrestled in many promotions including Rampage Pro Wrestling, Grand Slam Wrestling, Freakshow Wrestling, and many more. The Saviour of Women's Wrestling best describes her fighting style as very hard-hitting and stiff striking action on the ground. Senegal has a real constant high-performance quality. She has gained experience of about 6 years in the wrestling field by now.
Senegal has expressed her thoughts about wanting to compete internationally in several different countries including Japan, UK, Germany, New Zealand, China, Australia, etc. With the effort that she has kept on for years, it's obviously possible to make her dreams become a reality, isn't it?
Know more about Jamie Senegal
Jamie Senegal is active in social media like Twitter with the username @thejamiesenegal. She has over 11.7 K followers.
Explore more athletes in Playerswiki