Personal Info
Date of Birth

Age

23 Years Old

Famous Name

Femke Bol

Country Netherlands NL
Facts
No. of Instagram Followers

106K

Net Worth

$1.5M

Currently Married

Unmarried

Birth Name

Femke Bol

Birth Country

Amersfoort, Netherlands

Famous Name

Femke Bol

Horoscope

Libra

Nationality

Dutch

Ethnicity

White

Awards

Bronze medalist Olympic

Current City

Amersfoort

Religion

Christian

Profession

Sprinter

Came to fame after

Summer Olympics

University attended

Wageningen University
Femke Bol is a sprinter from the Netherlands who is best known for racing in the 400 meters and 400 meters hurdles. She has won multiple medals in the 400 m hurdles and 4*400 m relay, including a solo bronze in the Tokyo Olympics. Bol's personal best in 400m hurdles is 52.03 seconds and 50.37 seconds in the 400m distance.
Femke Bol is an athlete who made a name for herself in the 2020 Tokyo Olympics. The Olympics is a global sports event that will bring together great athletes from all over the world to compete in front of thousands of stadium spectators and millions of online fans. Femke Bol won two silver medals in the world indoor championships in 2022 in 400 m and 4*400 m hurdles.
Bol Neatherland: Who is Femke Bol
Femke Bol, better known as Bol, was born on February 23, 2000. Femke was born in Amersfoort, Netherlands. She is of American descent. Her parent's information is not known as of now. Her parents are also initially from the Netherlands. Femke has one sibling in her family; her brother is also a professional sprinter based in the Netherlands.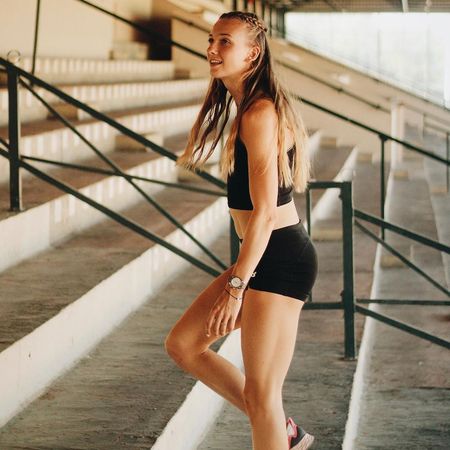 Femke shares a photo of her training Source: [email protected]_bol
In terms of her schooling, she received Bachelor's degree from Wageningen University and Research. She was involved in Communication Sciences subject at Wageningen University.
Bol 400m hurdles: Femke the first Dutch Olympic Medalist
Femke Bol, the accomplished Dutch runner, has achieved remarkable milestones throughout her career. At the Tokyo Olympics, she captured the bronze medal in the fiercely competitive 400-meter hurdles event, solidifying her status as a top contender in the discipline. Demonstrating her exceptional talent and skill, Bol made history at the 2022 European Championships by becoming the first female athlete to conquer the 400-meter race and the 400-meter hurdles at a major championship. Additionally, she played a vital role in the Dutch team's success by contributing to their gold medal triumph in the women's 4 × 400-meter relay.
Femke Bol is great at 400m hurdles.
SOURCE: [email protected]_bol
In February 2023, Bol made headlines by shattering a 41-year-old world record in track racing. She blazed through the women's indoor 400 meters with incredible speed, clocking an astonishing time of 49.26 seconds. This extraordinary accomplishment showcased Bol's unmatched prowess and solidified her reputation as one of the most talented and versatile runners in the world.
Alongside her individual triumphs, she has also earned recognition in team competitions, securing two silver medals in the 400-meter and 4 × 400-meter hurdles at the 2022 world indoor championships. Bol's graceful hurdling technique and unwavering determination have propelled her to the forefront of the sport, inspiring aspiring athletes and leaving an enduring impact on the world of track and field.
Femke Bol Height
1. Femke Bol is a tall athlete, measuring 6 feet or 1.84 meters in height.
2. Bol excels in both the 400 meters and 400 meters hurdles events, achieving remarkable success in both.
3. In February 2023, she broke a 41-year-old world record in women's indoor 400 meters, completing the race in an impressive time of 49.26 seconds.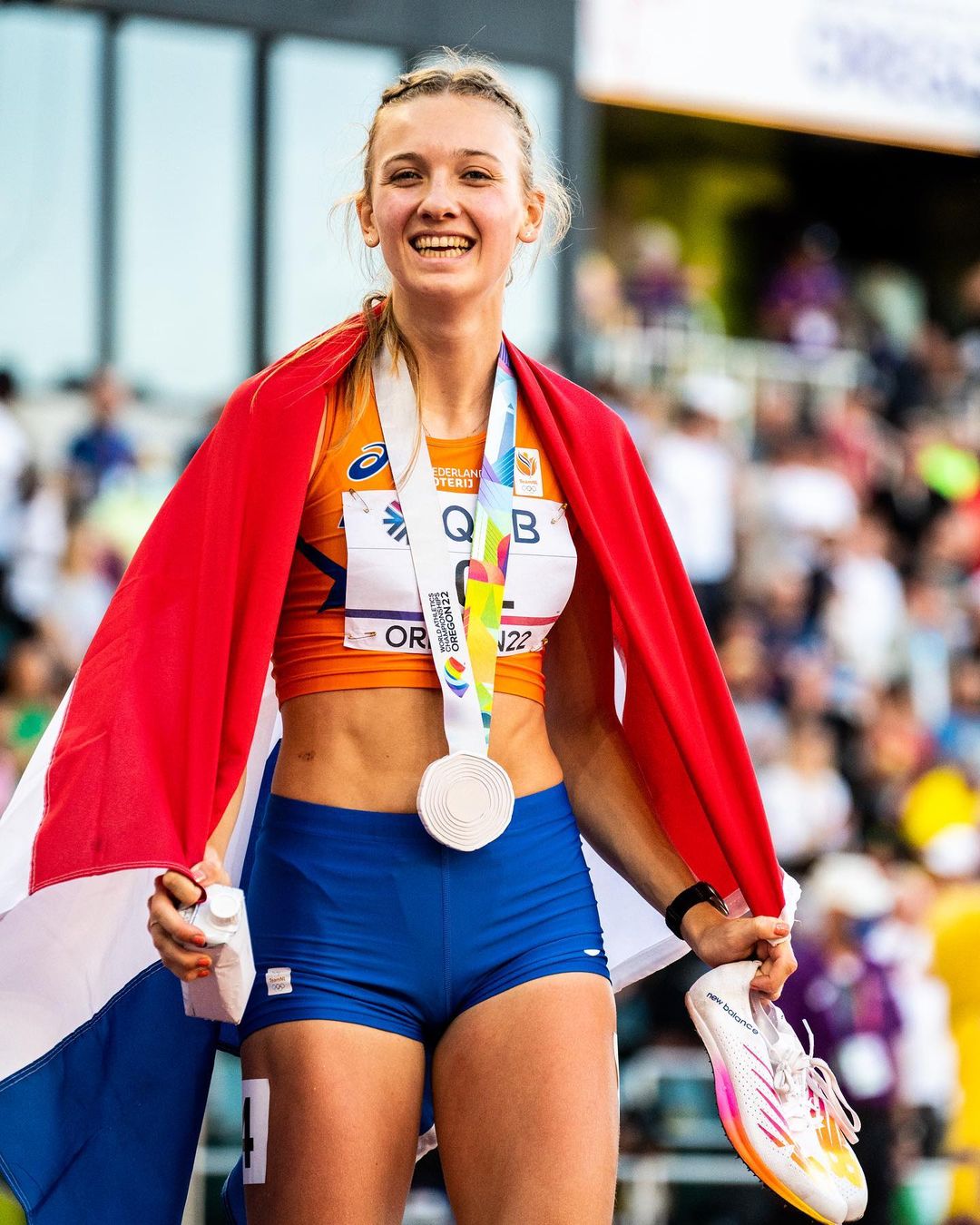 Femke Bol stands at a towering height of 6 feet
SOURCE: Instagram- @femke_bol
4. Bol holds world bests in the 300 meters hurdles and indoor 500 meters, and she also holds Dutch records in the indoor 200 meters and 400 meters (both outdoor and indoor).
5. At the European Athletics Championships in Munich in August 2022, she secured triple gold medals.
6. Bol celebrates her victories by enjoying Kinder Bueno chocolate bars with her training partner, Lieke Klaver.
7. Initially, Bol began her athletic career as a cross-country runner, inspired by her brother. However, she discovered her talent for longer sprints around 2014.
8. Bol finds value in challenging lactic sessions that induce pain, recognizing them as opportunities for improvement.
Femke Bol Interview
1. Femke Bol discusses her training and preparation for the 2020 Tokyo Olympics in a World Athletics Podcast interview.
2. In an interview with FloTrack, Bol reflects on her remarkable world record-breaking performance in the 500m at the New Balance Indoor Grand Prix in February 2023.
3. In an exclusive interview with Athletics Weekly, Bol shares insights into her training regime and goals for the 2021 season, highlighting her aspirations to compete against the world's top athletes.
4. A YouTube video delves into the discussion of Bol's chances of surpassing Sydney McLaughlin-Levrone.
5. A Week in Review article featured in Track and Field News explores Bol's exceptional achievements in the 400m, 400m hurdles, and 1600m relay at the European Athletics Championships held in Munich.
6. Another YouTube video captures Bol's post-performance interview following her world record-breaking feat in the women's indoor 500m.
Read More- Grant Holloway
Bol Femke Net Worth, Salary, Contract, and Career Earnings
Femke Bol, a well-known Dutch athlete, has kept her earnings a closely guarded secret. Her annual salary is also being assessed. However, we expected her remuneration to be commensurate with her stellar career. According to estimates, Femke's current net worth is $1 Million.
Femke in front of her house source: [email protected]_bol
Femke, an Olympic athlete, also makes a good livelihood through sponsorship deals and ads. However, she has not said how much money she receives from such sales. She also gets a sizable stipend from the national government due to her involvement in many national games. She is both a well-known athlete and a rich Dutchwoman. She has many cars and houses in the Netherlands. A sprinter from the Bahamas Shaunae Miller-Uibo also has a net worth of $1 million.
Also, know about Jens Cajuste's net worth, biography, and relationship status.
Femke Bol Boyfriend is a Dutch Man who Specializes in Pole Vaulting
Femke Bol is open about her relationship. She is an extrovert and a genuine athlete. She is in a long-term relationship with a Dutchman. She has not revealed his name as of now.
Femke Bol with her boyfriend source: [email protected]_bol
Femke loves to share her boyfriend's pictures on her Instagram account. They love to travel together whenever they get free time from their busy schedule. Shortly, they are also going to marry.
Femke Bol's Instagram: Bol's Social Media Presence
Like many other athletes, Femke is quite active on social media and has regular updates about her everyday activities.On Instagram, Bol has more than 106k followers with the handle @femke_bol.