Ekaterina Gordeeva is a Russian competitive figure skater who presently resides in Los Angeles. She is a four-time World Champion in pair skating and possesses ethereal beauty and soulful athleticism.
Ekaterina has performed her performance in various stages and programs. A few documentaries and films have featured Ekaterina and her daughter Daria.
Know About Ekaterina's Net Worth and Salary
After over 22 years of a successful professional career, the great figure skater has amassed a huge net worth. Her net worth is currently estimated to be $10 million. She has also agreed to various endorsement contracts with Target and American Retail Corporation.
Ekaterina Enjoying with her Friends
SOURCE: Pinterest
She has created two perfumes, "Katia" and "Katia Sport," through the deal.
In addition, Ekaterina and her daughter have made appearances in films and commercials. With her eldest kid Daria, the two-time Olympic champion participated in Snowden on Ice as well.
Ekaterna's Relationships Before and After The Death Of Her Husband
Sergei Grinkov was Ekaterina's first love and skating partner. The two became friends over their love of figure skating when Grinkov was 15 and Gordeeva was 11. Their friendship and partnership slowly gave way to love over the course of their relationship. Also, on New Year's Eve 1988, they made their love public by kissing.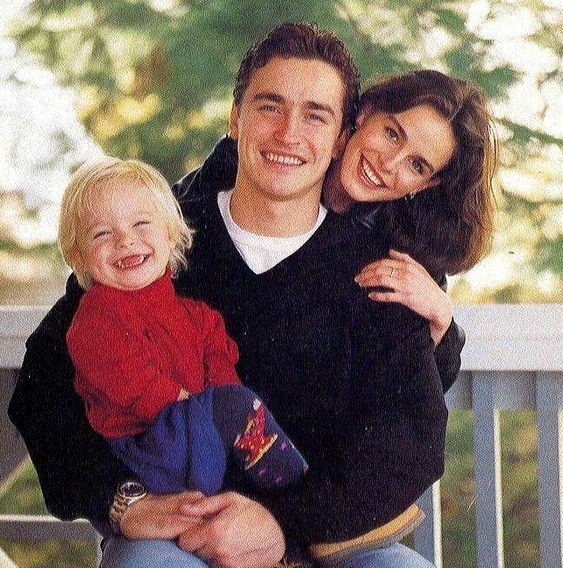 Ekateren with Sergei Grinkov
SOURCE: Pinterest
The couple exchanged vows in a chapel later, in April 1991. Prior to making their first and only daughter, Daria, prenatal announcement, they went on tour with Stars on Ice. The happily ever after marriage, however, was short-lived. Due to a severe heart attack brought on by a congenital cardiac defect, Sergei passed tragically on November 20, 1995, while performing.
After Sergei's death
Gordeeva met her second spouse, Ilia Kulik in figure skating. They first fell in love while competing on Stars on Ice in 1999–2000, and they even sang a duet.
Gordeeva and Ilia welcomed their first child and Gordeeva's second daughter Elizaveta Ilinichna Kulik on June 15, 2001. The couple was married in a small ceremony in California on June 10, 2002, over a year later. They spent a significant amount of time there, before coming to Connecticut.
Ekateren with David Pelletier
SOURCE: Twitter
But they frequently travel back and forth between the States and Russia to see their relatives and birthplace.
The married pair also opened Kulik's Skating, an ice rink, in California. They frequently attend and occasionally assist with training and choreography. The idyllic couple divorced in 2016, putting an end to their fourteen years of marriage. The couple does, however, keep a close connection for the benefit of their kid.
However, Gordeeva is currently married to David Pelletier(Canadian Skater). The couple walked down the aisle on July 25, 2020. More information about the couple is not disclosed yet.
Tragical Death of Skater Sergei Grinkov
Ice Skating skater Sergei unexpectedly passed away after collapsing during practice. Doctors claim that he suffered from a serious disease that blocked his coronary arteries, resulting in a major heart attack.
Sergei Grinkov died at the age of 28
SOURCE: Pinterest
It was discovered that he had a genetic risk factor for abrupt heart attacks. He was only 28 years old when he passed away, while his wife and daughter were 24 and 3 at the time.
Ekaterina's Early life and Parents
Ekaterina Gordeeva was born on May 28, 1971, in Moscow, Russia to Alexander Alexeyevich Gordeeva and Elena Lvovna Gordeeva. Ekaterina's father was a dancer for the Alexandrov Song and Dance Ensemble.
Ekaterina's mother was a teletype operator at a primary news agency in Russia called Russian News Agency TASS. She has a sibling, her younger sister, Maria Alexandrovna Gordeeva.
Ekaterina Gordeeva Professional Career
The two-time Olympic champion's career in figure skating got off to a quick start. Ekaterina enrolled at age four in the Children and Young Sports School of CSKA Moscow, a prestigious Russian club. She needed multiple socks to accommodate her skates. She was initially coupled with Sergei Grinkov, her first spouse.
Ballerina of the ice
SOURCE: Facebook @gordeeva.com
Michelle Kwan is another player to have won world championships.
However, her coach, Vladimir Zaharov, insisted on switching partners because he had lately missed practice. She disagreed, though, and changed her coach rather than her partner. When Katina was 11 and Sergei was 15, the two have been a team.
The couple later won yearly figure skating tournaments like the World Junior Figure Skating Championships and the World Figure Skating Championships in 1985 and 1986, respectively. Moreover, they held it in 1987, 1989, and 1990.