Diogo Jota is a Portuguese professional footballer who plays a forward for the English team, Liverpool FC. He has been Liverpool player of the Month twice in October 2020 and November 2020. His breakthrough was winning the UEFA Nations League with the Portuguese National team in 2018-19.
Jota was born in Massarelos, Porto on December 4, 1996. To date, he has played with five different clubs.
Diogo Jota's Career
As a youth Jota played for Gondomar SC from 2005 to 2013. He then moved to Pacos de Ferreira in 2013 initially playing for their B side. He got promoted to the main squad in 2014 and continued to play as a senior team member until 2016 during which he netted 14 goals in a total of 41 appearances.
Diogo Jota celebrate UEFA Nations League with Portugal in 2019
SOURCE: Instagram
On March 14, 2016, he signed with Atletico Madrid but didn't make a single appearance for the Rojiblancos. During the time of his arrival and his eventual exit from the Spanish capital team, he was splitting his period between Porto and Wolverhampton (both on loans).
He spent one year with Porto appearing for 27 games and scoring 8 goals in aggregate. He got his regular playing time with the Wolverhampton Wanderers from 2017 to 2018. For the Wanderers in all competitions, Jota took part in 44 games founding the back of the net for a total of 17 times. He extended his contract with the Hamptons till 2020 and played in additional 67 Wanderers' games and scored another 16 goals. On September 19, 2020, Jota joined Liverpool on a long-term deal and to date has appeared in 19 games while scoring 9 goals.
The five-foot-ten winger/forward made his International debut with Portugal in 2014 lining up for the U-19 squad. Altogether, for his country, he has scored six goals in 13 appearances. In his club career, he has recorded four hat-tricks coming from his times at Porto, Wolves, and Liverpool.
Portuguese midfielder Bernardo Silva Net Worth and Salary with his current club, Manchester City
Diogo Jota's Net Worth and Salary
Jota was signed on a permanent deal by the Hamptons in 2018 for a reported fee worth €14 million. Likewise, he cost an amount equal to €50 million for The Reds on a quest of bringing him to Anfield. Jota has been grossing salaries upwards of five figures since the 2014-2015 season.
His alleged take-home pay while playing for Futebol Clube Pacos de Ferreira was totaled around £23,000 per year. Amidst his final year at the club, he was reportedly raking in close to £40,000 a season.
He first hit the seven-figure salary with Atletico Madrid in 2016; the Colchoneros paid him an average of £1.7 million a year through the season 2016-17 and 2017-18. With the Wolves, his wage was a little less than £3 million. As per his current contract, Liverpool has been reported to be rewarding him with an annual remuneration worth a few grand shy of £5 million.
Observing his salary sheet, it can be construed his career earnings has topped well over £15 million since his footballing career started in 2015. Speaking subsequently, his net worth as of 2021 should conceivably be in the ballpark of £5-£10 million.
Portuguese Central Defender, Ruben Dias' Net Worth and Wife
Who is Diogo Jota's Girlfriend?
Jota is currently dating his girlfriend Rute Cardoso. Oh, my football claims the couple shared the same school during childhood. However, sources back the statement that they didn't start dating until November 2012.
His partner Cardoso had even penned thankful words to the Wolves for all the support and love they had given to their boyfriend - this was during his transfer to Liverpool in 2020.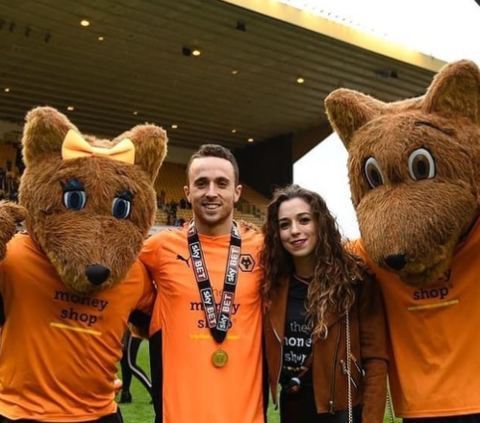 Diogo Jota has been in a relationship with Rute Cardoso since 2012
SOURCE: Instagram
On August 14, 2020, the Portuguese striker announced that he and Cardoso were expecting their first child. The Liverpool number 20 revealed the news on his Instagram page, writing, "After another great season we are delighted to announce we are waiting our first baby."
Diogo Jota and Rute Cardoso welcomed their first child, Dinis on February 7, 2021.
SOURCE: Instagram
The former Wolves striker aired a picture where he and his girlfriend are kissing and jointly holding a pregnancy scan imaging of their then ensuing baby. The pair welcomed their son, Dinis on February 7, 2021.