Desjuan Renarl Johnson is an American football defensive end who plays for the Los Angeles Rams in the National Football League (NFL). He was selected as the last pick of the 2023 NFL draft, earning him the title of Mr. Irrelevant.
Despite his low draft status, Johnson has a remarkable college career and a promising future in the NFL. Here is everything you need to know about Desjuan Johnson.
Desjuan Johnson's Four-Year Contract with Los Angeles Rams
Desjuan Johnson is a professional football player who plays for the Los Angeles Rams. He joined the team in 2023 after signing a four-year contract worth nearly four million dollars. Johnson is a versatile player who can play as a wide receiver, a running back, or a return specialist.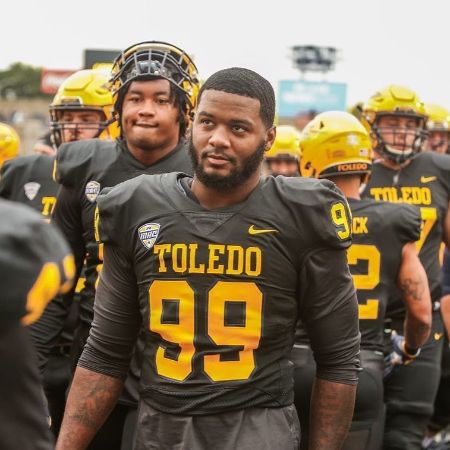 Desjuan Johnson has an annual salary of $979,444.
Image Source: Instagram@desjuanj
Johnson's contract with the Rams includes a signing bonus of $77,776, which is also the amount of money that is guaranteed to him. His average annual salary is $979,444, which is among the lowest in the league for his position.
However, Johnson has a chance to earn more money through incentives and performance bonuses. His contract also has a cap hit of $769,444 and a dead cap value of $77,776 for the 2023 season.
Endorsement & Sponserships
Desjuan Johnson, a defensive end for the Los Angeles Rams, has not been publicly disclosed to have any endorsements or sponsorships as of now.
Johnson may have some endorsements or sponsorships that are not publicized. There are many athletes who have endorsement deals that are not widely publicized, and some athletes choose to keep their endorsements private.
Maybe he is still negotiating endorsement deals, possibly. He is a rising star in the NFL, and his profile may grow as he plays well. Therefore, he could get more endorsement offers in the future.
Inside Desjuan Johnson's Career
Desjuan Johnson enrolled at East English Village Prep High School, where he participated in football as a three-star prospect, as evaluated by Scout.com and 247 Sports. During his senior year, he contributed to his team achieving a 9-2 record and making it to the district final.
Desjuan Johnson plays for the Los Angeles Rams in the National Football League (NFL)
Image Source: Instagram@desjuanj
From 2018 to 2022, he played college football at the University of Toledo for the Toledo Rockets. He earned All-MAC honors three times and was a second-team All-American in 2021. He had 135 tackles, 30 tackles for loss, and 10 sacks in his last two seasons with the Rockets. He also graduated with an interdisciplinary studies degree.
Johnson was an undersized interior defender in the 2023 NFL draft, but he had a quick first step and good grip strength. He was expected to be a late-round pick or an undrafted free agent. The Los Angeles Rams picked him with the last pick of the draft, 259th overall. Rams head coach Sean McVay called him to congratulate him and welcome him to the team.
RELATED: Corey Davis Net Worth 2023, Salary, Jets Contract Breakdown, NFL Earnings, Intention to Retire & NFL Stats
What is Desjuan Johnson's Relationship Status?
Johnson is currently single and focused on his football career. He has not been linked to any romantic partners or girlfriends in the past. He says he is open to finding love someday, but right now he is enjoying his life as a professional athlete.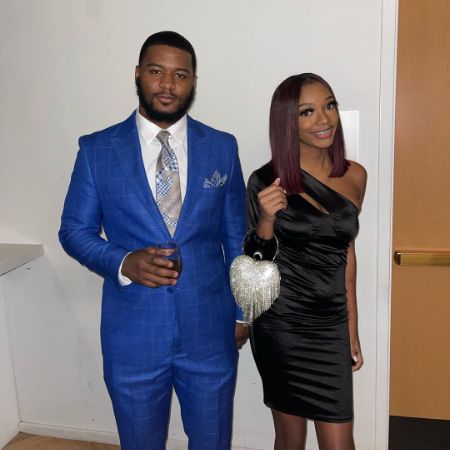 Desjuan Johnson with his friend.
Image Source: Instagram@desjuanj
The athlete loves spending time with his family and friends, who are very supportive of him. He is very close to his parents Dion Johnson and Lacreasia Stegar, and his siblings Dion Johnson, Dejon Johnson, Derion Johnson, Dionjanae Johnson, and Darelle Johnson. His father played football at Kansas. He also likes to travel, play video games, and listen to music in his free time.
Meet Desjuan Johnson's Parents: Dion Johnson & Lacreasia Stegar
Johnson's parents are Dion Johnson and Lacreasia Stegar. His father played football at Kansas and his mother is a nurse. They have always supported Johnson's football journey and taught him to work hard and stay positive.
Johnson has a large family with three brothers and two sisters. His brothers are Dion, Dejon, and Derion, and his sisters are Dionjanae and Darelle. They are very close and often cheer for Johnson at his games. Johnson says his family is his biggest motivation.
RELATED: Trey Lance Net Worth 2023: Lance's Salary Revealed with the 49ers?, Contract Breakdown & NFL Earnings
Education & Qualifications
Johnson graduated from East English Village Prep High School in 2018 with a 3.51 GPA. He was in the National Honor Society and the Student Council. He also tutored younger students and volunteered at shelters.
Later, he majored in interdisciplinary studies at the University of Toledo. He focused on social justice and human rights. He had a 3.2 GPA and was an Academic All-MAC player three times. He also joined the Black Student Union and the Student-Athlete Advisory Committee.
A Look at Desjuan Johnson's Social Media Activity?
Desjuan Johnson maintains a presence on social media platforms, including Instagram, where his handle is @desjuanj, and Twitter, where you can find him at @desjuanj.
Johnson posts about his personal life, his football career, and his interests on his social media accounts. He also interacts with his fans on his social media accounts. He is emerging as a rising star in the NFL, and his presence on social media is steadily expanding.