Deandre Hopkins, an American Football wide receiver for Houston Texans of National Football League(NFL) is known for his nickname as Nuk. Hopkins who was titled as the Independent Mail's player of the year after the victory in South Carolina State Championship in 2009-2010 rarely reveals about his personal life.
Hopkins was rumored to be in a relationship with Jennifer Lemmons, program associate of Dakota Country. So is Jennifer really his girlfriend? Let's know all about Hopkin's relationship and his family in today's section.
Relationship of Deandre Hopkins and Jennifer Lemmons
Celebrity in the controversy of relationship due to closeness has now become a trend. So, the American Footballer Hopkins got caught in dating rumors, after he shared some really close moments with Jennifer Lemmons back in 2013.
So are they dating? Well, seeing them share the blissful moments indicates their intimate relationship.
Deandre Hopkins and Jennifer Lemmons
Source: Battleredblog
But, a surprising fact appears here as Jennifer denied the relationship with Hopkins as reported. Really!
However, the pictures give the definition of their relationship and some sources claim Jennifer as the ex-girlfriend of Hopkins clearly points the couple was allegedly dating. The relationship of the former couple without any details ended with a break up with same secrecy.
But, it was not over for Hopkins as he got into a rumor of dating Johnny Manziel's former girlfriend Colleen Crowley in 2016 after posting a photo with her on his Instagram.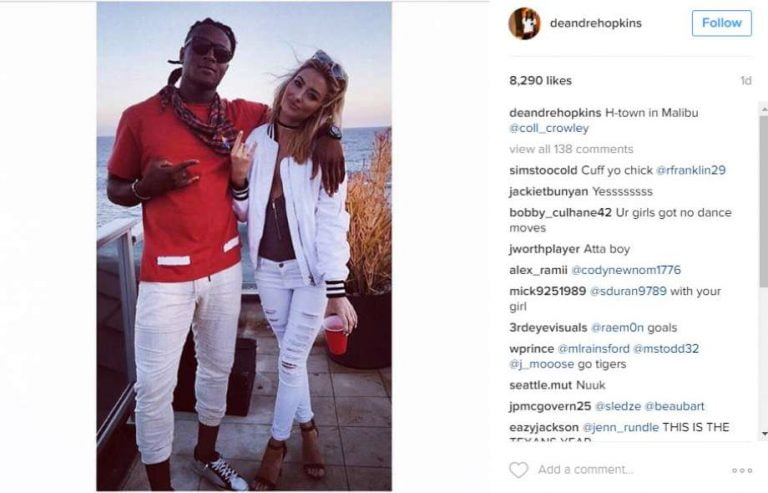 Deandre Hopkins with Colleen Crowley on Instagram
Source: Fabwags
The rumor, however, shortlived after they confirmed that they just posed for the photo. In addition to the fact, Hopkins deleted his photo with her from his Instagram. Maybe he wanted to get out from the rumors.
Well, all the answer is behind the unopened lips.
Who is Deandre Hopkins Dating
The American footballer is claimed by some sources that he is dating an American model, Amina Blue. Blue had shared several photos with a man having deadlock hair on different social media pages which were rumored to be the photos of Deandre. However, the photos were removed later.
She had also commented the 'feeling loved' emoji on Hopkin's Instagram post. Have a look.
Amina Blue commented on Hopkins' post
Giving a shot to the main point, Deandre has not given any confirmation of his relationship with Blue. He has not even shared any photos with her yet.
As of now, Hopkins seems to be busy in his game in NFL.
Even after being blessed with a fierce player like Jadeveon Clowney, Hopkins's team got a loss with Jackson Ville (29-7 ) back this September.
But, Hopkins with his extraordinary performance against Baltimore Ravens proved himself the team's strength and became the best receiver with his record of 69 catches at M & T Bank Stadium on Monday, Nov. 27, 2017, in Baltimore.
Here is the video of Hopkins's best performance against Baltimore.
Best wishes to you Hopkins!
Stay tuned for more updates on Hopkin's love and professional life.
AD Here (After Content)