Danilo Cataldi is a professional football player from Italy who currently plays in the Italian top league, Serie A. He plays in the midfielder position for Societa Sportiva Lazio. He wears the Number 32 Jersey for his team.
He has been with Lazio for more than 8 years and has won several trophies. He won the Coppa Italia in the 2018-19 season. And in 2019, he became the champion of the Supercoppa Italiana.
He has also represented Italy in international tournaments. He used to play for the Under 18 and Under 19 teams in 2012. And between 2013 and 2017, he also played for the Under 20 and Under 21 teams of Italy. He is not on the Italian national team.
Danilo's Bio, Family, and Early Career
Danilo Cataldi, famously known as Cataldi was born on August 6, 1994, under the birth sign Leo. His birthplace is Rome, Italy, so he is Italian by nationality.
He was born to his father Franco Cataladi and mother whose name is not known to the public. But, he has shared multiple photos with his mom and dad on his social media. He has always shown his love towards his mom and dad.
Danilo Cataldi's mom and dad
SOURCE: Instagram@danilocat32
Read: Who is Gianluca Mancini? Early career and physical stats
His family is originally from the Southern part of Italy, Missanello. They later moved to Rome where their son was born.
He calls his parents mamma and papa as he mentioned them on his Insta expressing his respect. He said,
"You are, my angel in this Hell, my devil when it's Winter, my love, the real one, the rare one, the eternal one. You are so Beautiful!! # mamma # papa "
Siblings of Cataldi
Danilo is not the only child in the Cataldi family. He also has a sister whose name is Debora Cataldi. He is younger than his little sister.
His sibling, Debora is also active on Instagram by the username @debcat85. Dan often mentions his elder sis on his social media too.
Height and Weight
As of 2022, D Cataldi is just 27 years old and possesses a height of 5 feet 11 inches (1.80 meters).
His weight is around 75 kg and has short black hair.
Net Worth, Salary, Sponsors of D Cataldi
The net worth of Italian footballer Danilo Cataldi is estimated to be $6 million approximately. His net worth includes his properties, cars, houses, and assets.
Lazio's midfielder has been playing in the top league of Italy all his life. He has been associated with Lazio for about a decade and has been able to earn a huge amount of money as a salary.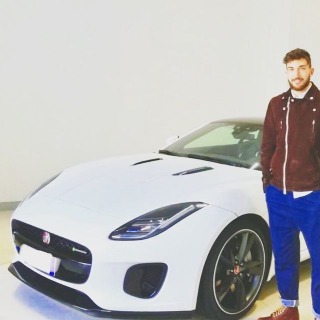 CAPTION: Danilo Cataldi's car
SOURCE: Instagram@danilocat32
He is also fond of cars and luxuries. And frequently shares his time on vacations through his social media. He is living a luxurious life in Italy.
Contract and Salary at Lazio
As per Salary Sport, his yearly salary at his current club Lazio is £2,340,000 in 2022. So, he earns more than 45 thousand per week. His salary in 2021 and 2020 is estimated to be as same as his current salary.
The same source claims that he is one of the highest-earning players in Lazio. The highest-paid footballer of the cub is their Italian striker Ciro Immobile who earns more than 6 million pounds with his club.
Similarly, Milinkovic Savic and Luis Albert earn 5 million pounds and 4 million pounds respectively.
Cars and Houses
Danilo currently owns a luxurious car which is of the Jaguar brand.
His automobile is white in color and often seen with the same vehicle in his training and streets of Italy.
He is currently living in a house in Rome with his partner.
Sponsorships
Danilo has a partnership with the famous automobile company named Jaguar Land Rover.
The partners have been dealing for more than 3 years and he often promotes them on his Insta. In March of 2018, he thanked his sponsor for his car. He said,
"#FTYPE, #FTYPEattitude Special thanks to @jaguaritalia. 206w"
Danilo's Relationship Status | Is he married?
Danilo Cataldi is currently living happily married to his partner Elisa Cataldi. The couple got married in 2017 and since then they have been together.
Danilo Cataldi with his wife Elisa
SOURCE: Instagram@danilocat32
Elisa is a longtime partner of Danilo. They started dating back before 2015. at that time, he was just promoted to the senior team of Lazio. He revealed his relationship t his fans for the first time in June of 2015. He posted a photo with his girl and confirmed that he was in a relationship.
After dating for 2 years, the couple got married in the local religious places in Rome, Italy in the presence of their close friends and relatives.
There is no record of a dispute between Danilo and his wife Elisa that may lead to their separation or even divorce.
There is also no record of his past relationship with other girls.
Read: Who is Denys Boyko's Girlfriend? (Affairs and Relationships)
Who is Elisa, the wife of Danilo?
Elisa Cataldi is mostly famous for becoming the partner of the Italian footballer Danilo.
Danilo Cataldi's wife Elisa Cataldi
SOURCE: Instagram@elilibe
Her original name is Elisa Liberati Cataldi and is originally from Rome. She celebrates her birthday every year on October 10. And the athlete always wishes her on her special day. On her 27th birthday, he wished saying,
"Happy birthday my love. You are amazing every day more. The respect and esteem I have for you as a wife, friend and mother are indescribable. I love you # 27 #happy birthday"
Elisa is also quite famous on Instagram. Her Instagram Id is @elilibe where she has more than 10 thousand followers.
Danilo and Elisa: Parents of a child
Danilo Cataldi and his sweetheart wife Elisa Liberati Cataldi is blessed with a child name Tommaso Cataldi.
Danilo Cataldi with his wife and son
SOURCE: Instagram@danilocat32
Previously, he announced that his wife was pregnant and they were soon going to have a baby.
They welcomed their child on May 11, 2019. Both posted photos of their boy on his Instagram.
Explore more athletes at PlayersWiki.