Daniel Garcia is an American professional wrestler by profession who currently competes in AEW ( All Elite Wrestling). He has an active role in Singles Wrestler at the present day with significant performance.
Daniel is a titleholder of the Limitless Wrestling World Champion, ESW Heavyweight Championship, and C4 Champion. Best known as an independent wrestler in America, Garcia pleases the audience with his techniques along with his serious vigor in the ring.
Daniel Garcia's Childhood
Daniel Garcia who is well known as Red Death in the ring was born on September 17, 1998, in Buffalo, New York. His star sign is Virgo. According to the sources, Daniel received a degree from Buffalo State College in communication.
The wrestler has not disclosed any information regarding his parents and siblings on any social media, like any other athletes. He prefers to keep his personal life private, out of reach from any media.
Daniel Garcia's Income and Salary
As of 2021, the 22 years old has already caught the attention of many bigger companies via his best performance. Starting to make a name on the scene, he is said to be almost had signed with WWE.
AEW wrestlers earn about $300,000 per year on average and the experienced ones make more than $1 million. AEW are contracted employees hence the wrestlers receive their earnings after every two weeks.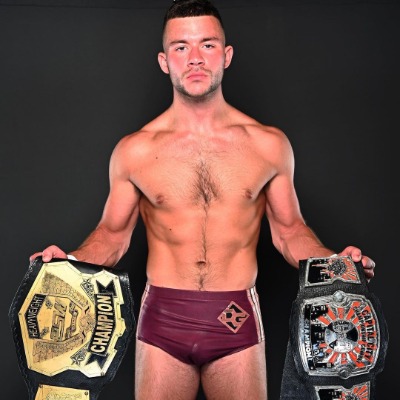 Daniel Garcia's belt
SOURCE: Instagram @Daniel Garcia
Daniel Garcia is one of the AEW's wrestlers, is estimated to be earning an annual salary of about $320,000. The wrestler also receives plenty of other benefits provided by the AEW such as traveling and accommodation allowances.
Hence, it's to conclude that Daniel makes a good sum of money by wrestling matches. He, sure enough, is managing to live a lavish life from his income.
Also, know about the net worth and income of Nyla Rose in Playerswiki.
Relationship status; Is he Married?
Talking about the relationship status and affairs of Daniel Garcia, the wrestler himself has never approved anything about his love life. He has been secretive about his private life and has been keeping things away from the reach of social media.
There has been no official declaration about him having a girlfriend or wife. He seems to be quite enjoying his single life along with developing his career to a better stage. Else he may be maintaining a low-key relationship.
Daniel Garcia's car accident
A car with four members of indie wrestling's " Buffalo Brothers" had a frightening car accident dating back to 2019. Garcia is one of the victims, escaping death away from inches fortunately recovered swiftly.
Daniel Garcia car accident
SOURCE: instagram@garciawrestling
His right femur left shin fibula and ankle tibia was broken left with scars in his lower half. Despite such conditions, today Garcia is thriving in professional wrestling. After such a dangerous incident, it took 6 months for Gracia to return back to the ring which he dreamt of. He really proves his love for wrestling after such an event, doesn't he?
Daniel Garcia VS Darby Allin
Next Friday on AEW's Rampage Daniel Garcia will fight Darby Allin. It was confirmed following the events of Dynamite this week.
Darby Allin
SOURCE: Twitter@WONF4W
The Rampage will be held at the Now Arena in Hoffman Estates, Illinois, 48 hours before the Sunday in the same arena.
Daniel Garcia Social Media
He is active in social media like Instagram and Twitter where you can get information through his posts. He has an Instagram account with the username @Daniel Garcia along with 6425+ followers at present.
Garcia also uses Twitter with the name @GarciaWrestling and currently has more than 8,642 followers.
Read More.Rani Yahya
Research about more athletes in Playerswiki.