Daniel Amartey, the Ghanaian descent, is a professional associational football player. He plays in the Premier League side club Leicester City positioning as a defender or midfielder. He is mainly a midfielder. In addition, Daniel is an associate of the Ghana National Team, and had represented is national side in 43 games globally since 2012.
Due to his proficiency in playing in the center and the defending region, the Ghana international has established himself as an essential and prominent player for his club. Comming to 2022, he has played for three clubs: Djurgardens IF, Copenhagen, and Leicester City. Daniel is a successful Ghanaian player that accomplished his dream of playing in the EPL after signing Leicester City in 2016.
Daniel Amartey Bio and early life
Daniel Amartey was born in 1996 in Accra, Ghana, under the zodiac sign Capricorn. He celebrates his birthday on 24 December every year. As of the current year, he is 27 years of age. The player is of Ghana nationality with a citizenship card. The athlete spent his boyhood in the African ethnic community.
Daniel is a right-footed soccer player who wears jersey number 18 for his team and nation. He started his career as a midfielder; meanwhile, Daniel plays as an emergency center-back for Leicester City. Presently, Daniel ranks 94 percentile in world midfielders in terms of passing.
Who are in Amartey Family? Siblings and parents
Daniel Amartey, the Leicester City multi-talented player, was born into a family of Ghanaian ancestry. Both of his parents are of Ghanaian nationality and currently live there. Louis Amartey, Daniel's father, tragically died at age 72 after battling Diabetes. His father's death had a massive consequence on his mind and his career.
Daniel and his mother
SOURCE: Instagram
Daniel is very mysterious and has kept his mother's identity suspenseful. Despite posting her picture on his social media outlet, the Ghana international has not hinted about her. Morever, neither verified social sites nor himself has opened his sibling's details, so it also stays under the radar.
Daniel Amarety's body measurement
Daniel Amartey, Leicester City jersey no. 18, is a player with a tall, muscular body structure footballer who possesses a good height of 6 ft 1 inch and weighs 76 kg. He is very conscious regarding his health and body. Thus, he works out daily to maintain his healthy body. Further description, Daniel has a dark skin complexion and short black hair.
Soccer review and stats
Daniel Amartey has been a very prudent soccer lover since his youth age. Coming this way, he appeared in numerous matches and tournaments in his country. When the midfielder was 16 years old, he joined the second-tier International Allies FC based in Tema, Greater Accra. Later graduating from the Allies youth academy, he began his senior professional career in 2013, signing with the Allsvenskan side club Djurgardens IF Fotboll for a season. Black stars player made his very first senior debut in the Svensken Cup on 3 March 2013 against Umea F. Similarly, he debuted on League on 31 March in the opening match against Heksingborb LF as starting player.
After his debut season with the Djurgardens, he was even analyzed by some German clubs like FC Schalke O4 and 1. FC Kaiserlautern for the future signing. After his 2013-14 season, the 27-year-old midfielder was ranked the 10th best player by Expressen and 18th by Aftonbladet. Before his move to English Premier League, he initially made appearances in the Danish league (Superliga) club Copenhagen for a fee of £2.5million in July 2015. The 6 ft 1-inch defender made his Super Liga debut on 20 July coming from a bench in the match against Silkeborg IF.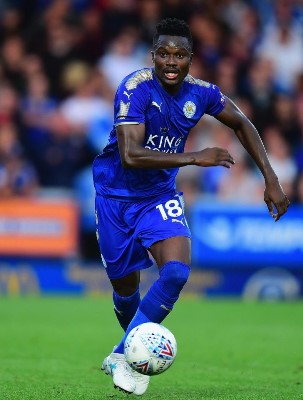 Daniel with Leicester City in 2020
SOURCE: Instagram
In the two seasons with Copenhagen, Daniel recorded three goals in 44 games. Subsequently, after his release from Copenhagen, the Ghana national player joined English Premier League after earning a deal with Leicester City on 22 Jan 2016. He signed a four-and-a-half-year contract with the club with a fee of £6 million. Finally, the Ghanain debuted on 27 Feb 2016 in the league win over Norwich City as a substitute player. It was fortunate that Leicester City capped the EPL title for the first and only top-tier title in their history in his first EPL season.
With the Leicester City, he has cliched numerous individual rewards and achievements. In the third season with the club, the Accra-born suffered a threatening ankle injury during a tackle on Michail Antonio in the drawn match against West Ham United. As of now, he played in 86 games sending the ball two times behind the net for Leicester City.
Talking about his international career, Daniel made his first presence at the U20 level in the match against Nigeria. After that, he was represented at different ages. He featured for the senior Ghana squad in 2015 in the Africa Cup of nations. As of today, Daniel country 45 matches for his nation internationally.
Also, ready a biography and net worth of Corey Clement
Relationship status: Married
The Leicester City defender is very frank about his relationship status with the masses. He is a wedded person. He is married to his beloved Ghanaian wife, Naa Shika Addo, well known as Efia Trimud. Before exchanging their marital vows, the couple dated for six years. However, the official wedding date remains a mystery at the moment. Former Copenhagen star player seems to be in a loving and romantic marital relationship with his Spouse Efia.
Amartey and his wife
SOURCE: Twitter
Amartey is the proud father of his two sons. He shares a strong and friendly bond with them. Regardless, there is no info regarding his son's name. The player adored his last 2015-16 day by bringing his two sons to the 2015-16 EPL Championship celebration.
What is Daniel Amarety's annual wage?
Daniel Amarety, the proficient and versatile footballer, is a well-established EPL player. He succeeded in building up a soccer career to the peak in a short period. Per the report, Daniel Amartey's net worth is about $ 9 million, including all his assets. When he started his soccer career with Djurgaredesn in 2014, Daniel netted £72,800 yearly and £2,80,800 with Copenhagen in 2015.
Daniel flaunting his expensive car
SOURCE: Instagram
His career took a huge turn after joining the Leicester City of the Premier League with an annual salary of £1,144,000 in 2017. Now, he earns £2,964,00 yearly. Daniel credits his bank balance mostly to his football profession. Excluding football, he gains much money from sponsorship and commercial ads which massively increase his net worth.
Per the Trasnfermarket, Daniel Amartey is now worth €10 million, and it's his all-time highest career too. His contract with the Leicester expires on 30 June 2022.
Interesting facts about Daniel
After a video of him throwing Chealsea pinnet in the dressing room, he was in controversy.
Under username @danamartey, Daniel has 78.9k Followers on it.
Daniel won the 2015-16 EPL trophy with Leicester in his first year at EPL.
Puma endorses Daniel Amartey.
The Ghana nationality is one of the reputed and explored players in Ghana.
He is a Danish Super Liga 2015-16 and Danis Cup 2014-15, 2015-16 winning player.
Explore diversifying buzz, news and biography at Playerswiki.