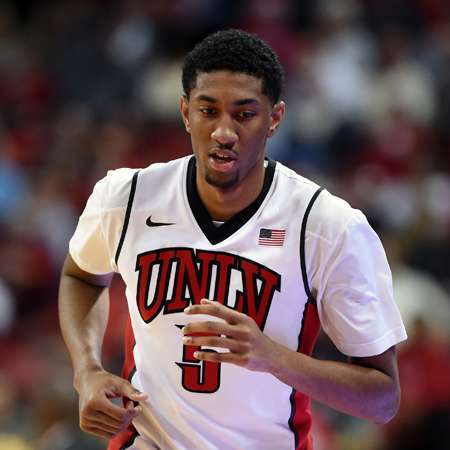 Facts
Birth Name

Christian Marquise Wood

Birth Place

Long Beach, California

Famous Name

Christian Wood

Father

Jeanette Stewart

Net Worth

$1,045,059

Salary

$216,214

Nationality

American

Ethnicity

Black

Currently Married

N/A

Divorce

N/A

Affair with

N/A

Girlfriend

N/A
Christian Wood is one of the rising names in the world of men's basketball currently playing for the Detroit Pistons in the National Basketball League. He started his professional NBA career with Philadelphia 76ers in 2015. He also played his college basketball for the UNLV Runnin' Rebels. His playing position is Power forward in his team and he wears the jersey no. 35. He was recently tested positive for coronavirus and is the third NBA player to be diagnosed with the virus after Rudy Gobert and Donovan Mitchell.
He was born on September 27, 1995; Long Beach, California, United States was his birthplace. He has developed his skills and playing techniques for his game. He plays smartly for his team. He has a strong determination and he desires to perform better in the future. He holds the nationality of the United States and according to media, his ethnicity is black. He was born to his mother Jeanette Stewart and has a sibling named Derek Stewart.
He went to Knight High School in Palmdale, California before transferring to Findlay College Prep in Henderson, Nevada. In Findlay, he played perfectly and he helped his team to win the game. His performance ranked him as the no.36 overall player in the class of 2013 (8th position) by Rivals. He was also listed by Scout at no.10 position and ESPN also listed him. He played at UNLV for 2 years.
As a freshman, he played in 30 games with and averaged 4.5 points and 3.2 rebounds per game and as a sophomore, his performance was good, he averaged 15.7 points, 10 rebounds and 2.7 blocks per game in all 33 games. He turned professional in 2015 and started his career with Philadelphia 76ers. He also played in the NBA d league with the Delaware 87ers. On April 7, he signed a contract with Philadelphia 76ers for the rest of the season.
Wood then signed with Charlotte Hornets in 2016 and moved to Milwaukee Bucks in 2018. He was waived by the Bucks in 2019. He joined New Orleans Pelicans in 2019 and waived off by the team later that year. Wood joined Detroit Pistons in 2019.
His parents are certainly proud of their son. There are very less basketball player can accomplish that success and reach the height which he has achieved in this early age of his life.
He is young & dynamic and his age is 20 now. Therefore, he is too young to enter into his married life. He doesn't have any wife now. However, he may be in an affair with his girlfriend but there is no any confirm news comes from the media. He is a very private person and never dictated about his girlfriend & affair and this is the reason Wiki has also not described any conversation about his personal concerns. It seems he is straight by his sexuality and does not look like a gay at all.
His dedication and devotion definitely provide him a fruitful result in the future. He has huge fan & followers on social networking sites. He is actively growing on Facebook & Twitter. He has an amazing height of 6 feet and 10 inches and his weight is around 216 lbs. His matches' highlights can be seen on YouTube. He has not inked tattoo on his body.
Christian Wood agreed to a 2 year / $3,157,958 contract with Bucks in 2018 but was later waived off. He was acquired by Pistons in 2019 where he earns a salary of $1,645,357 in 2020. Earlier, his salary in 2019 was $1,512,601.
As a power forward for Pelicans, he played for a year where he was paid $874,636 as his annual wage. His total income provided him a fortune amount of net worth. His net worth in 2020 is expected to be around $2 million while his total career earnings in $4,338,383.