Carson Wentz's Girlfriend Melissa Uhrich: Detail about their Affairs and Relationship Here
Published on : 2017-12-06 By:Chandra Rana
If you love American football, then Carson Wentz, the American Football quarterback is not a new face. Wentz, the 5 times NCAA national champion with his college team, North Dakota State University(NDSU), currently is the most prized franchise of Philadelphia Eagles in the NFL after being selected in the first round of 2016 NFL Draft since Donovan McNabb in 1999.
The Eagles' quarterback holds the records of most pass attempts by a rookie quarterback and most pass completions by a rookie. Besides his professional career, he is famed for his lovely relationship with his girlfriend, Melissa Uhrich. Let's know all about his relationship with his girlfriend, affairs and net worth.
Carson Wentz's Relationship with Girlfriend Melissa Uhrich
Carson and Melissa share the long-time love story as they are the lovers since their high school days in North Dakota. The couple, however, has not shared their details of the beginning of their relationship but has shared lovely moments together.
Take a look.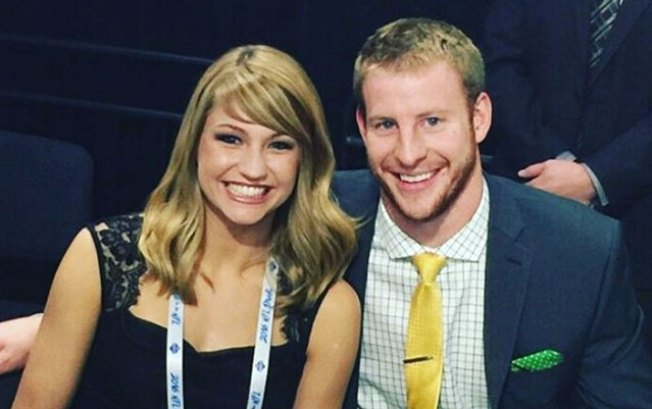 Carson Wentz and his girlfriend, Melissa Uhrich
Source: NBC Philadelphia
Carson and Melissa are yet to be married, although their love is shining all the way through these years, Melissa plans to move in with Wentz but has planned to live separately until they get married.
Carson, on his twitter, showed his love towards his love mentioning Melissa as the best Valentine.
Carson and Melissa, with their strong love and affection, are reportedly free from the mishaps of separation.
True lovers! We wish you best for further and hope to hear the news of happy marriage.
Carson's Love Melissa always takes away his phone on Dates
Carson with his jersey no. 11 who is noted for his friendship with Major League Baseball player Mike Trout, was caught watching the game secretly while on his date.
Carson went on a date night with Melissa in September 2016, but the romantic mood was overwhelmed as during his date, Carson Wentz was caught red-handed by his love watching the game under the table as reported.
Really what a dedication!!
So, it's not a surprise for Melissa to take away Carson's phone on dates. Whatever, the issue was nothing against the love of the couple.
Carson Wentz's Net Worth
As reported, 24 years-old, Carson is enjoying the net worth of $73 million. With his play in the Eagles, he receives an annual salary of $7 million and has invested his economic benefits in the business of worth $32 million.
He recently bought Lamborghini for $450,000 and owns luxury cars like Corvette, Cadillac and Range Rover with his cars of worth $3 million. He also has a Ram 1500 worth $60,000.
Carson Wentz and his Ram 1500
Source: NBC
Currently, Carson's resides in his house in Philadelphia with the estimated cost of around $6 million.
Tags related to Carson Wentz's Girlfriend Melissa Uhrich: Detail about their Affairs and Relationship Here on:
Carson Wentz