Carlo Ancelotti is the newly appointed head coach of the Spanish team, Real Madrid. The Italian professional manager is regarded as one of the most successful tacticians of all time in Europe in terms of titles and number of wins. He is one of only three managers to have won the UEFA Champions League three times and one of only two managers to reach the competition final four times.
Ancelotti was born in Reggiolo, Italy on June 10, 1959. He started his playing career as a youth with his hometown team, Reggiolo in 1973. He remained with the club until 1975 and would move to Parma in 1975.
Carlo Ancelotti's Career
Ancelotti began his professional career in 1976 playing for Parma. He made altogether 55 appearances and scored 13 goals before leaving the club in 1979. After the end of the season, he signed with the Italian capital, AS Roma where he would spend the majority of his career. With Roma, he netted 12 goals in 171 games played. With the Giallorossi, Ancelotti won one Serie A and four Coppa Italia.
He played the final games of his career with AC Milan (1987 - 1992). For the Rossoneri, he played in 112 games notching up the goals on ten occasions. For the Italian national team, he made 26 advents and scored his only goal against the Netherlands in a one-off tournament on January 6, 1981.
Carlo Ancelotti is Real Madrid's coach with the most wins in his first 100 competitive games with 78.
SOURCE: Reuters
Ancelotti's first managerial job was with Reggiana in 1995. Before he departed from the club in 1996, he led Reggiana to a record 17 wins, 14 draws, and 10 losses in a single season. For the next two seasons, he helmed the head coaching position at Parma leading them through 42 wins, 27 draws, and 18 losses.
He next provided tactics to Juventus until June 17, 2001. He guided the Bianconeri for a total of 114 games of which 63 were wins, 33 draws, and 18 losses. Carletto would enjoy his breakthrough success by becoming the chief manager of AC Milan from 2001 to 2009. During those periods, he led the club to each of Serie A, Coppa Italia, and FIFA Club World Cup titles.
He took the Rossoneri through three UCL finals, winning on two events and the two subsequent UEFA Super Cup titles. In 2009, Chelsea signed Ancelotti as their head coach. He gave the Blues their third League title in his first season as a manager.
He next coached Paris Saint Germain where he would enjoy the similar success of winning the French League title. He had his third Champions League final victory with Real Madrid in 2013-2014; also the season when he became their head coach. During his reign, the Los Blancos won each of Copa Del Rey, UEFA Super Cup, and the FIFA Club World Cup.
He also led the German team, Bayern Munich through a title-winning season in 2016-17 along with two domestic cups. Ancelotti spent a year at Napoli and then two years at Everton before getting appointed as Real Madrid head instructor once again on June 1, 2021. Under his tutelage, three players went on to win the Ballon d'Or namely, Shevchenko, Kaka, and Cristiano Ronaldo.
Carlo Ancelotti Net Worth and Salary Details
While players are/will possibly be the most liable assets for the club in terms of huge salaries, coaches also have been known to command significant financial rewards. Managers' track record helps them earn millions in salaries. And Ancelotti's resume of 20 titles comes at a price even for some of the richest clubs in Europe.
Ancelotti's salary at Chelsea during the 2009-10 season was reported to be more than £5 million a year. On his sacking, he allegedly received a severance payment of £6 million from the Blues. His salary while being the coach of Paris Saint Germain was reported to be €6 million annually. Stats indicate during the early to mid-2010s the Italian mastermind was netting in around $7-$8 million a year in salaries.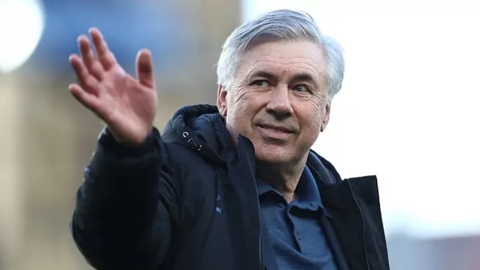 Carlo Ancelotti was appointed as the new head coach of Real Madrid on June 1, 2021
SOURCE: Real Madrid Press
In between these times, analysts claim he was one of the few managers who was frequently exceeding initiated income thanks to continuous title victories with some of the elite European teams.
Sources believe he grossed over £11 million annually and around £24 million in total for being in charge of Everton from 2019 to 2021. Although, his current salary with Real Madrid is yet to be disclosed, some are confident the figures are as high as over £13 million or so.
The faith stems from the fact that the Whites must have done something big in terms of finances to lure the Italian to leave his already lucrative clause with the Merseyside. During his stint as a coach in England, he was among the top five highest-paying managers.
Before Everton, he was earning a little over €5.5 million with Napoli. With over €90 million in career earnings as a coach, experts claim Ancelotti's net worth hovers at around €50 million.
AC Milan forward, Zlatan Ibrahimovic's Net worth, Salary, and Wife
Carlo Ancelotti Wife and Relationships
Over the course of his life, Ancelotti has been with three women. His first partner, Luisa Gibelini remained with him for 25 years. Ancelotti and Gibelini separated in 2008. He was then alleged of starting a relationship with a Romanian woman, Marina Cretu.
Carlo Ancelotti was married to Luisa Gibelini for 25 years
SOURCE: Lare Public
Some believe Ancelotti's affair with Cretu was the real reason behind his marriage downfall with Gibelini. He was reportedly in liaison with the Romanian since 2004. She was 18 years younger than the former Milan midfielder and was working as a hostess at Modena football club.
In 2011, sources confirmed his romance with Canadian businesswoman Mariann Barrena McClay. The three-time European Cup winner and Barrena McClay married in Vancouver in July 2014 - two and a half years after their first meeting. The pair met in London during Ancelotti's final year as Chelsea's manager.
Carlo Ancelotti married Canadian businesswoman, Mariann Barrena McClay in July 2014.
SOURCE: AFP Bayern
From his marriage with Gibelini, Ancelotti is the father to a daughter, Katia, who is a journalist in London. It was after Katia's wedding on June 4, 2014, that the Italian manager celebrated his own nuptial with Barrena McClay. The daughter of the current Real Madrid coach is married to a nutritionist, Mino Fulco.
The coach and Gibelini also produced a son, Davide who was his assistant coach at Everton.