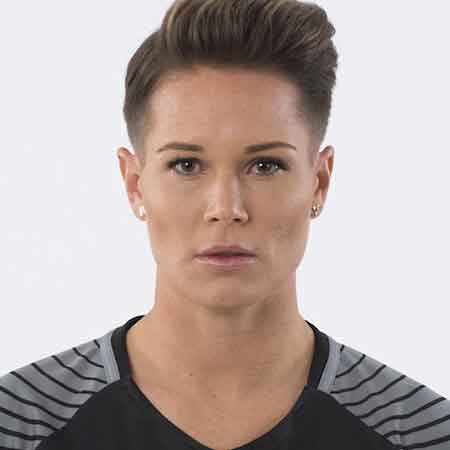 Personal Info
Date of Birth

Age

36 Years Old

Famous Name

Country United States US
Facts
Birth Name

Ashlyn Michelle Harris

Birth Place

Florida, USA

Father

Mike Harris

Mother

Tamye Harris

Net Worth

$1 million

Salary

$250,000 per year

Nationality

American

Ethnicity

White

Currently Working For

Orlando Pride

Married to

Ali Kreiger

Religion

Christian
Ashlyn Harris is an American woman soccer player who plays as a goalkeeper for the United States women's national soccer team and NWSL club Orlando Pride. She was also the member of the national team that won the 2015 FIFA Women's World Cup in Vancouver, Canada.
Harris has won many teams as well as individual awards. She was also awarded the NWSL Goalkeeper of the Year in 2016. She is openly a lesbian and is married to her partner Ali Krieger. She has an estimated net worth of $1 million.
Married to Ali Kreiger
Ashlyn Harris who is a lesbian is married to her teammate Ali Kreiger. Ali Kreiger is also a professional football player who plays as a defender for USWNT and Orlando Pride. The couple married in 2015. The duo is a fan favorite lesbian couple in social media.
View this post on Instagram
Ashlyn and Ali attended their US National teammate Alex Morgan's wedding together.
Ashlyn is also very motivated to work with non-profit charitable organizations, she supports 'To Write Love on Her Arms' that helps people struggling with addiction, depression, self-injury, and suicidal tendencies.
Body Measurement
Harris stands at a height of 1.75 meters (5' 9") and 66 kg (145 lbs). She has Dark Brown hair and brown eyes.
Net Worth - $1 million
Ashlyn who has an annual salary of $250,000 has an estimated net worth of around $1 million. Her life partner Ali Kreiger has an estimated net worth of $3 million.
Harris has a BMW car and has also posted the picture of her ride on Instagram.
Ashlyn Harris with her BMW car
She is the brand ambassador of BMW and also has an endorsement deal with football sportswear company Umbro.
Short Bio
Ashlyn Harris was born on October 19, 1985 (age 32) in Satellite Beach, Florida, United States. Daughter of Tammye and Mike Harris, she has an older brother named Chris.
She played soccer in the boys' team till she was 14. She started playing for girls' team when she made into Seminole Ice Girls Team. Earlier she played with boys in Plam Bay Rangers and South Brevard United. Harris attended Satellite High School in Satellite Beach, Florida.
Also Read: Ali Krieger Biography
Harris who also played for the school's football team helped her team win State Championship titles in 2002 and 2003. She was named the nation's number one recruit by Soccer America. She was also named 2004 Gatorade player of the Year and 2004 NSCAA Player of the Year. She graduated from Satellite High School in 2004 with a 3.8 GPA.
Early Career and Injuries
Harris delayed her enrollment in University of North Carolina Tar Heels in 2006 due to her participation in FIFA U-19 Women's World Cup in 2004. She made 39 appearances for her country in U-19 games.
Her university's game period was not up to par as she sustained three injuries and stayed out of the field most of the time. Her injuries stopped her appearing not only on her home ground but she also could not appear in any of U-21 games representing her country. 2006 and 2007 season she was on the bench with injuries in her thumb and tearing up of her right anterior cruciate ligament (ACL).
She again tore her left ACL and only managed to enter as a substitute in football games and played throughout all NCAA tournament matches. She was named the 2006 and 2007 ACC Academic Honor Roll. Unfortunately, she had her labrum in her right hip torn during 2007.
2008 was the first season in UNC where she was perfectly healthy to play for games. UNC went on to win 2009 NCAA women's Soccer Tournament against Stanford in the Championship game.
Professional Career
Ashlyn started her professional career at Pali Blues football club in 2009. She stayed there for a year before being picked at 2010 WPS Draft of Women's Professional Soccer in January 2015 by Saint Louis Athletica. Not only a year she was forced to move onto another club because of dissolution of Saint Louis Athletica. She was taken to Washington Freedom from 2 June 2010.
Ashlyn Harris playing for the US national team
Ashlyn Harris switched many football clubs staying less than a year to a maximum of three years in only two clubs. Her next club was Western New York Flash during 2011/12 season and she moved onto FCR 2001 Duisburg in 2012/13 season. Later, she was signed by Washington Spirit for a three-year contract (2013-2015).
From 2013 she has also been representing the USA team overseas and in-home ground in senior level. So far she has played 15 games representing her nation. Unfortunately, a year into the new club she was traded to Tyreso FF on a loan. She played for the Tyreso FF till 2016 when she signed a new deal with Orlando Pride.
Awards and Wins
She still plays from the Orlando Pride and has won 2016 NWSL Goalkeeper of the Year.
Ashlyn is also featured in a video game. She is included along with her national teammates in the EA Sports' FIFA video game series in FIFA 16. It was the first time women players ever included in the game.
When the USA Women's Football Team brought home trophy of 2015 FIFA Women's World Cup, she was honored along with her teammates with a Ticker Parade in New York City and a key to the city. They were also invited and honored into the White House by then-President Barack Obama.