Alex Morgan is the captain of San Diego Wave FC in the National Women's Soccer League (NWSL), and has been an instrumental player in the success of the United States Women's National Team (USWNT). Her outstanding performances have contributed to the triumphs of her team in international competitions.
Alex Morgan has earned numerous accolades, including being named U.S. Soccer's Female Athlete of the Year on two occasions (in 2012 and 2018) and securing the title of Concacaf Player of the Year four times (in 2013, 2016, 2017, and 2018).
Alex Morgan Net Worth 2023 - Salary
Alex Morgan's annual salary is reported to be $5,700,000, although it is uncertain whether this amount is her current or past earnings. Alongside her successful soccer career, Morgan is estimated to have a net worth of approximately $3.5 million.
Alex Morgan has an estimated net worth of $3.5 Million.
SOURCE: Instagram- @alexmorgan
Some of the richest female players in soccer are Amandine Henry and Wendie Renard, both with net worths of $7 million. Alex Morgan's estimated net worth is $4.6 million, closely followed by Julie Ertz at $4.5 million. Carli Lloyd's estimated worth stands at $3.3 million.
Morgan's Career Earnings and Women's World Cup Earnings
Alex Morgan might have possibly earned $7 million or more, throughout her tenure as a professional football player. According to Forbes, Morgan holds the distinction of being the highest-paid player at the 2023 FIFA Women's World Cup, with on-field earnings amounting to $0.8 million, complemented by substantial off-field earnings totaling $6.3 million.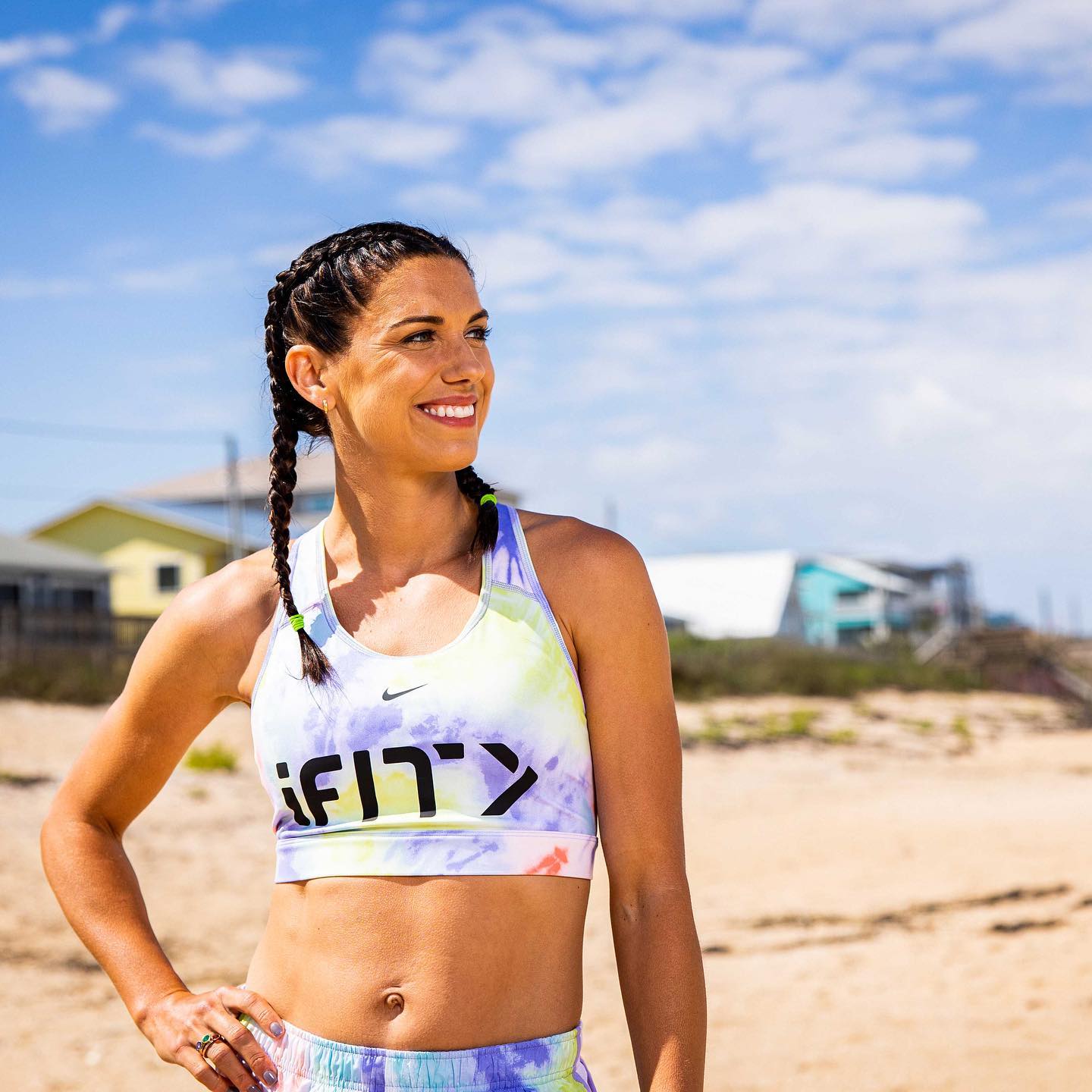 Alex Morgan in sponsorship with fit brand.
SOURCE: Instagram- @alexmorgan
Morgan's teammate on the USWNT, Megan Rapinoe, earned $0.7 million for her on-field contributions during the Women's World Cup. As a private person, Morgan has kept the official amounts away from the public eye and enjoys a luxurious life outside the field.
Alex's Endorsements and Sponsorships Deal
Alex Morgan has secured numerous endorsement deals with prominent companies across various industries. Coca-Cola, one of her major sponsors, and Nike, a renowned sports apparel brand, are among her notable partnerships.
CAPTION: Alex Morgan in sponsorship wit Calvin Klein.
SOURCE: Instagram- @alexmorgan
She has endorsement deals with Google, a multinational technology company, and Chipotle, a popular fast-food restaurant chain. Morgan's influence extends to the sleep technology industry through her endorsement deal with Molecule Sleep and to the luxury watch market with her association with Hublot.
Furthermore, she has a collaboration with Schutz, a well-known Brazilian footwear brand, and is also associated with Michelob Ultra, a beer brand, and BODYARMOR, a sports drink brand. Her portfolio includes a partnership with Hyundai, a multinational automotive manufacturer.
Related- Is American Soccer Player Alex Morgan Happily Married To Servando Carrasco? Past Affairs
Morgan's Club Contract
Alex Morgan, a professional soccer player, has experienced a dynamic career with stints at several notable clubs. In a significant trade in November 2021, she moved from Orlando Pride to San Diego Wave FC, a deal that garnered attention as one of the most high-profile transfers in the history of the National Women's Soccer League (NWSL).
Alex Morgan showcases her football skills.
SOURCE: Instagram- @alexmorgan
The specifics of the trade emerged in December 2021, with Orlando receiving a record-breaking $275,000 in Allocation Money and Angharad James as part of the deal. Morgan's contract with San Diego Wave FC extends through 2025; however, the precise details, including her salary and potential incentives or bonuses, remain undisclosed to the public.
Alex Morgan has showcased her talents at various clubs, including Western New York Flash, Seattle Sounders Women, Portland Thorns FC, Olympique Lyonnais, Tottenham Hotspur, and Orlando Pride.
Related- Women's FIFA World Cup 2023: Best Top 5 Things You Need to Know!
Alex Morgan's Career Journey - Beginning of Her Football Career
Alex Morgan had a remarkable soccer journey that began at the University of California, Berkeley, where she earned numerous honors and awards. Her professional career included playing for esteemed clubs like Portland Thorns FC, Orlando Pride, and Lyon, before joining San Diego Wave FC in 2021.
Alex Morgan with her daughter.
SOURCE: Alex Morgan
Morgan played a pivotal role in the United States Women's National Team (USWNT), contributing to their success in multiple Women's World Cups and Olympic gold medals. Off the field, she ventured into writing, creating the bestselling "The Kicks" series for young audiences.
Moreover, Morgan advocated for equality and played a key role in securing a historic Collective Bargaining Agreement with U.S. Soccer. Her impact extended beyond her athletic accomplishments, solidifying her position as a multi-faceted and influential figure.
Related- Megan Rapinoe Net Worth 2023 - Salary, FIFA Women's World Cup Earnings, & Career Earnings | playerswiki
Alex Morgan Playing Style & Stats
Alex Morgan is a forward with an impressive soccer career and is renowned for her exceptional playing style and remarkable statistics. Known for her speed, agility, and goal-scoring prowess, she is a versatile player capable of excelling both as a striker and on the wing
Her impact extends beyond the international stage, as she has played for various clubs, including San Diego Wave FC, Portland Thorns FC, Orlando Pride, Lyon, and Tottenham Hotspur. Morgan's stats speak volumes about her skill and contribution to the sport. With 209 appearances for the United States Women's National Team (USWNT), she has scored an impressive 121 goals and provided 50 assists.
Participating in four FIFA Women's World Cups and winning multiple international tournaments with the USWNT, she has consistently showcased her talent and dedication to the sport. In 2022, Morgan's exceptional performance earned her the Golden Boot as the top scorer in the National Women's Soccer League (NWSL), scoring 12 goals in 20 games for San Diego Wave FC. Her FIFA 23 rating of 90, with a potential of 90, reflects her proficiency and potential on the virtual pitch.