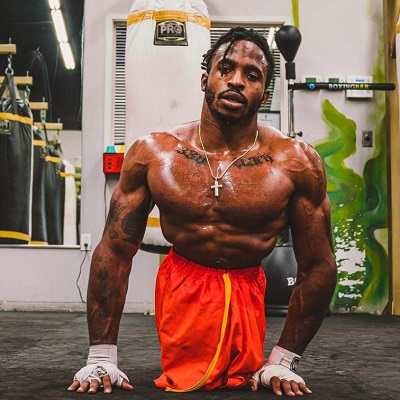 Personal Info
Date of Birth

Age

25 Years Old

Famous Name

Zion Clark

Country United States US
Facts
Father

Unknown

Relationship Status

affair

First Name

Zion

No. of Instagram Followers

1 Million

Mother

Kimberli Hawkins, Melanie (biological)

Wikipedia

Last Name

Clark

Birth Name

Zion Clark

Net Worth

$200,000

Mother Nationality

American

Facebook

https://www.facebook.com/bigznoexcuses/

Twitter

https://mobile.twitter.com/zionclark

Birth Country

United States

Instagram

https://www.instagram.com/bigz97/

Famous Name

Zion Clark

Horoscope

Libra

Hobbies

Nationality

American

Affair with

-

Ethnicity

African-American

Girlfriend

Bodacious Teitei

Religion

Christians

Profession

Former Wrestler, MMA Fighter

Famous for

MMA Fight

Started career as

Wrestler

Came to fame after

Winning MMA debut fight

University attended

Kent State university

School attended

Massillon Washington High School
Zion Clark is now a professional MMA fighter who made his professional MMA debut fighting against Eugene Murray. He is a former American college wrestler born with no legs. After every judge gave him 30-27 scores, Clark officially became 1-0 as a pro-MMA fighter.
Besides, Clark is also a world record holder who broke the world record by walking 20 meters fastly just from his hands on September 22, 2021. Clark completed the walk within 4.78 seconds. He is also famous for his inspirational documentary on Netflix called Zion. His film also garnered critical acclaim at the prestigious Sundance Film Festival in 2018. Besides his career as a wrestler, Clark remains busy as a motivational speaker.
How Much Is Zion Clark's Net Worth? MMA Fighter's Earnings Details
Zion makes a decent amount of money from his profession. He just made his MMA debut and won it too. There is no shadow of a doubt that his bank balance will skyrocket in the coming years. Exploring the internet, it can be said that Clark has an estimated net worth of around $200,000.
Zion Clark posing in his car.
SOURCE: Instagram @bigz97
Clark may have made a fair profit when making his professional MMA debut. However, the details regarding his prize and PPV earnings also remain unknown. Before coming to mixed martial arts, Clark was a wrestler.
Likewise, Clark is now entirely focused on his career. Being an athlete, Clark may have worked with some brands that may be paying him well. His Instagram posts show that he enjoys a quality life to the fullest. Clark often posts snaps from various locations. We can also see him posing with fantastic sports cars that cost over a million dollars. Also, Clark wears clothes from luxury brands, including Versace and Gucci.
Do Follow: Brendan Vink and Leo Leite
Does Clark Have a Wife? Details On His Love Life
Clark does not have a wife, and he is not married. However, the fighter is having a romantic affair with his gorgeous girlfriend, Bodacious Teitei. Like many internet couples, Clark and his girlfriend also live lowkey lives and do not come up openly in the media.
Zion Clark and his girlfriend Bodacious are on a beach.
SOURCE: Instagram @bigz97
Despite staying away from the limelight, their love life has garnered many people's eyes. According to Netline, Clark and Teitei began their romance on January 4, 2021. Their first post on Instagram was made on the same day. After that, Teitei started sharing their snaps quite often.
Teitei is also a supportive girlfriend who supported Clark when he went for the Guinness World Record for the fastest person on hands. The lovebirds celebrated Teitei's 24th birthday and shared some moments on social media.
Clark's Girlfriend, Bodacious Teitei, Is a Model
Clark's girlfriend, Bodacious Teitei, is a model and twitch streamer from Harlem, NYC. Teitei is from the LGBTQIA+ community and uses they/them pronouns.
Zion Clark's girlfriend, Bodacious, shares a photo.
SOURCE: Instagram @bodacious_teitei
Teitei has decent followers on Instagram, which we can follow as @bodacious_teitei. On Instagram, Teitei shares her daily lifestyle. Also, Bodacious has posted some moments with Clark. On October 2021, the duo went to Kauai, Hawaii, and Teitei posted a cute image on Instagram.
Insights on Zion Clark's Career: Story From Wrestling to MMA
Zion was introduced to wrestling while in elementary school. He struggled, and in his initial phase, he didn't win a match for several years. When he went to Massillon High School, he met Coach Gil Donahue. Gil was the one who recognized Clark's passion for the sport and relentless work ethic.
So, Gil coached him, and after three years, Clark developed his wrestling technique and hit the weight room as a man possessed. In his senior year, Clark finished the season 33-15 and was one match en route to the D-I Ohio High School State Wrestling Championships. Later, Clark was recruited by several colleges to wrestle and chose to attend Kent State, where he spent two years steadily improving his skills and finding success at the varsity level.
Zion Clark after winning his MMA debut.
SOURCE: Instagram @bigz97
Clark began dreaming of more challenges in his life. So, he became the first American Athlete to contend in the Olympic (wrestling) and Paralympic (wheelchair racing) Games in Tokyo (2020). Clark also developed a good friend circle and was close to Jordan Burroughs. Furthermore, Clark got more into media prominence when his film, "Zion," was released.
After that, Clark began training hard as he aimed to pursue a career as a professional MMA fighter. His MMA career began in December 2022. Clark made his professional MMA debut on December 17, facing Eugene Murray. Clark defeated Murray by unanimous decision. Following his first win, Clark is looking to keep the momentum going. Also, Conor McGregor congratulated the newly-turned MMA fighter.
Take A Look At Zion Early Life: Parents and Family Background
Zion Clark was born on September 29, 1997, in Columbus, OH. The are not many details regarding his biological parents. It is reported that his biological mother's name is Melanie. Besides, his adoptive mother, Kimberli Hawkins, adopted Clark when he was seven months before his 18th birthday.
Zion Clark wishes his mother, Kimberli Hawkins, mother's day.
SOURCE: Instagram @bigz97
Clark had been adopted two times before, and it didn't work out. Further, Clark has never met his biological father but once met his biological mom.
What Condition Does Zion Clark Have?
Clark was born with a rare congenital disability called Caudal Regression Syndrome. This condition caused him to be born without legs. CRS affects an equal proportion of boys and females. So, while growing up, it wasn't easy for Clark.
Zion Clark is in the gym.
SOURCE: Instagram @bigz97
The former wrestler has opened up about his early life. In school, he experienced bullying as a child due to his stature. The bullying hurt, but instead of feeling depressed, Clark channeled that anger toward wrestling. So, he began wrestling when he was in grade two.