Love can be fickle; one moment, things are going well, and the next, couples become strangers. Such is the story of Alphonso Davies and his relationship with his ex-lover. Although many rumors about Alphonso's split came to light, the soccer star later told the fans the rumors were just rumors. For half a decade, Davies and his ex-lover stayed in a blissful relationship.
Davies holds fame as one of the best defenders in football as of 2022. Similarly, he became the key player in many of his games. And over the years, Alphonso won the hearts of many soccer lovers globally. Besides earning his stardom, the Canadian footballer also made lucrative deals from his success. As such, the star defender from Bayern Munich currently holds a massive net worth!
Alphonso Davies dated a Canadian football player for five years!
Spending his early teens in Vancouver, Alphonso Davies started his soccer journey in Canada. And he later meets his now-ex-girlfriend, Jordyn Huitema, while playing for Vancouver Whitecaps. Davies and Huitema joined the Canadian football club in 2015.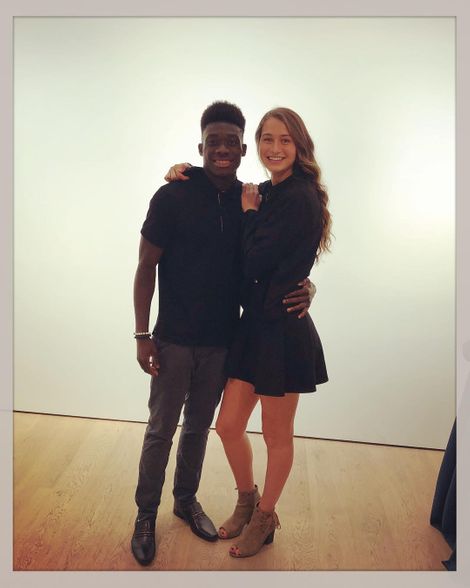 Alphonso Davies Instagram with Jorden Huitema
SOURCE: Instagram@alphonsodaviess
Although how the ex-couple first met remains a mystery, by 2017, Alphonso and Jordyn were an item. And by no means did the duo hide their relationship. From appearing on each other's Instagram posts to creating a Youtube channel together, they became a couple loved by all.
And after five years of relationship, Alphonso and Jordyn decided to break up. The news about them was sudden and unexpected by the couple's fans. And soon after the split, rumors about Jordyn cheating came into the spotlight.
Alphonso took a stand and cleared the rumors about his ex!
Despite the online cleansing after the breakup, Alphonso Davies and Jordyn Huitema hold no animosity. And that became apparent when the Bayern Munich player defended his ex.
Davies confirmed his breakup via a tweet. In the same tweet, Alphonso defended Jordyn stating the rumors about her weren't true. As per Alphonso's tweet, Jordyn still holds a lot of respect.
Not only did the duo delete every photo they took together, but they also deleted their Youtube channel. By the time his tweet came out, Alphonso and Jordyn had cleansed their social media of each other's presence.
Bayern Munich defender, Alphonso, is more focused on his career!
After the news about his breakup broke out, Alphonso Davies kept his love life away from the limelight. Similarly, Davies became one of the main reasons Canada made it to the Qatar 2022 FIFA World Cup. It appears that Davies is putting all his energy into football, which his fans will love to watch.
Apart from his public relationship with Jordyn Huitema, no other affairs came out. As such, the only girlfriend of Alphonso's that the fans know is Huitema. Due to his busy schedule and Davies wanting to keep his love life private, he's believed to be single.
Jordyn started a relationship with the Baseball star Julio Rodiguez!
Although her ex-boyfriend Alphonso is open about his life, Jordyn Huitema prefers to lead somewhat of a private life. So, it's no surprise that the public knows nothing about her previous relationships.
Jordyn Huitema started dating the baseball player Julio Rodriguez.
SOURCE: Instagram@jordynhuitema
What the fans do know is her new relationship; yes, Jordyn has moved on from her ex. And now, the talented footballer started dating the baseball player Julio Rodriguez. Huitema and Rodriguez announced their new relationship on November 1, 2022.
Alphonso Davies owns a multi-million net worth!
Even in his early twenties, Alphonso Davies earned millions over the years. And through his salary as a footballer, Davies currently owns an estimated $6.1 million. Alphonso's wealth has massively multiplied over the years.
Alphonso Davies holds millions as his net worth from his salary and sponsorship deals.
SOURCE: Instagram@alphonsodavies
At the beginning of his career in the senior division, Alphonso made less than $100k annually. As a member of the Vancouver Whitecaps, Davies bagged around $72.5k a year. And now, the talented footballer earns more than $100,000 per week.
Bayern Munich pays Alphonso a staggering amount as his salary. And Davies receives a weekly wage of €110k or $114.76k. Similarly, the Canadian footballer bags a whopping $1.25 million a year.
Davies' Contract extensions with Munich
The Canadian footballer and the German football club Bayern Munich extended their partnership till 2025. The club and the player went ahead of schedule and signed a new contract.
The original deal would expire in 2023, but in 2020, Davies and Bayern angered to add two more years. As such, the talented player will be under the Munich banner till June 30, 2025.
Alphonso also earns millions from his sponsorship deals!
As of 2022, the Canadian footballer holds two massive sponsorship deals. Alphonso Davies signed an agreement with Nike Canada in 2017. However, Alphonso's arrangement with the brand ends at the end of 2022.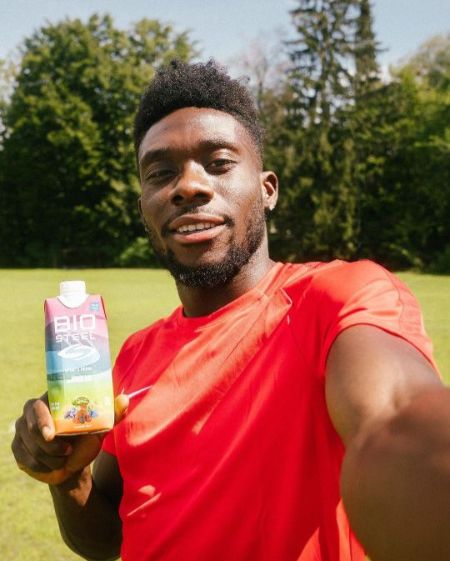 Alphonso Davies earned millions from his sponsorship deals and promoted Bio Steel drink.
SOURCE: Instagram@alphonsodavies
Davies signed a sponsorship deal with the BMO Financial Group. Likewise, according to the BMO article, Alphonso signed a five-year contract with the group as a BMO soccer ambassador. Other than these big brands, Davies also promotes products on his Instagram. Recently, he posted a promotional post with Bio Steel drinks.