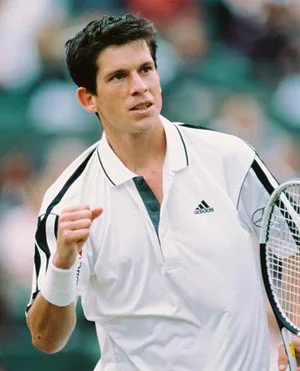 Personal Info
Date of Birth

Age

48 Years Old

Famous Name

Tim Henman

Country United Kingdom GB
Facts
Father

Tony Henman

Father Nationality

British

Mother

Jane Henman

Birth Name

Tim Henry Henman

Mother Nationality

British

Birth Country

Oxford, England

Famous Name

Tim Henman

Children

3

Nationality

British

Net Worth

$20 million

Ethnicity

White

Profession

Tennis Player

School attended

Longbridge school, Dragon School in Oxford

Married to

Lucy Heald

Past married if any

No

Wife profession

TV reporter

Wife nationality

British
Tim Henman is a professional retired tennis player based in Britain and is one of the most successful British open-era tennis players. He was the first male player from the United Kingdom since Roger Taylor in the 1970s to reach the semi-finals of the Wimbledon Men's Singles Championship. Henman was ranked British number 1 in 1996 and again from 1999 to 2005.
Tim was also ranked World No. 4 between July 2002 and October 2004. Unfortunately, Henman never reached a final of any Grand Slam but had succeeded to reach six Grand Slam semi-finals.
CAPTION: British Tennis player Tim Henman
SOURCE: https://www.standard.co.uk/
He also won 15 career ATP titles (11 in singles and 4 in doubles), including the Paris Masters in 2003 where he won against Andrei Pavel.
Tim's Personal Information
Timothy Henry Henman famously names, Tim Henman was born on September 6, 1974, in Oxford, England. According to the astrologers, his zodiac sign is Virgo.
Henman's father, Tony Henman was interested in various sports, including tennis, hockey, and squash. His mother, Jane Henman was a dress designer, who was interested in tennis and played in Junior Wimbledon.
Tim was the youngest of the family of three brothers. His elder brothers, Michael Henman and Richard Henman were also introduced to tennis but couldn't make it as a professional career.
Is Tim Henman married?
Tim Henman is living a happily married life with his former girlfriend Lucy Heald. The pair met in early 1999 for the first time. AT that time, Lucy was interviewing Tim to make a documentary about his life and career. Gradually, they fall in love, and they dated for a certain time before deciding to settle down. On 11 December 1999, Tim walked down his aisle along with Lucy in Hamshire, Texas, USA.
Henman's wife Lucy Heald is a TV reporter and had interviewed many well-known TV personalities. Lucy had interviewed her spouse for making a documentary about his career and gradually, the couple fell in love with each other.
Tim Henman and his wife Lucy Heald
SOURCE: https://www.mirror.co.uk/
As of 2021, there aren't any sources claiming about the disputes between the couples. This lovely family seems to be living a happy life in Aston Tirrold, United Kingdom.
Read also: Is Felipe Mora Dating? Know His Personal Life
Tim Henman's daughters
Tim Henman's daughters
SOURCE: https://www.dailymail.co.uk/
The couple is blessed with three daughters, Rose Elizabeth, Olivia Susan, and Grace. Rose Elizabeth, the eldest daughter was born in 2002, Olivia Susan was born in 2004, and the youngest daughter, Grace was born in 2007.
What is the net worth of Tim Henman?
Throughout the tennis career of a former 1996 British No.1 tennis player, he has done pretty well and won prize money of $11,635,542. Besides this, he has received numerous endorsement and sponsorship deals that are believed to have been worth more than $32 million.
As a result of his success and earnings throughout his career, Henman's net worth is valued at $20 million.
The 2004 Grand Slam French Open semi-finalist and his Wife Lucy Heald reside in a small village in Aston Tirrold. They planned to move to their very own house after the couples started to have kids and also due to Lucy's horses. Presently, the couple shares their home with their three adorable daughters. As of 2021, a former British tennis player is a sports commentator at BBC, and he continues to get well-paid sponsorships deals from top companies.
Read also: Career Earnings, Net Worth and Sponsors of Yuka Saso
Tim Henman's love for cars
Besides Tennis, a former tennis player is passionate about English sports cars. He explained in an interview that his love for cars began from his early childhood. That time his dad would drive him and his siblings to school in a black MGB GT. When he was old enough to drive, he got a Peugeot 306 XSi as his first car for £13,000.
Tim Henman with his car
SOURCE: https://www.driving.co.uk/
Henman later used part of the cash earned from his second attempts at Wimbledon semis in 1999 to purchase a Porsche 911 Carrera 4S for £100,000.
His need for a car didn't stop even after getting Porsche. Several sponsors offered him different cars including a Mercedes SL 500 in 2003, and a Jaguar XKR in 2004. Currently, Henman drives a Jaguar F-Type R, which he got in 2018.
The 2002 Grand Slam Australian Open semi-finalist explains that he is glad that his wife owns a Range Rover that they use to drop kids to school. The Range Rover is useful as it has enough room to assist all kids, a dog, as well as pull a horsebox.
The car lover British tennis player has also dreamed of owning his dream car Jaguar I-Pace model. Andy Murray currently owns the car and Henman has been a huge fan of that car since its distribution.
Tim Henman's Early Life
The young British tennis player grew up in Weston-on-the-green, Oxfordshire, a small village between Oxford and Bisector. Henman's family owned a grass tennis court in their backyard, where young Tim began planning tennis before the age of three with a shortened squash racket. From an early stage of his life, he made a strong commitment to being a professional tennis player in the near future.
Tim Henman as a kid
SOURCE: https://www.thetimes.co.uk/
The 1999 British No.1 tennis player attended the Longbridge school for boys from five to seven. Then, he was enrolled in the private school Dragon School in Oxford. He was excellent in every sport, mainly in tennis.
Tennis athlete attained a scholarship from Reed's School in Cobham, Surrey. He too received coaching from the David Lloyd Tennis Centre, where he was personally being taught by a former professional player, Onny Parun from New Zealand. Parun stated that Henman's greatest strength "had always been in his head".
Explore more athletes personal information, net worths and career earnings, relationship status, and achievements and at PlayersWiki