Personal Info
Date of Birth

Age

71 Years Old

Famous Name

Terry Pegula

Country United States US
Facts
Father

Myron Pegula

Mother

Eloise Pegula

Birth Name

Terrance Michael Pegula

Net Worth

$5.7 Billion

Birth Country

Carbondale, US

Married to

Kim kerr Pegula

Famous Name

Terry Pegula

Children

Jessica, Kelly, Laura, Mathhew, Michael

Divorce

Anne Shirley

Wife profession

Businesswoman

Horoscope

Aries

Wife nationality

Asian-American

Nationality

American

Religion

Christian

Profession

Businessman

Rank

188 in Forbes 400 list
Terry Pegula is an American Billionaire involved in natural gas development, real estate, the entertainment industry as well as in professional sports. He is the owner of Pegula Sports and Entertainment which also owns the Buffalo Sabres of the National Hockey League and the Buffalo Bills of National Football league with his wife Kim Pegula.
Terrance Micheal Pegula, famously known as Terry Pegula is at 188 number on the Forbes 400 list of Billionaires as per the Forbes. He has a hugely successful business in different sectors which has led him to become one of the richest men in America.
Terry Pegula's Bio and Family
An American natural Gas tycoon, Terry Pegula was born on March 27, 1952, in Carbondale Pennsylvania, US. At the moment, he is 70 years of age, and his zodiac sign is Aries. Talking about his occupation, he is a petroleum engineer, Professional sports team owner, and real estate, developer.
An American billionaire is known as the Owner of Buffalo Bills, owner of Buffalo Sabres, Owner of JKLM Energy, and many more. At present, he lives in Boca Raton, Florida with his second wife Kim Pegula. He is the son of the father Myron "Rip" Pegula, and his mother Eloise Pwgula.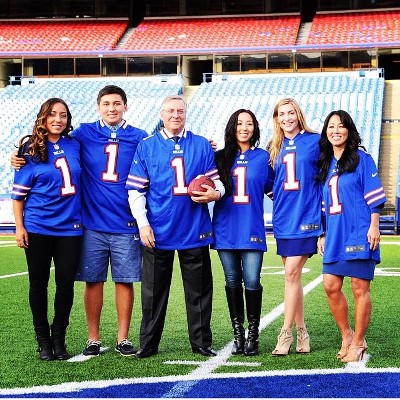 Terry with his family
SOURCE: [email protected]
Terry Pegula has five children from his two wives; two from the previous married they are Micheal and Laure and 3 from his second wife Kim they are Jessica, Kelly, and Matthew. His daughter Jessica Pegula is a professional tennis player who is in the top 20 players on the Women's Tennis Association Pro Circuit.
Who is Terry Pegula's first wife?
Terrance Michael Pegula aka Terry Pegula's first wife was his childhood friend Anne Shirley. Besides this, any other information about Anne Shirley is not available anywhere. their marriage didn't work out as they thought.
So they decided to divorce due to their personal issues.
How is the marital relationship of Terry with Kim Kerr?
Terry Pegula is currently married to his second wife Kim Kerr. Before their marriage, the couple was in relation for some years and decided to tie their wedding knot in 1993.
His current wife Kim Kerr Peguala was actually born in Seoul South Korea and was adopted by Ralph and Marilyn Kerr at the age of 5.
Terry and his present wife Kim Kerr
SOURCE: [email protected]
Terry Pegula seems to be a very loving and caring husband to his wife Kim Kerr Pegula. The couples seem to be very happy and satisfied together. The couples often share their beautiful pictures on various social media. As of now, they are very happy with their marital status. They have maintained their professional and personal life in balance.
The net worth of American Business Tycoon Terry Pegula in 2022
An American Billionaire has his hand in various sectors i.e Natural gas development, Professional sports, real estate, and the entertainment industry earning a profit of millions of USD.
As of 2022, he is listed at 188 positions on the Forbes 400 Billionaires list. He has built his own business empire. In 2010, his oil and gas outfit, resources sold the bill of its assets to Royal Dutch Shell for $4.7 Billion.
Terry's words after buying Buffalo Bills
SOURCE: [email protected]
Likewise, he owns the NFL team Buffalo Bills, NHL team Buffalo Sabres whose converted values are in millions of dollars. Besides that, he adds good fortune to his net worth from the real estate and entertainment industry as well. He owns a luxurious mansion, private jets, and yacht. As of 2022, his estimated net worth is about $ 5.7 billion.
Charities and Donations
An American billion Pegula is really generous and kind-hearted as well. He doesn't earn money only but also donates to the people in need. In the 2019 covid-19 pandemic, Terry and Kim donated at least 1.2 Million to aid the pandemic region.
His company Pegula Sports and Entertainment in coordination with the Bills and Sabres Foundation gave financial support to local non-profit agencies and to families at risk of going hungry.
Likewise in 2010, Terry Pegula and his wife donated $28000 to the Republican Tom Corbett's campaign during the Pennsylvanian govern's race. The Pegula has earned as well as given to the society for its growth and betterment.
Facts and Trivia;
Terry Pegula is at #188 position on the Forbes 400 list.
His zodiac sign is Aries.
His daughter Jessica is a pro-Tennish player.
Anne Shirley is his first wife.
Ranked on the most popular businessman list in America.