Personal Info
Date of Birth

Age

56 Years Old

Famous Name

Terri Runnels

Country United States US
Facts
Father

Relationship Status

divorced

First Name

Terri

No. of Instagram Followers

47.2K

Wikipedia

https://en.wikipedia.org/wiki/Terri_Runnels

Last Name

Boatright

Birth Name

Terri Lynne Boatright

Net Worth

$500,000

Birth Country

United States

Past married if any

Dustin Runnels (Goldust)

Instagram

https://www.instagram.com/theterrirunnels/

Famous Name

Terri Runnels

Children

Dakota

Horoscope

Libra

Nationality

American

Affair with

Brian Pillman, Tyree Clowe, New Jack

Ethnicity

-

Profession

Television Host

Started career as

make-up artist

Came to fame after

Marrying Goldust
Terri Runnels is an American retired professional wrestling manager, television host, and occasional professional wrestler. She is best known as an ex-wife of a famous WWE superstar Dustin Patrick Runnels popular as Goldust.
Terri and Goldust were married for over five years and divorced in 1999. Throughout their marriage, the former couple also had a daughter named Dakota, born in 1994. Since her divorce from her ex-wife, Runnels has led a single life.
Is Terri Runnels Dating Anyone Now?
Runnels appears to be single, and none of her recent social media posts hints at her having an affair with anyone. We can say that she is enjoying a solitary life to the fullest. Runnels often shares snaps with her friends and her ex-husband too.
Terri Runnels in an event with Hulk Hogan.
SOURCE: Instagram @theterrirunnels
Runnels was married to the famous WWE superstar Goldust. Despite being separated, Runnels and Goldust appear to have a good relationship as friends. We can see their images on social media too.
Runnels Marriage With Goldust: More on Her Past Relationship
As said earlier, Runnels was married to WWE star Goldust. They met while they were both working for WCW. After knowing each other for some time, they walked down the wedding aisle on July 25, 1993. Their marriage ceremony was held privately.
Together, Goldust and Runnels also gave birth to a daughter named Dakota. Runnels' strained relationship with his father, Dusty Rhodes, caused problems in their marriage, and Runnels alleges that Dusty spread rumors about her, including infidelity and gold-digging. So, after six years of marriage, they divorced in 1999.
Terri Runnels with Brian Pillman.
SOURCE: Instagram @theterrirunnels
Apart from that, Runnels had some affairs in the past too. She dated Brian Pillman in 1990 while both were in WCW. Later in 2003, she dated 15 years younger U.S. soldier Tyree Clowe and remained with him until 2007. In 2009, Runnels began dating former professional wrestler New Jack and eventually separated in July 2011. The reason for their separation was Jack selling nude and bloody photographs of Runnels.
Details To Know About Goldust
Gold Dust was born Dustin Patrick Runnels on April 11, 1969. He is a WWE superstar working with the brand since 1995. He plays under the ring name Dustin Rhodes for All Elite Wrestling. He is also known for his appearances in World Championship Wrestling (WCW) and Total Nonstop Action Wrestling (TNA).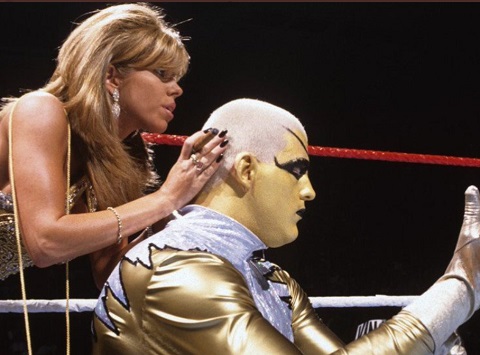 Terri Runnels and Goldust during a show at WWE.
SOURCE: Twitter @InnerN3rd
Additionally, he is the son of the late WWE Hall of Famer Dusty Rhodes and the half-brother of fellow wrestler Cody Rhodes. After the divorce from his first wife, Marie, Goldust later married a woman named Milena Martelloni on December 18, 2002. Unfortunately, the relationship didn't last for long, as they divorced after one year of their marriage.
After Dust's unsuccessful relationship with his second wife, Milena, he again married a woman named Ta rel Roche, with whom he wedded on June 22, 2012.
How Much Is Terri Runnels' Net Worth? Career Earnings
Well, wrestlers are known for living an extravagant lifestyle, and so does Terri. To have such kind of lifestyle is impossible without a handsome paycheque. Furthermore, Runnels was active for WWE for eight years as a professional wrestler. Runnels has collected a massive net worth of over $1 Million from her professional career.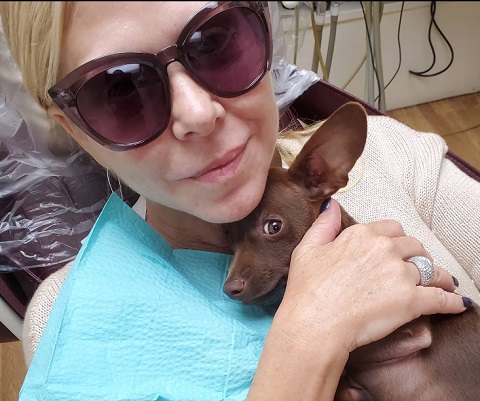 Terri Runnels shares a photo with her dog.
SOURCE: Instagram @theterrirunnels
Specifically, on average, WWE wrestlers earn $500,000 to $1 million yearly. However, professional wrestler makes more due to their involvement in acting jobs outside of WWE, which boosts their popularity in the WWE. Further, Terry was among the highest-earning female wrestlers of her time, and as of a recent report, Mickie James is among the highest earners with an annual salary of $300,000. She hasn't mentioned her assets, but it is assumed that she has a luxurious house where she currently lives in.
Exploring her social account, Runnels seems to have a luxurious lifestyle as she is spotted attending different events and wearing fancy and expensive outfits.
Read More: Paul Heyman
Explore Runnels' Early Life and Family Background
Terry Runnels was born Terri Lynne Boatright on October 5, 1966, in Live Oak, Florida. She was raised in Florida. As a Southern Baptist, Terri grew up but later became non-denominational.
The details regarding her family background and parents remain unknown as Runnels has not given many hints about it to the media.
Professional Career
Runnels was active as a professional female wrestler with WWE for eight years. In 1996, under the ring name of Marlena, Goldust's valet, she signed her contract with WWE. She was a significant component of an act called "The Bizarre Ones." She was also the manager of other strange acts, including The Hardy Boyz, Meat, Saturn, and Raven.
Runnels eventually switched to the backstage interviewer's work, which expanded her WWE contract. Once she won the WWF Hardcore Championship, but in 2004 she left the organization.
Terri Runnels during her professional career.
SOURCE: Instagram @theterrirunnels
Furthermore, Runnels is also actively involved in charities, including the Make-a-Wish Foundation, Big Brothers Big Sisters of America, Boys & Girls Clubs of America, Children's Miracle Network, Hermie & Elliott Sadler Foundation, and Fit Kids Marathon.