Stefan Savic is a professional football player from SR Montenegro who plays for the Spanish club Atletico Madrid. He also plays for the Montenegro national team. Playing for the team of Montenegro, he has already made over 50 appearances. His outstanding performances have also helped him win various awards, including the Montenegrin Footballer of the Year five times.
Before coming into his current club, Savic has represented multiple teams like BSK Borca, Partizan, and Manchester City. Besides that, Savic was passionate about pursuing a career in football from an early age. So, he aimed to pursue a career in it. And now, Savic is one of the most loved footballers in his nation.
Early Life and Parents
Stefan Savic was born on January 8, 1991, in Mojkovac, SR Montenegro, SFR Yugoslavia, making his age 31 years as of 2022. So, Savic holds Montenegrin nationality and stands at a height of 6 feet 2 inches (1.87 m). Savic shares a strong bond with his parents, Dragan Savic and Gordana Savic.
However, Savic faced a tragic incident in his life on April 6, 2011, when his father committed suicide. During that time, Savic was just 20 years old. For your information, his father was the president of the municipal assembly in Mojkovac.
Career Overview
Starting with his early career, Savic started his career with the team of BSK Borca during the 2008-09 season. During that time, he was also about to play for Arsenal. And on August 29, 2010, he signed a four years deal with Partizan. After that, he was given jersey number 15. He also participated in the 2010-11 UEFA Champions League.
Stefan Savic with his team
SOURCE: Instagram @savkee15
After that, Savic went on to play for Manchester City and signed with them on July 6, 2011. The contract was for four years. And for the team, Savic made his debut on August 15 of the same year by playing against Swansea City. His first goal came on October 1 while playing against Blackburn Rovers. With the team of Manchester City, he played 12 games and scored one goal.
Similarly, Savic went on to play for another team, and on August 31, 2012, he signed with the Italian Serie A club Fiorentina. He wore jersey number 7 for the team and made his debut on October 7, 2012, playing versus Bologna. And Savic scored his first two goals in December of the same year against Sampdoria. Furthermore, Savic made 26 league appearances and also participated in Coppa Italia.
Moving onwards, Savic went to play for Atletico Madrid and signed a deal on July 20, 2015. And in the 21st century, Savic became the first Montenegrin footballer who plays in the Champions League final. Besides that, Savic has also played for the national team representing them in various events. Initially, he played for under-17, under-19 and under-21 teams.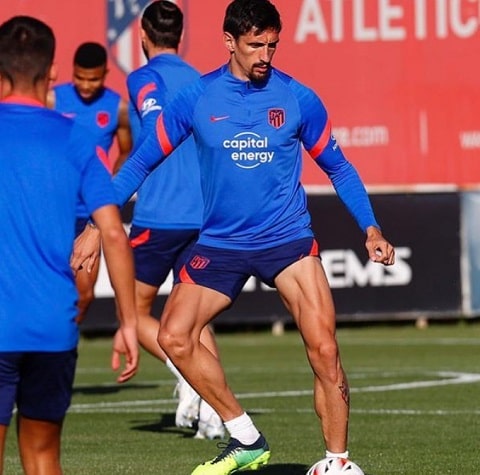 Stefan Savic during his training session
SOURCE: Instagram @savkee15
And Savic made his senior international debut on August 11, 2010, in a friendly match against Northern Ireland. When he played against Albania at the Loro Borici Stadium in Shkoder, Savic two goals.
Relationship Status: Stefan Savic Is Dating His Girlfriend
Coming into his love life, Savic is dating his girlfriend named, Nikolija Pesic. The love birds have been in a relationship for quite a while, but the actual date of their romance beginning is unknown. Exploring their social media posts, we can say that Savic and Pesic are doing really well, and their bond is growing day by day.
Stefan Savic with his girlfriend
SOURCE: Instagram @savkee15
The romantic couple loves exploring different places, and they also love featuring their moments on their Instagram handle. Not to mention, Savic's girlfriend is an active Instagram user whose username is @nikolijapesic, and at the time of this writing, Pesic has amassed more than 3k followers.
For your information, Pesic has kept her account private. So, due to this reason, it is pretty challenging to know about her ongoing lifestyle.
Read More.Nikolija Pesic
Salary and Net Worth
Currently, Savic plays for Spanish club Atletico Madrid, and Salary Sport reports that his pay for one week is £72,000 per year is £3,744,000. Besides that, he has represented various teams, and with them, he also had impressive deals.
When he joined Manchester City, Savic received a deal worth £6 million. And he came into his current team, Athletic Madrid, with an agreement of €10 million. According to Transfermrkt, Savic's current market value is €16.00m, while his highest value was €40.00m on May 30, 2018.
Stefan Savic lives a lavish lifestyle
SOURCE: Instagram @savkee15
No doubt, Savic is living a luxurious life as he has earned a massive amount of money from being a professional footballer. His Instagram posts also show that his life is lavish. During his spare time, Savic loves going to different places. He is also a fashionable guy, and he loves spending money on watches, clothes, and other stuff too.
And being a professional football player, Savic has surely worked with some sports brands. So, sponsorships and endorsement deals are his other sources of income.
Read Biography of Takumi Minamino
Follow Him On Instagram
As we know, Savic is fond of using social media, and he loves featuring his lifestyle on his IG account. Savic is registered on Instagram under the username @savkee15. And at the time of this writing, more than 366k people have followed him.
Not only that but his account is also verified. So, to get updated on his life, we can follow him there. Apart from that, we can't find his official account on other social media platforms.
Explore PlayersWiki To Learn More About Players' Bio, Gossip, and News!!!