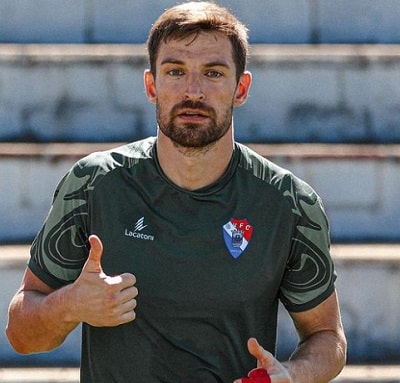 Personal Info
Date of Birth

Age

32 Years Old

Famous Name

Stanislav Kritsyuk

Country Russia
Facts
Father

-

No. of Instagram Followers

21.8k

Market Value

€1.50m

Mother

-

Birth Name

Stanislav Vasilyevich Kritsyuk

Currently Married

Yes

Married to

N/A

Birth Country

Tolyatti, Soviet Union

Famous Name

Stanislav Kritsyuk

Children

Two

Divorce

No

Position in Team

Goalkeeper

Nationality

Russian

Current team

Gil Vicente

Profession

Football Player

Squad No

1
Tolyatti, Russian native Stanislav Kritsyuk, is a professional football player who plays as a goalkeeper for the Portuguese club Gil Vicente. Since July 1, 2022, Kritsyuk has been with Gil Vicente, and he wears jersey number 1. From an early age, Kritsyuk was passionate about playing football and in 1998, he started his career by initially playing with the youth team of Lada Tolyatti.
As a senior, Kritsyuk played for multiple clubs before coming to Gil Vicente. Besides that, he has already played for the Russian national team, and his debut for the national team came on March 26, 2016. Before joining his current club, he was at Zenit Saint Petersburg, and for them, he helped to win the Russian Premier League: 2021-22. Furthermore, Kritsyuk is not only successful in his professional life but also in his personal life, as he has his own family with his wife.
Kritsyuk Age and Height
Kritsyuk was born as Stanislav Vasilyevich Kritsyuk on December 1, 1990, in Tolyatti, Soviet Union. So, as of early 2022, the Russian footballer's age is 31, and his height measurement is 6 feet 4 inches (1.92m). Furthermore, Kritsyuk spent the majority of his early days in Samara Region.
The details regarding his early life and family background remain a mystery as Kritsyuk has kept it away from media prominence due to privacy concerns.
Explore His Career
Starting with his early career, Kritsyuk played at Lada Tolyatti from 1998 to 2004. After that, he joined the Konoplyov football academy playing until 2008. After that, his senior career started with the team of Academia Dimitrovgrad, with whom he had just made four appearances. Later, he joined Togliatti and played with them until 2019, making 18 appearances.
Stanislav Kritsyuk planning with his team
SOURCE: Instagram @kritciuk_01
From 2010 to 2012, Kritsyuk was associated with Akademiya Togliatti making 39 appearances. Likewise, he also played for Braga and Braga B. In loan, he also made one appearance for Rio Ave. On March 5, 2016, Kritsyuk made his Russian Premier League debut for the team of FC Krasnodar, playing for FC Zenit Saint Petersburg.
The Krasnodar team released him with mutual consent on July 20, 2020. So, on September 29, 2020, Kritsyuk entered the team of Belenenses SAD, and after making 27 appearances for the team, he went on to play for another team, Gil Vicente singing a 3-year contract on June 21, 2021. On September 1 of the same year, Kritsyuk came back to Russia, with whom he signed a one-year deal with FC Zenit Saint Petersburg.
Again on June 21, 2022, the news about his contract termination with Kritsyuk was announced. So, his career didn't stop there, as his return to Gil Vicente was confirmed on the same day. So, since July 1, he has been with Gil Vicente. Apart from his career at the club, Kritsyuk also plays for the national team. On March 11, 2016, he was called to play for the Russian national football team against Lithuania and France.
Stanislav Kritsyuk is a professional goalkeeper
SOURCE: Instagram @kritciuk_01
So, Kritsyuk made his national team debut on March 26 by playing in a match against Lithuania. Before playing for the senior team, Kritsyuk also represented the U17, U18, and U21 teams.
Salary and Net Worth
Stanislav Kritsyuk makes money from being a professional football player. A Russian footballer has an average salary of $10439.48 per year. So, playing for the team of Gil Vicente, Kritsyuk may take home in the same range. According to Transfermrkt, Kritsyuk's market value is €1.50m, but his highest transfer value was €5.00m on December 27, 2016.
Furthermore, Kritsyuk has played for various clubs helping them to give their best in every game. So, his performances also helped him acquire fair prize money. While going from Gil Vicente to Zenit S-Pb, his market value was €2.50m. In the same way, while getting transferred to multiple teams, Kritsyuk surely received a decent fortune.
Stanislav Kritsyuk having a good time with his friends
SOURCE: Instagram @kritciuk_01
Apart from that, Kritsyuk makes money from sponsorship and endorsement deals. According to his Instagram bio, he works with AB1GK gloves. Not only that but Kritsyuk is also associated with PUSHKA SPORTS MEDIA AGENCY and Interstardeporte. Having various sources of income, Kritsyuk lives a lavish life, and his lifestyle can be explored by following him on social media.
Another Russian Footballer: Gamid Agalarov
Kritsyuk Is A Married Man
Moving into his personal life, Kritsyuk is a married man, and he leads a happy life with his beloved partner. The name of his wife is missing from internet sources. Due to the lack of information, we are unable to share much about their marriage date and events.
But exploring their social media posts, we can say that the pair have been supporting each other for a long time. Besides that, Kritsyuk and his wife have already started their own family. The duo has two kids, a son and a daughter, which Kritsyuk often features on his Instagram handle.
Stanislav Kritsyuk has two kids with his wife
SOURCE: Instagram @kritciuk_01
Moreover, Kritsyuk is a family person who loves spending quality time with his family members during his spare time. Not only that, but he has gone to various places with his partner and their kids. No doubt, their bond is growing strong daily, and they are happy as ever.
Online Activeness
Stanislav Kritsyuk is fond of using social media sites, and he regularly features his day-to-day activities on his social media handles. Not to mention, Kritsyuk is mostly active on Instagram than on other platforms. On Instagram, we can follow him under the username @kritciuk_01.
At the time of this post, Kritsyuk has already amassed more than 21.8k followers. Also, his account is verified. From his IG account, Kritsyuk posts about his professional and personal life too. So, to get more updates regarding his ongoing lifestyle, we can follow him on Instagram. Apart from that, we can't find his accounts on other platforms.