Ronald Stacy King is an American sports announcer and former National Basketball Association(NBA). King is known for his three consecutive wins for the Chicago Bulls from 1991 to 1993. He is the lead color commenter for Chicago Bulls television Bulls. King has been named NBA All-Rookie Second Team 1990, Sporting News College Player of the Week 1989, Consensus first-team All-American 1989, and Big Eight Player of the Year 1989.
On January 29, 1967, Stacey King was born in Lawton, Oklahoma, to his father, James King (who died a long ago). He grew up in Lawton with his brothers Darryl King and Lemoyne King, playing basketball in the backyard of his house. King stands 6 feet and 11 inches tall and weighs over 104Kg.
Stacey King's Divorce and current Relationship Status
King belongs to the American-African ethnicity, and he was married back in the years. The American sports announcer was married to Lisa King back in the year. The couple lived with each other for a long time and decided to divorce.
Stacey King with his three sons, Eric Alexander, Garrett, and Brandon.
SOURCE: instagram@staceyking21
Lisa and King divorced after 20 years of together; the couple shared a strong bond; however, that did not work out for them. The couple was gifted with Eric Alexander, Garrett, and Brandon.
Stacey's Relationship with Dawn Marie
As per some sources, King also married his gorgeous wife Dawn Marie, whom he has been enjoying his life. Stacey and King have been great parents to their children and loves hanging out with them. Dawn Marie is a fitness trainee, and it seems he has been spending his time with him.
King has posted on his Instagram, mentioning Dawn Maire for being a great parent to his children and admiring her efforts. The three-time NBA Champion has been a great parent and a supportive one, too; in one of the interviews, he mentioned
"I will never let that happen. Even if I'm in a wheelchair, I'm still going to find a way to win,"
Stacey King with his current wife, Dawn Marie.
SOURCE: instagram@staceyking21
After his sons claimed he couldn't beat them in pickup basketball. King has always been a supportive parent who has raised fine children along with Debi, as there is not much information about his ex-wife Lisa King and loves to keep it as it has been.
King's health condition and his brother Lemoyne King's Death
In 2020 The American commenter was bad in health due to Covid-19, where he suffered joint pain and intense fatigue. King had to be in bed for 16 days due to the sickness, adn later informed people to be alert.
King was seriously ill during the pandemics, which led him to difficulty walking to the washroom. King grew up with his brothers, Darryl King and Lemoyne King, and sadly his older brother Lamoyne died due to Covid-19 in 2020.
As of 2022, he is healthy and spending his time with the family.
King's Net worth, Career Earnings, and Salary
The three-time NBA Champion with the Chicago bulls has been one of the most admired and popular commenters. He was one of the popular players of his time, and he played NBA for ten years which might have pushed his net worth to the next level.
Stacey King is believed to have an estimated net worth of around $10 million approximately. During his four years stint with Chicago Bulls, he had earned more than $5 million. Talking about his earnings, he has collected some good fortunes with playing for different professional clubs to date.
Stacey King enjoying his vacations.
SOURCE: instagram@staceyking21
King played for Chicago Bulls, Minnesota Timberwolves, Arese Basket, Miami Heat, Grand Rapids Hoops, Sioux Falls Skyforce, Boston Celtics, Dallas Mavericks, Antalya, Atenas. Apart from his playing career, he has worked as a coach for three years at Rockford Lightning and Sioux Falls Skyforce, where he might have collected some good earnings.
AS of 2022, has he been serving as a sports announcer and a lead color commentator for Chicago Bulls television broadcasts; he had started his broadcast in 2006, and it has been 16 years. He earns $71,800 annually as a lead color commentator for Chicago Bulls and has got a lot of amazing journeys to go for him.
Also, know about Andi Petrillo's Net worth and Salary, Professional Life.
NBA Career of Stacey King
King attended the University of Oklahoma and was selected by the Bulls in the 1989 NBA draft, where he won three consecutive NBA Championship titles from 1991 to 1993 and has been one of the best prospects.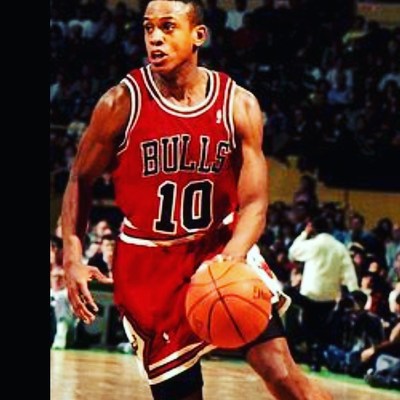 CAPTION: Stacey King during his NBA career.
SOURCE: instagram@staceyking21
The three-time former NBA Champion has played for several professional clubs from 1989 to 1999 and has worked as a head coach of the Rockford Lightning, where the team reached the CBA Championship games in 2002.
As a famous former NBA player and sports announcer, he is highly active on social media, especially Instagram and Twitter.
He is an active Instagram user where he frequently posts about his games, events and updates on NBA to his followers. He has a good fan following on his Instagram, about 23.6K. His Twitter username is @Stacey21King. Followed by more than 64.6K followers.
And on Instagram, he appears by the username @staceyking21 . He posts about his photos on different occasions and his family photos.