Personal Info
Date of Birth

Age

26 Years Old

Famous Name

Sergio Reguilón

Country Spain ES
Facts
Father

Ildefonso

No. of Twitter Followers

330,000+

No. of Instagram Followers

2 million +

Father Nationality

Spanish

Market Value

28 million

Mother

Unknown

Birth Name

Sergio Reguilón Rodríguez

Net Worth

$12 million

Mother Nationality

Spanish

Salary

3.5 million +

Birth Country

December 16, 1996

Famous Name

Sergio Reguilón

Horoscope

Sagittarius

Position in Team

left back

Nationality

Spanish

Current team

Tottenham Hotspur

Ethnicity

Zamoran

Girlfriend

Marta Diaz

Profession

Football player
Sergio Reguilon is a professional football player from Spain who currently plays in the English top league, England Premier League. He plays in the left-back position for Tottenham Hotspur and has been playing for them since 2020. He was in their squad that became the runner-up in the EFL Cup.
Before joining Tottenham, he used to play for Real Madrid where he won the FIFA Club World Cup in 2018. Also with Sevilla, he won the UEFA Europa League in the 2019-20 season. Individually, he was named the UEFA Europa Squad of the Season in the 2019-20 season.
He has also represented the Spanish national team in international tournaments. He was also in the Spanish squad the became the runner ups in the UEFA Nations League o 2021. They lost the final against Italy.
Who is Sergio and who are his parents?
Sergio Reguilón Rodríguez, famously known by the name Sergio Reguilon was born on December 16, 1996, in Madrid, Spain. According to astrologers, his birth sign is Sagittarius.
Sergio Reguilon with his father
SOURCE: [email protected]
He was born to his father Ildefonso and his mother whose name is not revealed at the moment. But he sometimes shares their photos on his Instagram.
He is very appreciative of his parents for their support in his career. In March of 2019, he posted a photo of himself in Real Madrid's Shirt along with his father. And he captioned the photo,
"Thank you for everything you have done and do for me, happy father's day"
He also loves his mother equally for her love and support. As per him, she is the best mother in the world.
As per sources, his both mom and dad are of Zamoran descent.
Read: Who is Sibusiso Vilakazi? Bio and Personal Information
Siblings
Sergio is not the only child of his parents. He also has a brother named Diego Reguilon.
He is younger than his brother but the exact age gap between the brothers is not revealed.
Unlike Sergio, his sibling Diego is not into sports and does other things for living.
Early Career
Born and raised in Madrid, he was admitted to the Real Madrid's academy, Fundacion RM Becerril in 2000. At that time, he was just a 4-year-old kid but with great talent. There he played for a few years before starting playing for the Under 1 team of Real Madrid. He played there for 10 years.
Finally, in 2015, he was promoted to the B team of Real Madrid. After playing for 3 years, he was sent to UD Logrones on loan to gather experience.
And he made his return to the senior squad of Real Madrid in 2018.
Sergio Reguilon with his mother
SOURCE: [email protected]
Though he was a promising talent of Real Madrid, he did not get much chance as the position was filled by the senior payer Marcelo. So, he was sent t loan for the 2019-20 season.
In 2020, he was sent to Tottenham Hotspur on a permanent deal.
Reguilon's physical measurements | How tall is he?
As of 2022, Sergio is just 25 years old and possesses a height of 5 feet 10 inches (1.78 meters).
His weight is around 67 kg and has short black hair.
Reguilon's Net worth and Salary
Sergio Reguilon is one of the promising young talents from Spain. At just 25 years of age, he has already played for top teams in different leagues. And in his career, he has been able to earn passive income.
As per sources, the net worth of Sergio Reguilon is estimated to be $12 million approximately. His net worth includes his cars, houses, monetary values, luxury items, and assets.
Sergio Reguilon in his house
SOURCE: [email protected]
Most of his income comes from playing for Real Madrid, Sevilla, and Tottenham Spurs.
He lives a lavish lifestyle with his partner in England where he plays professionally.
Contract and Salary with Tottenham
S Reguilon signed his professional contract with his current club, Tottenham on September 19, 2020. And his contract will end on June 30, 2025.
As per Salary Sport, his yearly salary in 2022 is £3,536,000 yearly. So, he earns 68 thousand pounds per week in 2022.
He earned the same amount f money in 2021 which is much higher than his salary at Real Madrid. He earned 1.8 million pounds in 2020 during his time at Real Madrid. Similarly, he earned 31 thousand pounds in 20189, 2017, and 2016 at Real Madrid.
He is not the highest-earning player at Tottenham. Harry Kane tops the list of the highest-earning Spurs players who earn more than 10 million pounds per year while Heung Min SOn earns 9.9 million per year. Similarly, Ndombele and Hugo Lloris earn about 6.2 million and 5.2 million per year.
Read: What is the net worth of Themba Zwane?
Market Value
According to the transfermarkt, the market value of Lucas is 28 million pounds in February of 2022.
It is the highest market value of the Spanish left-back. It was just 25 million pounds in July of 2020, at the time he joined Spurs.
Tottenham bought him at the fee of 30 million pounds.
Cars and houses
Like most athletes, Regui is also fond of luxurious cars and houses. He drives a white car which he is seen in the street of England as well as in Madrid.
Also, he lives in a big apartment with his partner in England.
The relationship status of Sergio |Dating Life
Sergio is currently dating his partner whose name is Marta Diaz. The couple has been married for more than 2 years as of 2022.
The couple announced their relationship in 2020. Earlier, there was just rumored whether they were in a relationship or not. But no sources could confirm their love life until they went public through their Instagram.
Sergio Reguilon with his girlfriend Marta
SOURCE: [email protected]
In April of 2020, Sergio posted a photo on his Insta where he was seen nearly kissing his partner. And on the caption, he wrote,
" can finally make official what many of you suspected. Today I want to introduce you to one of the most important people in my life. I love you little girl"
Since then, he has been constantly sharing photos of his romantic relationship with Marta.
Who is Sergio's girlfriend Marta?
Marta Diaz is a famous Instagram model and a youtube who is best known for her beauty and modeling photos.
Her fame rose to height when it was confirmed that she was acting the former Real Madrid left-back. But she already had millions of followers before that too.
Marta Diaz was born on October 30, 2020, in Spain. And her birth sign is Scorpio. She was born to her Spanish parents whose detailed information is not known to the public but she also has a brother who is also quite famous on Youtube. In fact, her brother's youtube channel AlphaSniper97 has more than 4.8 million subscribers.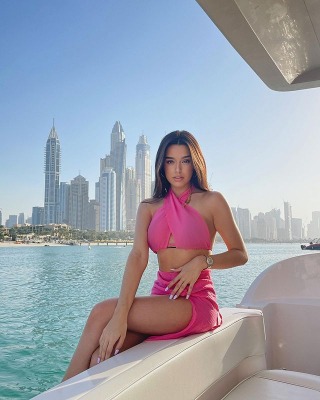 Sergio Reguilon's girlfriend Marta
SOURCE: [email protected]_diiaz
Like her boyfriend, she also regularly posts her photos with her boyfriend. She shows her love and affection to the Spurs defender through her social media. On May 7 of 2021, she wished Sergio on their 2nd anniversary. She said,
"Happy 2 years to my favorite person, to the person who gives me life. To the person who as if nothing has ended up becoming my everything. Thank you for dedicating time to me, for your joy, for opening my eyes, thank you for teaching me to be strong and vulnerable at the same time, for being the best life partner you can have"
Marta Diaz's fame on Social media
Like her boyfriend, she is also quite famous on Instagram where she has more than 3 million followers. Her Instagram Id is @martaa_diiaz and frequently posts about her private life.
She frequently gives updates about her partner and their love life to their fans.
She also has an official Youtube Channer named Marta Diaz. She regularly posts videos with her friends and boyfriend too.
Besides she is also a famous Tiktoker with more than 3 million followers.
Sergio Reguillon FIFA 22
Tottenham's player Regui is rated 81 in FIFA 22.
His highest rating is in pace which is 86, and Dribbling and Defending are 78 each. Physically and on Passing, he is rated 70 and 75.
His lowest rating in FIFA 22 is in Shots which is just 58.
Social Media Presence
S Regi is quite active on social media like Instagram and Twitter.
His Insta id is @sergioregui where he has more than 2 million followers. He mostly posts about his games and training.
Sergio also uses a Twitter account with the user name @sergio_regui. He has more than 330,000 followers on his Twitter. On his Twitter, he gives updates regarding his games and others.