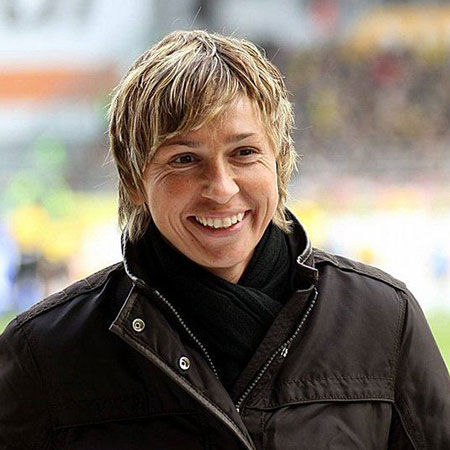 Facts
Birth Name

Sandra Minnert

Birth Place

Gedern, West Germany

Famous Name

Sandra Minnert

Birth Date

7 April 1973

Horoscope

Aries

Net Worth

$400,000

Height

5 ft 8 in

Position in Team

Manager

Current team

  SC 07 Bad Neuenahr

Nationality

German

Current City

Gedern, West Germany
Dedicating most of her life to the Women's Football team, Germany, Sandra Minnert is a former defender of the Bad Neuenahr who now manages the same team. She has won several trophies for FSV Frankfurt and also was part of the German national team that won the World Cups in 2003 and 2007.
Sandra Minnert was born on 7 April 1973 in Gedern, West Germany. She is a former defender for the SC 07 Bad Neuenahr and currently managing the same team. Along the way she also played in the national games winning countless games and awards. She even played in the Olympics as a part of a team in Sydney and Athens.
Sandra Minnert Earnings: How much is her Net Worth?
The Manager of the SC 07 Bad Neuenahr has a net worth expected to be $400,000 approximately. She formerly played for the SC 07 Bad Neuenahr and reportedly earned thousands of dollars. She even won countless of Medal and Awards for her performance in Women's Football.
Sandra Minnert holding the DFB-Pokal cup
SOURCE: [email protected] women's World Cup
Having participated in UEFA Women's Championship League and winning the title of the UEFA five-time has certainly helped the defender alot in career. Being recognized internationally in women football, she has certainly proven her worth in the field.
The Top Prize in the UEFA Women's Association amounts to €250,000. She has definitely received a large sum of amounts from such winnings. She has also played in other league and competition which certainly brought her value to much more. The Former defender sells merchandise to add value to her name.
The 5' 8'' tall defender was named as the new Head Coach of his club SC 07 Bad Neuenahr on 6 April 2009. Being a Manager doesn't practically earn enough but she certainly is following her passion to be around the field and representing the country internationally.
Relationship Status of Sandra Minnert
The Former defender defends her territory very well. There is no information about her relationship status to date. The 46-year-old is very much single and being the age she reached she isn't involved in any affairs.
The Reason for her single life maybe her career. She has been well dedicated to her sports. Any further information about her romantic relationship will be updated accordingly.
Career Highlights
The UEFA Women's Champions League, previously called the UEFA Women's Cup (2001–09), is an international Women's association football competition. It involves the top club teams from countries affiliated with the European governing body UEFA.
The German Defender made 35 apperance throughout her profession in the FIFA Tournaments. Being a defender, she scored 3 goals. her team has 27 wins, 2 Draws, and 6 Losses.
Video: Sandra Minnert Interview
In a similar role with Sandra Minnert is Lori Chalupny who is the head coach of the Maryville University and also share a similar dream of doing something for the Women Football Team
Honors
Bundesliga: winner 1994-95, 1997-98
DFB-Pokal: Winner 1991-92, 1994-95
DFB-Hallenpokal for Women: Winner 1995
Bundesliga: Winner 2000-01, 2001-02, 2002-03
DFB-Pokal: Winner 2000-01, 2001-02, 2002-03
UEFA Women's Championships League: Winner 2001-02
DFB-Hallenpokal fro women: Winner 2002
Women's United Soccer Association: Winner 2003
Fifa Women's World Cup: Winner 2003, 2007, Runners-up 1995
UEFA Women's Championship: Winner 1995, 1997, 2001, 2005
Football at the Summer Olympics: Bronze Medal 2000, 2004
FIFA Women's World Cup All-Star Team: 2003
Silbernes Lorbeerblatt: Winner 1995, 1997, 2001, 2003, 2005, 2007
Stay tuned with PlayersWiki