Personal Info
Date of Birth

Age

25 Years Old

Famous Name

Renan Lodi

Country Brazil BR
Facts
No. of Instagram Followers

393K

Past Team

Atletico Paranaense

Market Value

€30 million

Birth Name

Renan Augusto Lodi dos Santos

Net Worth

£8.62 million

Salary

£3,328,000

Married to

Rafaela Lima

Birth Country

Serrana, Brazil

Famous Name

Renan Lodi

Horoscope

Aries

Position in Team

left-back

Nationality

Brazilian

Current team

Atletico Madrid

Religion

Christiainity

Profession

Footballer

Squad No

12

Famous for

Football

Currently Club

Athletico Madrid

Show

La Liga
Brazilian nationality Renan Augusto Lodi dos Santos, professionally known as Renan Lodi, is a pro soccer player currently linked to the Spanish side club Atletico Club as a left since 2019. Also, he is a part of the Brazil national team and has represented in several global; competitions. So far, Renan has recorded 15 international appearances for the nation.
Renan Lodi, 24, a Brazilian defender, also won the La Liga 2020-21 season with Atletico Madrid. Not only that, he has recorded Copa Sudamericana 2018 and Campeonato Paranaense 2018 in his honors book. His strength in man-marking, interceptions, tackling and passing ability make his opponent real hard to beat. To your knowledge, like Bruno Lags, Renan kicked off his football journey with futsal before soccer. As of 2022, he has just played for several clubs, such as Athletico Paranaense and Atletico Madrid.
How much Atletico Madrid pays Renan Lodi?
Renan Lodi, the Laliga 2020-21 winner, is still in the early phase of his career. He has already made his presence for world top clubs like Athletic Madrid. Lodi is one of the most highly paid players in the world who makes his salary in millions. When he professionally began his career with Athletico Paranaense in 2015, his wage was just £4,680 per year. Subsequently, his salary number increased as per the time. Thus in 2019, his weekly pay increased to £4,700 and his yearly income to £2,44,400. Well, in 2020, when signed for Atletico Madrid, he netted £28,000 weekly and £1,456,000 yearly.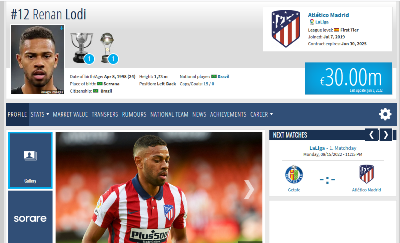 Lodi present market worth
SOURCE: Transfer market

Also, he received £3,536,000 in 2021 and made £3,328,000 playing for Athletico Madrid at the moment. For your information, the French striker Antionio Greizzman ranks the number one spot with annual pay of £18,252,000. Keeping in mind, he is just 24 and still yet to make millions soon. Per the Salary sport, Renan Lodi's net worth in 2022 is estimated to be £8.62 million. Moreover, he is linked to Several sports brands like Nike, which has also nursed in crediting his bank balance.
Concerning his market value, the Brazilain international is currently valued at £30 million and €50 million was his all-time career highest listed on July 23, 2020, as per the Transfermarkt. His value will expand as per his consistent performance and his playing form.
Is Renan in a relationship with someone? Love affairs
When concerning relationship status, Renan is an open book to the people. The defender Renan is a happily married individual. Besides being a pro footballer, he is also a beloved and caring hubby of his gorgeous wife, Rafaela Lima. Rafaela was with him before he was popular. Before throwing a permanent knot, the couple dated for some time; which actual date is still unfamiliar as they haven't spoken about it. Just a few months before, on June 18, 2022, the couple exchanged their marital vows. The wedding took place in his hometown, where numerous footballers and celebrities also attended.
Lodi and his wife Rafaela
SOURCE: Instagram
He shared the most pleasurable moment on his Instagram handles on June 27, which surprised everyone online. The duo was toasted and congratulated on their most joyful moment. We can sight his wedding reels on his Instagram id @renan_lodi. Both have posted quality time photographs on their respective social media outlets. Additionally, the couple is yet to welcome a babe. Eyesight their online post, Renan and Rafaela are very happy and satisfied with each other.
Body measurement(Height and Weight)
Renan Augusto Lodi dos Santos is one of the prolific dribblers of the Brazilian national team. As physical strength is a must in football, thus the athlete has persevered physicality in good shape. Renan measures his height at 5 ft 8 inches or 1.73m with a strong shredded body struture. And he weighs over 68kg. Furer facial description, Renan's skin type is light brown, and he has a trimmed beard on his face.
Renan Lodi's club and international career
As mentioned earlier, before football, Renan Lodi, the Serrana-born left-back, began his soccer journey with futsal. Later on, he switched to football. Having started his career with the Atletico Paranaense youth system in 2012, Renan successfully embarked on his football journey with the club. Renan was about ten years old when he joined the Paranaense youth system. He played four years of his youth career and set foot into senior professional football in 2016 when he was boosted to the Atletico Paranense senior team. Renan signed a three years contract with the Paranaense. He reportedly made his first team and Seria A debut on October 14, 2016, in the match against Gremio. In his debut season, he just appeared in three league matches. His career first goal came in the clash with Maringa on March 25, 2018.
Defending City player Walker on Champion League
SOURCE: Instagram

In 2018, he was given more chances and finished playing 24 matches with three assists, bookings five yellow and one red card In Seria A. In his overall tenure there, the 5 feet 8 inches defender recorded 48 matches with one goal in all formats of competitions. Renan was proving his worth in the team and was even the team's starter under manager Tiago Nunes. After his release, he moved to Spain signing a six-year contract on July 7, 2019, with Atletico Madrid. He scored his first Atletico gaols against Osasnun on 16 May 2021. Indeed, the athlete was a crucial player in the 2020-21 La Liga title race along with Luis Suarez and Oblack. His first Championship league goal came on March 15, 2022, against Manchester United. As of now, Renan has played 84 games, adding four goals to his tally for the team.
Internationally, the skilled defender has been associated with Brazil in different age groups. However, he made his first appearance for Brazil on October 10, 2019, against Senegal. Additionally, he was called up for the Copa America 2021 in July 2021. Renan contributed to the team winning a silver medal in the 2021 Copa America. To date, he has registered 15 global matches for his nation.
Early Life and Personal Details
On April 8, 1998, the Brazilian star Renan was born in Serrana, Brazil. The defender's family name is Renan Augusto Lodi dos Santos, but most people know him by the name Renan Lodi. He is just 24 years of age as per the current year. Renan's star sign as per geomancy is Aries, a left-footed footballer. He is born to Brazilan native parents. Regardless, their identity remains under the radar as Lodi has blocked it from social sites. Not to mention, all his family members are huge football fans.
Renan's parents are well aware of his son's soccer talents. Hence, his parents enrolled him in the futsal school in Serrana. He admired the football legend Ronaldinho, during his childhood. Renan owes his parents everything for their role in his professional and personal life. Undoubtedly, his families are his greatest motivation and staunchest backers. Further, all his family practices Christianity religion. He loves traveling besides football, eying his vacation photo on his social media handle.
Social media outlets
The former Athletico Paranaense star player can be fun on various social media, including Instagram. He is one of the most prevalent faces in his country. With the user name @renan_lodi, he has a strong fan following of 393K. Also, his Instagram handle is verified with a blue tick. Through Instagram, the footballer updates his fans on his football-related news and personal happening. As per the report, he is among one of the most dug footballers in the present context.
Stay tuned to Playerswiki.