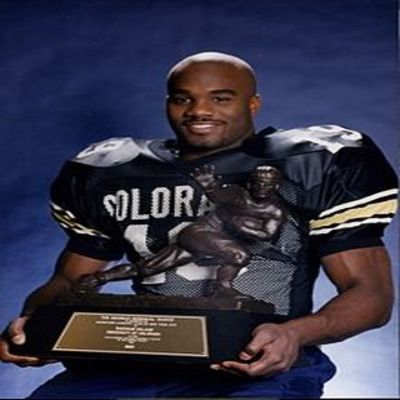 Personal Info
Date of Birth

Age

48 Years Old

Famous Name

Rashaan Salaam

Country United States US
Facts
Father

Teddy Salaam

Father Nationality

American

Mother

Khalada Salaam-Alaji

Birth Name

Rashaan Iman Salaam

Net Worth

$1.7 million

Siblings

Has two siblings named Jabali Alaji and Atiya Henry.

Birth Country

San Diego, California, U.S

Famous Name

Rashaan Salaam

Horoscope

Libra

Position in Team

Running Back

Nationality

American

Affair with

Girlfriend

Ethnicity

Black

Girlfriend

Shelly Martin

Awards

Heisman Trophy, Walter Camp Award, Doak Walker Award, Sporting News Player of the Year, Unanimous All-America and UPI NFC Rookie of the Year

Religion

Muslim

Profession

Football player

Famous for

Running-Back

University Team

Colorado Buffaloes football

University attended

University of Colorado

School attended

La Jolla Country Day School
Rashaan Salaam was an American college and professional football player who used to play in the NFL. He played as a running back for the Chicago Bears. Chicago Bears selected him in the first round of the 1995 NFL Draft. He was a complete running back with a rare combination of size, speed, agility, and strength.
During his lifetime career, Salaam has been awarded the Heisman Trophy, Walter Camp Award, Doak Walker Award, Sporting News Player of the Year, Unanimous All-America and UPI NFC Rookie of the Year. Salaam was the youngest player in the NFL history to rush for 1,000 yards.
Salaam started his professional football career back in 1995 when the Chicago Bears selected him in the 21st overall selection of the 1995 NFL Draft. Since then, Salaam had played for Cleveland Browns, Green Bay Packers, Oakland Raiders, Memphis Maniax, San Francisco 49ers, and Toronto Argonauts.
Who is Rashaan Salaam? Family, Early Life, and Education
Rashaan Salaam was born on October 8, 1974, in San Diego, California, U.S. His father, Teddy Washington, was a former running back for Cincinnati Bengals and his mother's name was Khalada Salaam-Alaji. Salaam grew up in his hometown with his family and his two siblings named Jabali Alaji and Atiya Henry.
Rashaan Salaam with his parents.
SOURCE: https://www.theblackamericanmuslim.com/
Salaam attended La Jolla Country Day School, where he played eight-man football running over 100 yards, as recognized as a high school All-American. He went to the University of Colorado for college, where he played for his college team, Colorado Buffaloes football and led the team to ranked No.1 in both the Associated Press and United Press International polls. In his college career, Salaam won unanimous All-America, winner of Heisman Trophy, Walter Camp Award, and Doak Walter Award.
He was highly rated for his performance in college time, and eventually, Chicago Bears selected him in the first round of the 1995 NFL Draft.
Net Worth and Career Earnings of Rashaan Salaam
Though the 1994's Sporting Player of the Year had a very short career in NFL, he earned a huge amount of money. At 4 years old, he had an estimated net worth of $1.7 million which he earned playing for several professional clubs.
Read more: Malcolm Rodriguez Net Worth, Salary, and Career Earnings.
Rashaan Salaam during his collegiate career.
SOURCE: https://www.usatoday.com/
Rashaan Salaam was believed to make $4,00,00 per year and $32,00 per month as per some sources. He also made some good earnings through sponsorships and advertisements. Salaam has been involved ni different projects, including a mixed martial arts venture in China. He had promoted the charitable organization and educated youth about his experiences.
Salaam lived a luxurious life with his family during his lifetime; he was a follower of his father's path as a football player and was an asset to his family.
Who is Rashaan Salaam's girlfriend?
Rashaan Salaam was in an open relationship with his high school sweetheart Shelly Martin. The couple had been dating for some years and had amazing years; he used to share everything with Shelly. The couple, too, had two beautiful daughters whom Salaam called "cubbies.
Read also: Know About David Cobb's Relationship Status and Girlfriend.
Rashaan Salaam's girlfriend, Shelly Martin, during his funeral.
SOURCE: https://www.usatoday.com/
Salaam and his girlfriend Shelly Martin met when they were in high school. At that time, he was starting his playing career. Since then, Salaam's girlfriend Shelly has been supporting him in all highs and lows. Salaam's and Shelly's relationship lasted until his death.
Rashaan Salaam Took His own Life in 2016
Rashaan and Martin started dating in 2014; He fired a .357 magnum bullet to his head after 2 years of relationship with Shelly. On December 5, 2016, he was found dead in a park in Boulder, Colorado, leaving a note near the body.
Shelly also saw him suffer, and in one of the press, she told
"I saw a lot of physical pain,"
She saw Salaam with severe headaches, dehydration, and vomiting during her dating life. He also had to visit urgent care and the emergency room, and after not being able to take the pain, he decided to get killed on December 5, 2016.
Salaam's brother Jabali Alaji also mentioned that he had symptoms of chronic traumatic encephalopathy when he suffered from memory loss and depression.
According to Police, Salaam was under financial pressure where he had to pay the property manager. The cause of the financial crisis was that Salaam had invested thousands of dollars with various people in business start-up ideas, which ended in loss.
Rashaan Salaam's NFL Journey
Being selected in the first round by the Chicago Bulls of the 1995 Draft, he played for the team from 1995-1997, where he rushed for 1,074 yards and scored 10 touchdowns. He spent only 3 years with the Bears due to facing problems with injuries, fumbles, and marijuana use.
CAPTION: Rashaan Salaam during NFL Journey.
SOURCE: https://www.nfl.com/
Salaam was traded to Cleveland Browns and Green Bay Packers in 1999. He played for the Memphis Maniax in 2001, where he gained 528 yards. Salaam started his NFL Career in 2002, where the San Francisco 49ers picked him in 2003.
Salaam was signed by the Toronto Argonauts of the Canadian Football League on February 20, 2004. He is the youngest player in NFL history to rush for 1,000 yards.
Explore more athletes at PlayersWiki.`