Personal Info
Date of Birth

Age

24 Years Old

Famous Name

Nicolas Gonzalez

Country Argentina AR
Facts
Father

Not Available

Relationship Status

Unknown

No. of Twitter Followers

Endorsment brands

Nike

No. of Instagram Followers

532k

Past Team

VfB Stuttgart

Father Nationality

Not Available

Market Value

25.0 Million Euro

Mother

Not Available

Birth Name

Nicolas Ivan Gonzalez

Net Worth

3.75 Million

Mother Nationality

Not Available

Currently Married

Unmarried

Salary

Birth Country

Belén de Escobar, Argentina

Instagram

https://www.instagram.com/nicoigonzalez/

Famous Name

Nicolas Gonzalez

Children

Not Available

Contract

With ACF Fiorentina

Horoscope

Capricorn

Position in Team

Forward

Nationality

Argentine

Current team

Argentina national football team

Girlfriend

Unknown

Religion

Christianity

Is played fifa word cup 2018

Squad No

22

Caps

Rank

78.
Nicolas Gonzalez is an Argentine professional football player playing for the ACF Florentina, known as Florentina, which is an Italian professional football club based in Florentina. Gonzalez has earned twenty-one International caps as a senior player for Argentina's national team. For his current team, Florentina, he wears jersey number 22.
Nicolas Gonzalez plays from a left-wing position. Since Nicolas's debut in football, Nicolas has played in different football clubs based in multiple regions. Nicolas currently plays in the Italian highest football league, Serie A. Gonzalez agreed to a five-year deal with Serie A team Fiorentina on June 23, 2021, that would last until 2026. González made his Fiorentina debut on August 13 in a 4-0 Coppa Italia victory over Serie B team Cosenza, scoring the second goal in the 37th minute.
Nicolas's salary and net worth details
Florentina's player, Nicolas Gonzalez, started playing football professionally in 2016. Gonzalez played for several teams during his six-year, trained, and experienced football career. Gonzalez's football career may be primarily responsible for his mastery in life. Nicolas enjoys a successful life because of his persistent work ethic.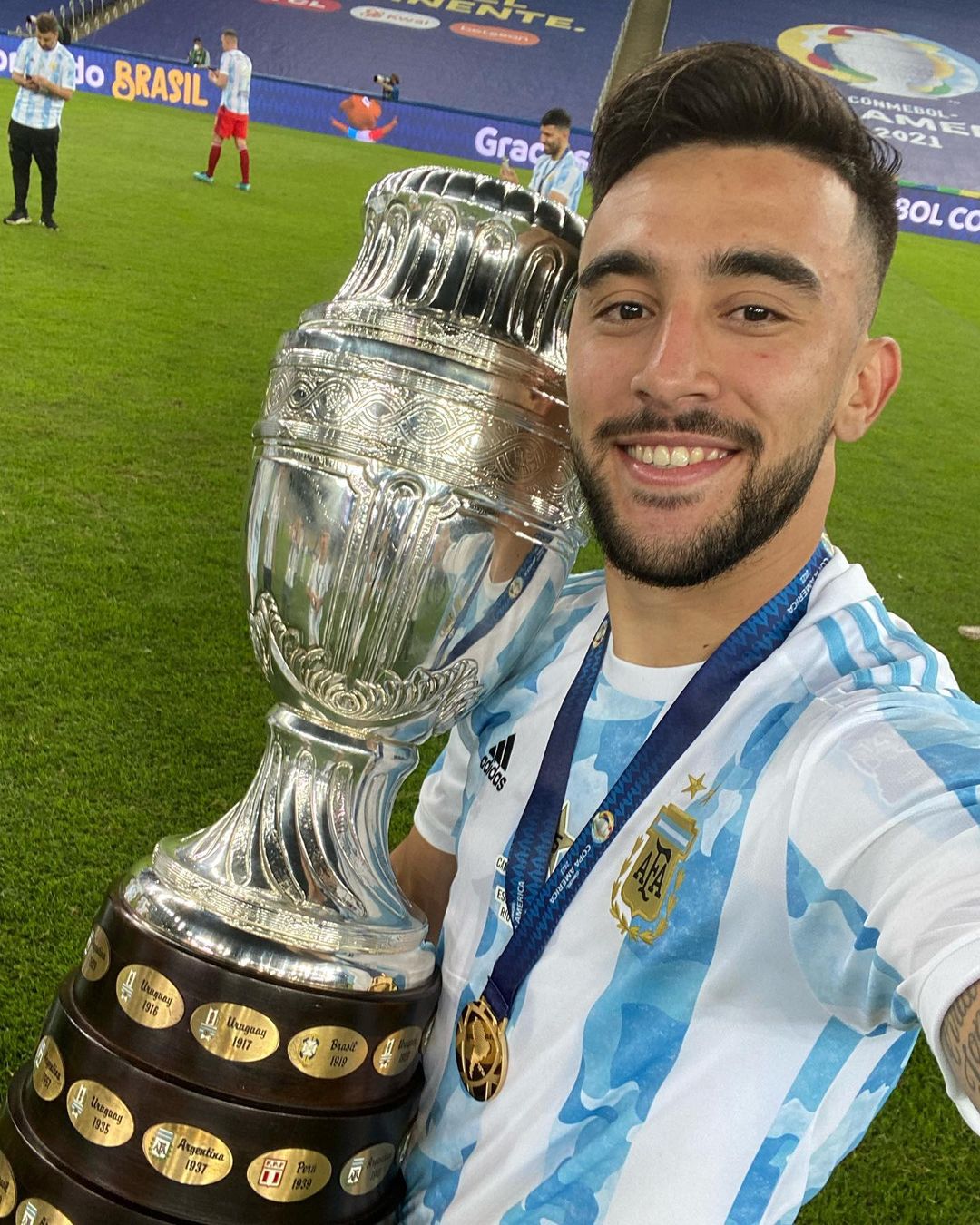 Nicolas with Copa America trophy
SOURCE: [email protected]
According to salarysport, Nicolas allegedly earns £3,172,000 per year and £61,000 per week playing football for his current club Florentina. The transfer market currently estimates Nicolas's value to be £25.00 million. In 2022, Nicolas's net worth is $3.75 million. Gonzalez's highest market worth as of now is £25.00 million.
Alvaro Odriozala, a professional defender from Spain, earns £5,460,000 annually, or £105,000 per week, as the highest-paid player for Florentina in 2022. Alvaro is followed by midfielder Lucas Torreira of Uruguay, who earns £3,900,000 annually, or £75,000 per week.
Is Nicolas Gonzalez Married?
When it comes to his romantic situation, Nicolas Gonzalez is quiet and introverted by nature. Due to Gonzalez's reclusive personality, the Argentine sportsman has kept his romantic life a mystery. Since Gonzalez has never been recorded as dating anywhere, it is difficult to demonstrate his present romantic situation.
Nicolas with his teammate's
SOURCE: [email protected]
Gonzalez could be seeing someone else and holding off on telling them till the time is right. Because Gonzalez is still preoccupied with his career, Gonzalez might not have the time to socialize. Despite the absence of details, Nicolas Gonzalez might not be in a relationship.
Also, read the bio, relationship status, social media, and net worth of Nathan Broadhead.
Nicolas Gonzalez Personal Details
Nicolas Ivan Gonzalez better known as Nicolas Gonzalez was born in Escobar, Argentina, on April 6, 1998. Nicolas's star sign is Capricorn. Nicolas is 24 years old as of 2022. Gonzalez is 5 feet 11 inches tall and weighs over 72.0 kg. Nicolas Gonzalez spent most of his childhood in Argentina. The attractive left winger from Florentina holds Argentine citizenship and is an Argentine national.
Nicolas Gonzalez
SOURCE: [email protected]
Nicolas went to a school that puts a lot of emphasis on Argentina. Nicolas attended educational facilities and institutes there as well. Nicolas's parents were both raised in Argentina. Nicolas, however, has refrained from disclosing his parents' full identities and fields of competence. Nicolas's parents are both of South American descent and of Argentine nationality. Nicolas has preserved the identities and sentiments of self of his siblings.
You may uncover an expansive range of sports info, buzz, and love concerns on Playerswiki.