Personal Info
Date of Birth

Age

15 Years Old

Famous Name

Japanese Skateboarding Prodigy

Country Japan JP
Facts
Father Nationality

Japanese

Birth Name

Momiji Nishiya

Mother Nationality

Japanese

Birth Country

Osaka Japan

Famous Name

Momiji Nishiya

Horoscope

Virgo

Nationality

Japanese

Awards

Olympic Gold Medal, Silver Medal in 2021 Street Skateboarding World Championships , Silver medal in 2019 Summer X Games. She won a

Current City

Osaka

Profession

Professional Skateboarder

Famous for

The youngest Olympic gold medalist for Japan
Momiji Nishiya is a Japanese skateboarder who is the youngest Olympic gold medalist for Japan. She is ranked fifth in the Olympic World Skateboarding Rankings.
She is the third youngest Olympic gold medalist in Olympic history. At 13 years and 330 days, she achieved the feat.
Early Life
Momiji was born on 30 August 2007 in Osaka, Japan. The Japanese right-footed skateboarder is still in a school in Osaka. She started doing skateboarding at a very early age.
Momoji Nishiya eating at a restaurant
SOURCE: Instagram @momiji_nishiya830
She is currently studying and also pursuing her dream of a professional skateboarder for Japan. She participates in skateboarding events in her school.
Momiji Nishiya (Age, Parents, Family)
Momiji is 13 years old as of now. She comes from a Japanese Momiji family in Osaka. Her parents always supported her. They used to buy her new skateboards for training and competitions.
She is usually not seen with her parents at events. Most of the time, she is around his friends and teammates. She has made her parents and the whole country proud of his incredible achievement.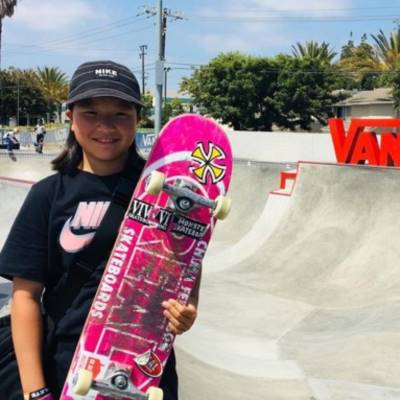 Momoji Nishiya posing with a skateboard
SOURCE: Instagram @momiji_nishiya830
Since she spends most of the time in training and competition. Her friends have become like her family.
Is Momiji Single? ( Relationship Status)
Momiji Nishiya is just 13 years old. It is a very young age to have a boyfriend. She is not dating anybody as she is just a kid. She is completely focused on her skateboarding career. Her parents don't allow her to be engaged in any things other than studies and skateboarding.
Momoji Nishiya in a Red Bull Event
SOURCE: Instagram @momiji_nishiya830
She has a long way to go in her career. And, she is on her way to do so.
Career (Achievements, Records, Gold Medals)
A 13-year-old Japanese girl has made her name in the whole world as a Skateboarding prodigy. She started her professional journey by participating in the 2019 Summer X Games. She won a silver medal with a score of 90.00.
Nishiya also participated in the 2021 Street Skateboarding World Championships where she bagged a silver medal. Her score was 14.17.
Momoji Nishiya with the Olympic Gold Medal
SOURCE: Instagram @momiji_nishiya83
In June 2021, she took part in the Women's Street Competition and won a gold medal.
At Tokyo 2020 Olympics, Nishiya bagged a gold medal and became the youngest Olympic gold medalist for Japan. She also became the third-youngest medalist in Olympics history.
Net Worth and Earnings of Momoji Nishiya
Nishiya is a 13-year-old skateboarder from Japan. Her career has not gone full swing. However, she has won a lot of tournaments and their prize money. She just won an Olympics Gold Medal. The Olympic committee of Japan has decided to give her prize money of thousands of dollars.
Momoji Nishiya in a brand promotion
SOURCE: Instagram @momiji_nishi
She endorses numerous baby brands and big brands in Japan. The companies pay a huge sum to her for the deal.
The net worth of Momoji Nishiya- the skateboarding genius is around $0.2 million.
Momiji- A famous name in Japan
Momiji has been a famous household name in Japan. It is the name of the anime character from the series Fruit Basket. So, whenever someone mentions Momiji, it is a high chance either that's the anime or the skateboarder.
You can follow her on (Momiji Nishiya Instagram) where she posts her training and competition videos. You will fall in love with her cute smile and talent.