"Not every father gets a chance to start his son in his own footsteps." Maximilian Ibrahimovic, the son of veteran Swedish footballer, Zlatan Ibrahimovic trains with the Manchester United academy. Yes, Junior Ibrahimovic is paving his own way to football success. Football Gene!!
Maximilian Ibrahimovic is the first child of the world-renowned footballer, Zlatan Ibrahimovic, and Helena Seger, a Swedish businesswoman. Maximilian was born on 22nd September 2006, under the star sign Virgo. As of 2022, he is fifteen years old. The name Maximilian is derived from the Latin word "Maximilianus," which means "greatest."
Zlatan Ibrahimovic Son, Maximilian Ibrahimovic Will now Carry Zlatan's unfulfilled Dreams
Maximilian Ibrahimovic, the son of Zlatan Ibrahimovic, is indeed poised to carry on his father's legacy and potentially fulfill any unfulfilled dreams Zlatan may have had in his football career. Maximilian, like his father, possesses a strong passion for the sport and has been honing his skills to follow in his father's footsteps.
As the son of one of football's most renowned players, Maximilian is likely to have grown up with a deep understanding and appreciation for the game. He has had the privilege of witnessing Zlatan's remarkable career firsthand, learning from his experiences, and benefiting from his guidance and mentorship.
Ibrahimovic's son trained at Manchester United Academy SOURCE: The Sun
Maximilian has a younger brother, Vincent (born March 6, 2008). His other family members include Grandfather: Sefik Ibrahimovic and Ingermar Segar as well as aunts: Sanela Ibrahimovic, Violeta Ibrahimovic, Karin Seger, and Monika Ibrahimovic. Back in 2017, Maximilian trained at Manchers United Academy. Before, Maximilian and Vincent enrolled in Paris Saint-Germain's youth setup.
Zlatan Ibrahimovic has recently delighted fans by sharing heartwarming videos of him playing alongside his son, Maximilian. The duo's skills on the football pitch have received high praise. While it is still uncertain how Maximilian's career will unfold, he is fortunate to have a remarkable role model in his father, who is widely regarded as one of the greatest footballers in history.
Zlatan Ibrahimovic Son, Maximilian Ibrahimovic Plays for AC Milan U18s: Know About Maximilian's Age
Maximilian Ibrahimovic, the 16-year-old son of Zlatan Ibrahimovic, is already making strides in his football career as he currently plays for AC Milan U18s. Their strong bond was evident when they were spotted training together and even playing alongside each other in a U18s match back in February 2023. Zlatan has captured heartwarming moments of their joint training sessions, receiving praise for their impressive skills on the field.
Zlatan Ibrahimovic playing with his son, cause he can.
SOURCE: Instagram- @espnfc
Maximilian is clearly following in his father's footsteps, pursuing his own career in football. As he continues to develop and progress, it remains to be seen what lies ahead for Maximilian, but having a legendary figure like Zlatan as a role model undoubtedly provides him with valuable guidance and inspiration. Zlatan's immense success and influence in the world of football serve as a shining example for Maximilian as he strives to carve out his own path in the sport.
Zlatan Ibrahimovic Son's Maximilian Ibrahimovic's Social Media Presence
Matter of fact, Maximilian Ibrahimovic lives low-key. He is not active on social media platforms such as Instagram & Twitter. Additionally, Zlatan is very concerned about his family so he does not post either.
Maximilian Ibrahimovic's Father Zlatan Ibrahimovic Career Stats and Playing Style
Zlatan Ibrahimovic is a highly skilled and versatile striker who plays for AC Milan and the Swedish national team. He is renowned for his exceptional physical strength, technical prowess, and ability to score goals. During his time at AC Milan, Inter, and PSG, Ibrahimovic was primarily utilized as a no. 9 striker, tasked with leading the forward line, scoring goals, and holding up the ball.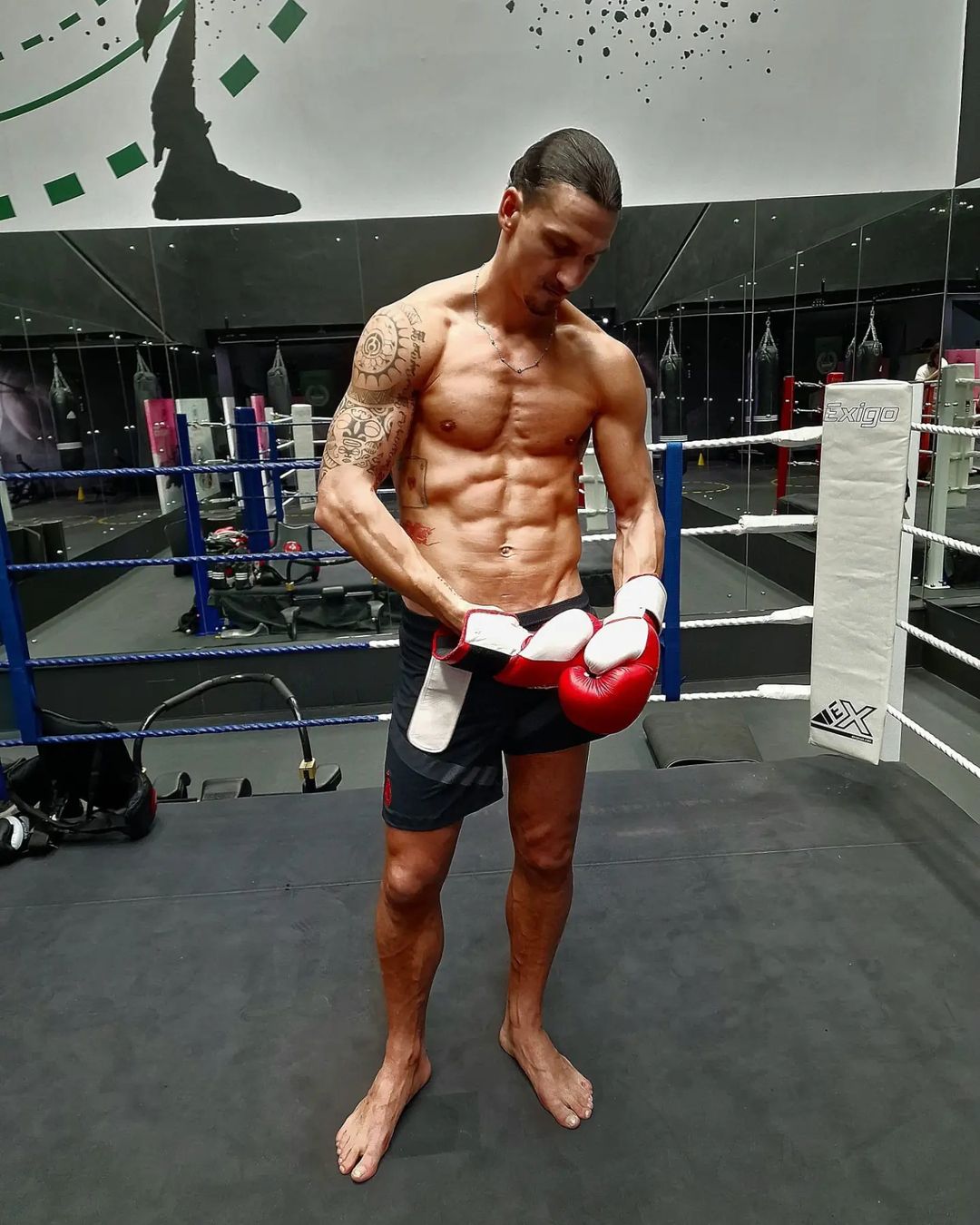 Zlatan Plays for AC Milan with his Balkan genes, he is unstoppable.
SOURCE: Instagram- @iamzlatanibrahimovic
With over 570 career goals, including more than 500 club goals, Ibrahimovic is considered one of the most prolific goal-scorers in football history. His incredible physicality, technical ability, and finishing have also earned him numerous accolades, including being named in the FIFA FIFPro World XI in 2013 and the UEFA Team of the Year in 2007, 2009, 2013, and 2014. His impressive playing style has led to him winning multiple trophies in the biggest leagues in Europe, solidifying his position as one of the world's best strikers.
Maximilian Ibrahimovic Father, Zlatan Ibrahimovic Plays For AC Milan
Ibrahimovic began the 2011-2012 season in great form, scoring crucial goals for AC Milan. In the Supercoppa Italiana against Inter Milan, he netted the opening goal in a comeback victory, securing the first trophy of the season. He continued his scoring streak by finding the back of the net in the opening league match against Lazio and in subsequent Champions League matches against Viktoria Plzeň and BATE Borisov.
Zlatan's fan commented, Zlatan Ibrahimovic congratulated his parents after his birth
SOURCE: Instagram- @iamzlatanibrahimovic
October proved to be a successful month for Ibrahimovic, as he scored in a home win against Parma and netted a brace in an away victory over Roma. In November, he maintained his scoring form by finding the back of the net against BATE and Catania. In a Champions League match against his former club Barcelona, Ibrahimovic scored to equalize the game, but Barcelona ultimately secured a 3-2 victory.
Ibrahimovic ended November on a high note by scoring a brace against Chievo, reaching a milestone of 100 Serie A goals. He continued his impressive run in December, scoring in five consecutive Serie A games. In early 2012, he scored against Atalanta from a penalty kick and became the leading goalscorer in Serie A with 14 goals in 16 appearances. However, he received a red card for an off-the-ball incident against Napoli, resulting in a three-match ban from Serie A games.
In the Champions League round of 16, Ibrahimovic played a pivotal role in AC Milan's 4-0 victory over Arsenal, providing assists for Robinho's goals and scoring a penalty himself. He continued his goal-scoring spree with a first-half hat-trick against Palermo, securing his place at the top of the Serie A goalscorers table with 17 goals. Ibrahimovic concluded the season as the top scorer in Serie A, tallying an impressive 28 goals in 32 matches.
Zlatan Ibrahimovic Net Worth: Zlatan's Son, Maximilian Ibrahimovic Relishes a Lavish Life
Zlatan Ibrahimovic, the talented striker playing for AC Milan, holds the distinction of being the highest-earning player at the club. His annual salary is estimated to be $7.4 million. Additionally, he enjoys substantial earnings from endorsement deals, with an estimated income of nearly $20 million.
Over his impressive career spanning more than two decades, Ibrahimovic has accumulated substantial wealth through lucrative endorsement contracts, substantial football contracts, and astute investments. Currently valued at $3.2 million in the market, his overall net worth is reported to be around $190 million.
In a 2017 report by Forbes, Ibrahimovic was ranked as the third wealthiest footballer globally, trailing only behind Lionel Messi and Cristiano Ronaldo. This recognition highlights his remarkable success not only on the field but also in leveraging his brand and business opportunities. Zlatan's son, Maximilian Ibrahimovic has an estimated net worth of $100,000 and is following in his father's footsteps
Read More: Ronaldo 'Unhappy' with Real Madrid's Interest in Neymar; Linked with Manchester United
Maximilian Mother, Helena Segar: Who Zlatan Ibrahimovic's Partner
Zlatan Ibrahimovic and Helena Segar have been in a long-standing relationship and are the proud parents of two sons, Maximilian and Vincent. Their initial encounter took place in 2002 when they coincidentally had a minor car collision in a parking lot, with Ibrahimovic unintentionally blocking Segar's car with his Ferrari. Segar fondly reminisces about the incident, acknowledging that neither of them is easy to live with.
Despite the 11-year age difference (born on August 25, 1970, Segar was 32 at the time), both Ibrahimovic and Segar have managed to maintain their physical fitness and possess striking appearances. However, discussions surrounding their potential marriage have been dismissed by Segar. She asserts her desire not to be defined solely by her relationship, emphasizing her independence and personal accomplishments.
Segar explains her attraction to Ibrahimovic, highlighting her ability to stand up to him and emphasizing her own significant background and career achievements. She expresses reservations about marriage, as she believes it may disrupt her sense of independence and fears being reduced to a label such as "the wife of a player" or "beauty contest winner." Segar wants people to recognize the effort she has put into her education, work, and personal battles.