Love what a blissful feeling, and currently, Marta Xargay and Breanna Stewart lead a blissfully married life. Moreover, the duo dated for years and finally took a big step in their relationship. Furthermore, both Marta and Breanna became famous as a player in WNBA. However, Marta left the WNBA and joined EuroBasket Women. Moreover, Xargay earned a gold medal thrice in the EuroBasket.
Breanna also earned the prestige of a gold medal in her career. Furthermore, the talented basketball player bagged the award recently. Stewart and her team bagged the win in the Olympics on August 9th, 2021, held in Tokyo, Japan.
Married life of Marta Xargay and Breanna Stewart
Marta Xargay and Breanna Stewart began their married journey on July 6th, 2021. Xargay and Stewart exchanged their vows out of the media's earshot. Similarly, the married couple tied the knot on the roof of Stewart's apartment building. Likewise, the guest list for Marta's wedding remained short; only the couple's family and very close friends attended the event. Interestingly, Xargay is three years older than her wife.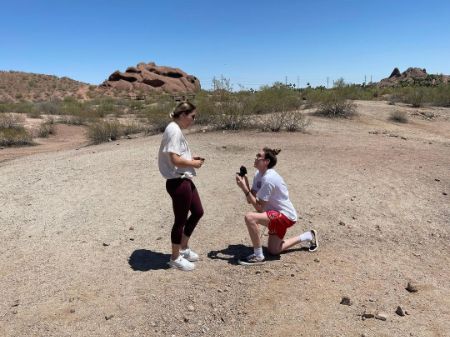 Breanna Stewart proposed to her wife to be at Papago Park.
SOURCE: [email protected]
Although the exact date Xargay and Stewart started dating remains hidden, the lovebirds dated for a long time before they hopped on to the next level of their relationship. Moreover, Stewart and her wife met while playing for the Russian women's basketball team Dynamo Kursk in 2018-19. And by 2019, Xargay and her spouse had already started their relationship. Similarly, the couple were openly gay and posted about their relationship on their social media accounts.
2021 was a big year for both Breanna and Marta. Aside from winning Olympic gold, Stewart also welcomed a child. Yes, Xargay and her wife are mothers to a beautiful daughter. Likewise, the married lovebirds named their kid Ruby Mae Stewart Xargay. Xargay and Stewart welcomed their child via gestational carrier.
Marta Xargay and Breanna Stewart celebrate their first Halloween as a married couple.
SOURCE: [email protected]
Marta and her wife share a strong bond, and the duo has led a wonderful married life since 2021. The married couple welcomed their marriage and child in 2021. Likewise, the couple stays away from scandalous rumors throughout their career. Similarly, Breanna and her life partner keep their past relationships away from the limelight. As a result, the names of their ex-girlfriends or ex-partners are away from the media.
Honey Moon Period of the new Couple Marta and Breanna
Marriage always starts sweet in the initial period, and Marta and Breanna are going through the honeymoon period of their marriage. Furthermore, the couple seems to handle their newfound responsibilities as life partners and parents. Although the couple leads their lives in the center of the spotlight, they managed to keep somewhat of a low-key lifestyle as a newly wedded couple.
How Rich are Marta Xargay and Breanna Stewart
Given the success of Marta Xargay and Breanna Stewart's careers in their sports, they own assets equal to millions. But to be more exact, Stewart holds an approximate net worth of $1.4 million. Similarly, her wife, Marta, owns a multi-million net value.
Breanna Stewart was holding her baby in her arms.
SOURCE: [email protected]
Furthermore, both Marta and Breanna lead a fantastic careers in basketball. Again, the married couple even holds the title of gold medalist in the family. Likewise, both earn vast sums of money from sponsorship deals with huge brands.
In 2016, Breanna signed a multi-year deal with the sportswear giant Nike. However, the amount offered to the WNBA star remains a mystery. Likewise, Nike usually pays the athlete hundreds of thousands of dollars annually. But, Xargay keeps her deal with sponsors out of the fans' view. Besides, Marta also makes her money with promotional posts on her IG. Moreover, the EuroBasket star makes between $1k to $10k per promotional post.
Leading a life in the forefront of the media, Marta and Breanna somehow managed to stay away from the spotlight. And as such, much about the married basketball players' assets remain uncovered. Likewise, the duo keeps the cars they drive and real estate properties away from the peering eyes of the world. But, as seen on the married lesbian couple's profiles on social media, they love traveling. And over the years, the duo spent thousands of dollars on their wanderlust.
AD Here (After Content)