New Zealand-born Australian cricket coach and a former cricketer, Luke Ronchi, domestically played for multiple teams, including Islamabad United, Chittagong Vikings, Guyana Amazon Warriors, and Leicestershire. Besides that, Ronchi is also the only player in the history of the game to play for both these countries. Furthermore, the former cricketer is happily married to his beloved wife, Shaan Ronchi.
On June 21, 2017, Ronchi announced his retirement from international cricket and following the retirement; he signed for Leicestershire County Cricket Club to play in the 2017 NatWest t20 Blast. The former player was most noted for playing powerful shots. Not only that, but he has been considered an expert in the shorter formats of the game. Similarly, he has been a superstar in T20 leagues.
Luke Ronchi Age and Wiki
Luke Ronchi was born on April 23, 1981, in Dannevirke, New Zealand, making his age 41 years as of 2022. He emigrated to Perth, Western Australia, with his family at a very young age. As for his education, Ronchi was educated at Kent Street Senior High School.
From an early age, Ronchi was interested in sports, and initially, he was known for playing powerful shots. Not to mention, he has received huge support from his parents, Maggie (mother) and Gerald (father). So, Ronchi also credits his father and mother for the success received by him.
Take A Look At His Domestic Career
As said earlier, Ronchi has been a part of multiple teams domestically. He scored his maiden one-day ton off only 56 deliveries in a match against New South Wales. Likewise, his 2007-08 season started in a strong tone. Later, he was also chosen as Australia A wicketkeeper for their tour of Pakistan.
Ken Rutherford in his early career
SOURCE: Twitter @ESPNcricinfo
In the second first-class match of the tour, Ronchi achieved 107 off 109 balls, striking 16 fours and two sixes. He also gave an amazing performance in a game against New South Wales in Western Australia's first List A match of the season.
Furthermore, Ronchi made headlines in November 2007 when he scored one of the fastest centuries in the Domestic Australian record with a ton from 51 balls versus Queensland. Apart from that, he has also played for some teams participating in the Indian Premier League (IPL).
In the year 2007, Ronchi was recruited by the Mumbai Indians team. Throughout the 2008 and 2009 tournaments, he played five matches for the team and scored a total of 34 runs at an average of 6.80.
Ronchi Played For Australia & New Zealand
Having dual nationality, Ronchi played for Australia and New Zealand. Ronchi made his First-Class debut for Western Australia in the 2001-2002 season. And Ronchi's ODI debut for Australia came in 2008 instantly after he played the inaugural IPL for Mumbai Indians when he was drawn into the team as a substitute for the injured Brad Haddin.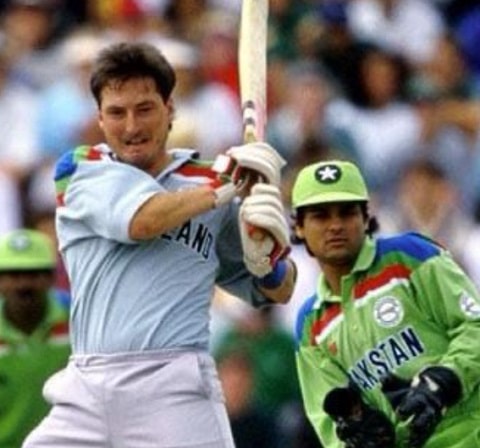 Ken Rutherford with his opponent
SOURCE: Twitter @ESPNcricinfo
And he also participated in his T20I debut against West Indies in Barbados. Apart from that, Ronchi decided to move back to his birth country in February 2012 after playing just 4 ODIs and 3 T20Is for the Australian team. And in March 2012, Ronchi got signed with Wellington.
On March 18 of the same year, he made his Plunket Shield debut playing against Central Districts. In the respective match, he scored 111 runs. On May 31, 2013, Ronchi made his debut for the New Zealand team at Lord's. He also participated in the 2017 ICC Champions Trophy, where he played as an opening wicket-keeper-batsman.
Finally, on June 22, 2017, Ronchi announced his retirement from international cricket. And it was also revealed that he would be available in domestic cricket for Wellington and Leicestershire.
What Is He Doing Now?
Now, Ronchi lives a happy life with his family and is engaged in the same sport. For your information, he also signed for Leicestershire County Cricket Club to play in the 2017 NatWest t20 Blast. Not only that, but he also participated in the 2018 Pakistan Super League.
In the same way, Ronchi made his appearance in other leagues too. For the 2019 Cricket World Cup, he was also selected as fielding and wicketkeeping coach for the team of New Zealand.
Also Read: Marnus Labuschagne
Career Earnings
Being a former cricketer, Ronchi might have preserved an impressive bank balance. During his professional career, Ronchi played for various teams and earned a good sum of money. Ronchi took home a massive sum when he participated in IPL representing Mumbai Indians.
According to Salary Sport, Ronchi had a pay of Rs. 1,473,600 (INR) per year. The same report claimed that he earned a total of Rs. 2,678,400. Having such amazing earnings, Ronchi's net worth might be in the six figures.
Ken Rutherford in a match of 1992 Cricket WC
SOURCE: Twitter @WSCupCricket
After stepping away from professional cricket, Ronchi also became a coach. A source says that a person who works as a cricket coach has a wage of $37k, mostly ranging from $38k to $38k. Furthermore, Ronchi shows off his lifestyle via his Instagram handle, where we can find him as @roncs04.
Learn More: Mitchell Johnson
Ronchi Is Married To His Wife
The former New Zealand cricketer is a married man who cherishes a happy life with his wife, Shaan Aroha Ronchi. The loving pair have been in a marital relationship for a long time, and they still live happily. Back in 2020, Ronchi shared a post on his Instagram account celebrating the 20th marriage anniversary.
Exploring their social media posts, we learned that Ronchi and his wife are blessed with two kids, a son and a daughter. Ronchi mainly prefers keeping his personal life away from the media. So, there is very less info about his family life.
On the other side, Ronchi's partner is available on Instagram as @shaan_ronchi. From her account, she updates her well-wishers about her day-to-day lifestyle.