Personal Info
Date of Birth

Age

53 Years Old

Famous Name

Lucas Radebe

Country South Africa ZA
Facts
Father

Johannes

No. of Instagram Followers

40.5K

Past Team

Kaizer Cheifs

Father Nationality

South Africa

Mother

Emilly

Birth Name

Lucas Valeriu Radebe

Net Worth

$13 Million

Mother Nationality

South Africa

Currently Married

Thobela

Married to

Feziwe and Thobela

Birth Country

Soweto, South Africa

No. of Siblings

10

Famous Name

Lucas Radebe

Children

Lucas Jr, Jessica, Oftentse, Owami

Position in Team

Centerback

Wife nationality

South Africa

Nationality

South Africa

Ethnicity

Black

Current City

Soweto

Religion

Christain

Profession

Footballer

Famous for

Football
Lucas Valeriu Ntuba Radebe is a former South African professional footballer who played as a center back for Leeds United FC and Kaizer Cheifs. He also captained both teams during his time. The South African defender was honored by OLS by the President of Africa for his excellent achievement in sports on November 30, 2003.
Lucas Radebe OIS was born on 12 April, 1969 in Soweto, South Afirca. As of 2022, he is 52 years of age and is a right-footed player. The former President Nelson Mandal also praised him for his achievement and performance. He said of Radebe," This is my Hero." The Soweto-born former footballer used to wear jersey number 5.
Lucas Radebe's Family and Early Life
Lucas Radebe was born to the father Johannes Radebe and mother Emily Radebe as one of their 11 children. He did his secondary level education from Bapasenatla secondary school at 15. In Soweto, Violence and gunfights often happened to keep him safe from that he was sent to one of the former homelands in Grade 10, Bophuthatswana.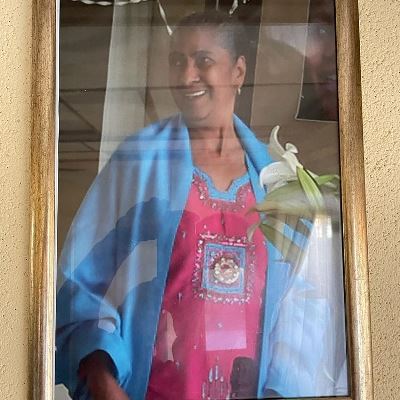 Lucas' beloved mom Emily
SOURCE: Instagram
In 1991, when he and his brother Lazarus went to bring drinks for his mother, he got shot at his back but thank god he wasn't wounded seriously. The culprit is still unknown.
Football career
Lucas Valeriu Ntuba Redebe, famously known as Lucas Radebe, had been a huge soccer fan since childhood. Lucas Radebe started his football journey in South Africa with Diepkloof Wolf Wanderer. After playing for amateur side ICL Birds, he was brought to Bophuthatswana soccer side Kiazers Cheifs as a goalkeeper. Later he switched positions to central midfielder and finally to Center back.
As a Kaizers senior player, he played 113 games, scoring 5 goals in 5 seasons. His Exquisite, acrobatic scissor and man-marking ability attracted Leeds United Fc. In 1994, Redebe, along with his African teammate, joined Leeds united for a transfer fee of £250000 as a defensive center back.
At Leeds United, he also played as Goalkeeper after returning from injury in March 1996. Radebe was also awarded the FIFA Fair Play Award.
Lucas playing in a charity match
SOURCE: Getty Image

The injury never left Redebe in his football career. His sustained serious knee and ankle injuries kept him out of the game for 2 years. He couldn't regain his form and in the team. Lucas Radebe announced his retirement from football at the end of the 2005 season.
Talking about his international career, he debuted on July 7, 1992, in-game against Cameroon. Leeds's Jersey no 5 also led his nation under his captaincy. As a National player, he represented South Africa in 70 games, adding just 2 goals to his tally.
Net worth and Salary
Lucas Radebe is one of the most accomplished former players of South Africa. As per sources, the net worth of Lucas Radebe is approximately $13 Million. During his football career, he has earned a decent amount of income playing for the top club.
The exact salary he earned is not flashed out yet, but he is assumed to be earned more than $6 Million from his overall football career. The former South Africa captain is living a comfortable and peaceful life.
Why did Lucas Radebe Marry twice? (Wife and Divorce)
Luca has married twice in his life. The main reason behind his second marriage is his first wife, Feziwe Faith Radebde, died of cancer in October 2008. They were together for over a decade.
Lucas quality time with his wife and daughter
SOURCE: Instagram
Luckily, after the death of his 1st wife, he again found his love with Thobela Silver. Before walking into the aisle, the couple had dated for 3 years. Lucas and Thobel finally got married in 2016 in Soweto, South Africa.
Who are his Kids?
Lucas is a father to more than 4 kids. From his first wife, they had daughter Owami and son Lucas Hugo, and with Thobela, the couple has Jessica and Ofentse. He is very protective and caring towards his kids. He often posts his quality moment picture with his kids via Instagram.
Lucas' family outing with his kids'
SOURCE: Instagram