Facts
No. of Instagram Followers

15.3K

Birth Name

Lewis Cine

Currently Married

No

Birth Country

Haiti

Past married if any

No

Famous Name

Lewis Cine

Position in Team

Safety

Nationality

American

Ethnicity

Black

Awards

AP Third Team All-American 2021, CFP National Champion 2021, 2022 College Football Playoff National, and First Team All-SEC 2021.

Profession

Football player

Famous for

Safety

University Team

Georgia Bulldogs

University attended

University of Georgia

School attended

Everett High School
Lewis Cine is a rising American football player. In January 2022, he declared for the 2022 NFL Draft via his Instagram. He finished his collegiate career at the University of Georgia's team, Georgia Bulldogs. Cine played as a safety for his team. He was named the AP Third Team All-American 2021, CFP National Champion 2021, 2022 College Football Playoff National, and First Team All-SEC 2021.
Lewis Cine was born in early 2000. He has not disclosed a hint about his parents to the public, yet he grew up with his brothers. He was born in Haiti, and the family moved to the United States at age four. Cine stands 6 feet 1 inch tall (1.85m) and weighs over 91Kg (200lb).
Lewis Cine Net worth and Earnings (NFL Draft Projection and Contract 2022)
Lewis Cine is yet to start his professional career. NCAA does not allow the universities to pay their athletes rather offers them scholarships, and he played for his college team during his collegiate career. Cine is not expected to have a huge Net Worth. However, college athletes can make money through social media, endorsements, and Merchandise.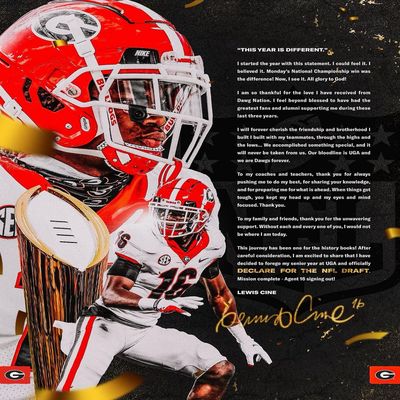 Lewis Cine's farewell post to Georgia Bulldogs.
SOURCE: [email protected]
He is set to earn a huge amount to his net worth in the upcoming days, as he announced entering the 2022 NFL Draft. If drafted in the first round, the player's salary will cross more than $10 Million. And talking about his Net worth, it remains under the radar.
Lewis Cine's Merchandise
Cine earns some good earnings through h:is Merchandise; he promotes his website on Instagram. Cine earns well through this as well, he posted
"White Long Sleeve Tees are on teh site along with the official team Cine Graphic Short sleeve. I'am going to randomly autograph 5 "We are Back On The Cine" tees as sign of appreciation."
Lewis Cine promoting his Merchandise.
SOURCE: [email protected]
Who is Lewis Cine dating? (Girlfriend and Love Life)
Cine is a close person who has never revealed his relationship status to the public. He is barely seen with any girl in public.
And Lewis also does not share his relationship status on his social media. Cine is fully focusing on his career. So, it might be that he does not give too much importance to girls but might be dating in private and waiting for the right time to flash out to his fans.
He is seen with one child on his Instagram whose identity is unknown to the public. He has not revealed a hint about it either.
Also, know about Alanna Smith's Relationship status.
Early Life, High School and College Career
CIne attended Everett High School, where he played football and was named Defensive Player of the Year by USA Today. He led the team to its second straight MIAA state championships. Cine spent his senior years in Trinity Christian School; he later committed to playing for Georgia.
Lewis Cine during his collegiate career.
SOURCE: [email protected]
During his college years, he had 49 tackles and 12 passes; he played 14 of Georgia games as a freshman season. American college football player Nolan Smith plays as a linebacker for his collage team Georgia.
Stay tuned with Playerswiki.