LaChina Robinson is an African-American Basketball Analyst who calls college basketball games for ESPN, Fox Sports 1, and FS South. She is Well-respected for her work on and off the court, and she is the leading feature in the world of women's basketball.
She is a too renowned analyst for the Atlanta Dream of the WNBA and calls select WNBA games for ESPN and NBATV, CEO of the company named Stretch Beyond, and has been associated as an analyst and reporter with ESPN since December 2009.
Early life and Carrer
Robinson was born on October 25, 1980, in Boston, Massachusetts, and later moved to the south at a young age after her parents separated. Robinson lived with her mother, but the contact between the father and daughter was not lost.
Robinson is very close with her family, including her parents, stepmother, and half-siblings. Although her parents separated, her dad was her biggest cheerleader, best friend, and critic cause both share the same love for basketball.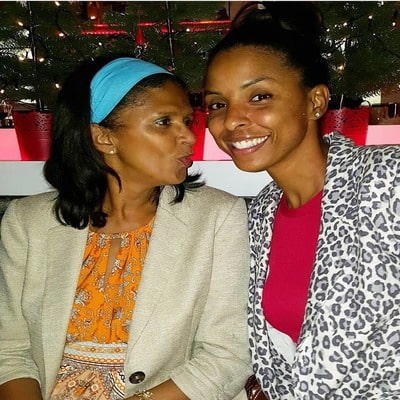 LaChina Robinson with her mother Bajan Doll
SOURCE: instagram@lachinarobinson
Robinson's mother is the inspiration behind her success. Her mother worked hard to fulfill the needs of the family, which reflected that hard work and education is the main key to different opportunities. Robinson did not play basketball until 14 years old back then.
She was a cheerleader and made a switch to basketball afterward. She played at T.C. Williams High School for four years and got a scholarship to Wake Forest University. Soon, in her first year, she was named to Atlantic Coast Conference(ACC) all-freshman team and made it to the Dean's List. She graduated in sociology in 2002.
LaChina Robinson at ESPN
SOURCE: instagram@lachinarobinson
After graduation, Robinson worked as an administrative assistant for recruiting, director of basketball operations, and special assistant to the head coach of the Georgia Tech women's basketball team. After seven years, she fell in love with broadcasting after filling as a radio analyst one day, making her change her path to Carrer.
In 2008 Robinson established her company "Stretch Beyond," which taught student-athletes about the Carrer path to their future, character, and community brand.
LaChina Robinson mentoring young students
SOURCE: instagram@lachinarobinson
She officially began her broadcasting career around 2008. Since then, she has been a women's basketball analyst on the Big Ten Network, Fox Sports, NBA TV, and ESPN. She has covered everything from the women's Final Four to the WNBA All-Star Game to the WNBA draft.
LaChina Robinson Relationships?
Robinson is not so open about her love life but is often found tweeting how her future husband should be and has not revealed her actual relationship status to date. She is too busy shaping her career as an Analyst and Broadcaster.
She had a crush on hip-hop star Jay Z since she was 15, but it was more like admiration than love. In contrast, she is predicted to be in search of mister perfect by reading her tweets.
LaChina Robinson's Salary and Net worth
She might have earned a fortune by playing basketball for four years in college and working as an analyst. She, too, worked as an analyst for the Atlanta Dream of the WNBA and WNBA. She, too, appeared as an analyst of the NCAA Women's Basketball during ESPN Women's Championships. She is living a lavish lifestyle.
LaChina Robinson enjoying her Holidays
SOURCE: instagram@lachinarobinson
She has enjoyed a long journey in the journalism industry. Her net worth is $1-$5 million. She, too, won bronze in Tokyo, where she thanked the Tokyo Live Crew. She competed at the highest level against the GOAT, Mary Carillo. She worked for NBC Olympics.
Do Follow: Mo'ne Davis and Andy Katz
Want to know more about LaChina Robinson?
Robinson is quite popular on Instagram. Her Instagram account goes by lachinarobinson
View more Atlelets on PlayerWiki