Kristijan Jakic is a well-known Croatian professional football player. Currently, Jakic is playing in the German League club Eintracht Frankfurt as a defensive midfielder. He has represented Croatia at numerous youth and senior levels, including the Croatian squad U19 and U20. He debuted for his Croatian senior national team in 2021 and has made 4 appearances to date.
Kristijan Jakic was born on May 14, 1997, in Split, Croatia. As of date, there is no official statement regarding Jakic's family status, which includes his parents and siblings. Talking about the Croatian defensive midfielder's physical appearance, Jakic stands five feet and eleven inches (1.81m) tall and weighs 76 kg.
Jakic's Salary, Contract, and Net Worth
Frankfurt's defensive midfielder is one of the young admired players who started his professional career in 2015 with RNK Split, and since then, Jakic has been adding up his net worth and career earnings.
As an athlete of Eintracht Frankfurt, Croatian defensive midfielder Jakic earns around £104,000 per year, £2,000 weekly playing for the club.
Talking about Jakic's net worth, Frankfurt's defensive midfielder has a net worth of more than $500,000 and has many years to add million in the coming years. Known for his defensive midfielder playing style, Jakic also earns a good amount of earnings through Adidas endorsements which he loves posting on his Instagram.
Kristijan Jakic promoting Adidas.
SOURCE: instagram@jakic97
Jakic's contract with Eintracht Frankfurt ends on June 30, 2022, with a current market value of €7.50 million, last updated in late 2021. He is set up to add a million in the upcoming years to his net worth.
Who is Frankfurt's Defensive-midfielder Jakic Dating in 2022?
As a professional soccer player dedicated to his career, Jakic is nowhere to be found dating any girl on his Instagram. He is single as of 2022, Jakic loves to spend his vacation with his family and teammates, and not a single post on Instagram leads him to be in a romantic relationship.
Kristijan Jakic in Zagreb, Croatia.
SOURCE: instagram@jakic97
He is single, but who knows, Jakic might be dating in private and waiting for the right time to announce it to his fans. For now, the Croatian defensive-midfielder is more focused on his professional life than dating.
International Career
As a native of Croatia, the defensive midfielder has represented Croatia at numerous youth levels.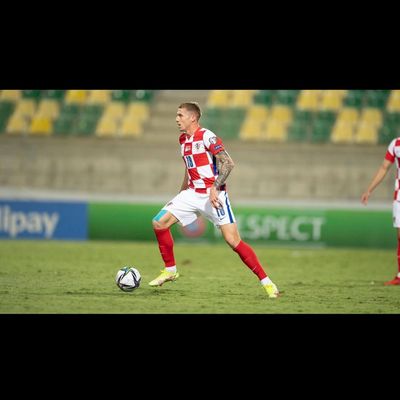 Kristijan Jakic with Croatia in 2021.
SOURCE: instagram@jakic97
The Croatian coach called Jakic for the senior Croatian senior national team on September 20, 2021, and made his debut on October 8 in a World Cup qualifier match against Cyprus and Slovakia.
Also, know about Allan Wanga's Early Life, Professional Career, and Net Worth.
Social Media Presence
As a rising professional soccer player from Croatia, Jakic is active on his social platforms.
He posts about his professional life and private life. 18.2K followers follow him on his Instagram, and his username goes by @jakic97
To know more about famous Athletes, Stay tuned to Playerswiki.