Joao Felix is a professional footballer who plays as a Forward/Second striker for the club Atletico Madrid of La Liga. Felix previously played for Benfica in the Portuguese League, making his professional debut in 2018 before moving to the Spanish capital.
Standing at 5'11 inches, Felix was born on November 10, 1999, in Viseu, Portugal. His birth name is Joao Felix Sequeira. Besides, he holds Portuguese nationality. Felix's birth sign is Sagittarius, and he is of the Christian religion.
Net Worth – Salary at His Current Club
Felix is estimated to have a net worth of around $13 million. Felix is currently signed with Atletico Madrid, with whom he signed a deal after receiving a whopping €127.20 million. He is the fifth-highest-earning player in his current team. Felix earns £155,000 in a week and £8,060,000 in a year.
Joao Felix posing in his car
SOURCE: Instagram @joaofelix79
In the 2021 season, Felix earned £154,000 (weekly) and £8,008,000 (per year). According to Transfermrkt, Felix has a massive market value of €50 million. On September 10, 2019, Felix had a tremendous market value of €100 million.
Contract and Endorsements
Atletico Madrid currently signs Felix. In the 2020 season, Felix's weekly salary was £165,000, while his yearly salary was £8,580,000.
Atletico Madrid paid a mind-boggling €127.20 million for his transfer to the club. He is ranked number 4 regarding the most expensive signings in football. Beating him for third place is Philippe Coutinho, who reportedly cost $145 million when he made his transfer to Barcelona in 2017.
Felix showing his Adidas gear
SOURCE: Instagram @joaofelix79
He is also on an endorsement deal with Adidas. He has various pictures on Instagram which show him wearing Adidas gear.
Who Is Joao Felix's Girlfriend, Margarida Corceiro?
Moving into his love life, Joao Felix is currently in a relationship with his girlfriend, Margarida Corceiro. The couple has been dating each other for quite a while now. But in mid-2022, Corceior was accused of cheating on the footballer. However, she denied the allegation.
So, it can be said that Felix and Corceiro are doing well in their love life. Felix often posts images on his Instagram handle. Meanwhile, Corceiro is a talented Portuguese actress, influencer, and model who shot fame after working with Missus.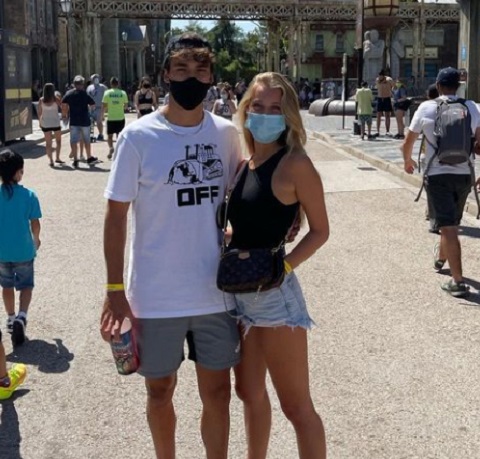 Joao Felix with his girlfriend, Margarida Corceiro
SOURCE: Instagram @joaofelix79
Apart from that, Corceiro and Felix share three years of age gap. Felix is three years older than his lover.
Meet His Parents: Explore His Early Life
Felix comes from a middle-class family. His father is Carlos Felix, and his mother is Carla Felix- both of his parents are professional teachers. He also has a younger brother named Hugo Felix.
Felix was raised by both of his parents and has been interested in football since childhood. It is said that he learned to play football as soon as he learned to walk. He changed his parents' room to a football field, and his little brother, Hugo, soon joined in.
Career Briefing
At the age of 9 years, Felix started his career with FC Porto's youth system (2008). Later on, he joined Benefica's youth academy (2015). He debuted at 16 for Benfica's reserve team on September 17, 2016. Felix was promoted to Benefica's first team after the reserves were impressed with his skills.
Joao Felix in a professional game
SOURCE: Instagram @joaofelix79
Joao Felix's professional career started when he debuted for Benfica's first team. The team won 4-2 in UEFA Europa League against Eintracht, Frankfurt. It was in this match that Felix scored a vital hat-trick for the victory.
At just 19, Felix became the youngest player in the league to score a hat-trick. Felix played his senior career with Benfica from 2018-2019 and is currently playing for Atletico Madrid since 2019. He now uses a number 7 jersey that Antoine Griezmann previously wore.
Apart from that, Felix is also a national footballer set to appear in the FIFA World Cup 2022.
Felix's Injury
In a draw match between Atletico Madrid and Valencia in 2021, Felix suffered a sprained ankle ligament at the 80-minute mark.
Felix was injured against Valencia
SOURCE: Marca
He also missed at least two to three weeks due to the injury. The matches were against clubs such as Athletic Club, Alaves, and Sevilla.
Atletico Madrid's statement on the matter was,
"The Portuguese has undergone an MRI and X-ray at the Clinica Universidad de Navarra, and the report offered by our medical team indicates that he has suffered a grade II sprain of the external lateral ligament of his right ankle."