Personal Info
Date of Birth

Age

48 Years Old

Famous Name

Jerry Stackhouse

Country United States US
Facts
Father

Minnie Stackhouse

Relationship Status

married

No. of Twitter Followers

42.8K

First Name

Jerry

No. of Instagram Followers

37.3K

Father Nationality

American

Mother

George Stackhouse

Last Name

Stackhouse

Birth Name

Jerry Darnell Stackhouse

Net Worth

$20 Million

Mother Nationality

American

Facebook

Currently Married

Ramirra Marks

Twitter

https://mobile.twitter.com/jerrystackhouse

Siblings

Tony Dawson, James Stackhouse, Mary Magdalene Thomas, Clema Jean Dawson-Peterson, Bertha Delois Meadows

Salary

-

Married to

Ramirra Marks

Birth Country

United States

No. of Siblings

5

Instagram

https://www.instagram.com/jerrystackhouse42/

Famous Name

Children

Jaye Stackhouse, Alexis Stackhouse, Antonio Stackhouse

Wife profession

fitness expert

Horoscope

Scorpio

House Location

Suwanee, Georgia

House Price

800000

Wife nationality

American

Number of Cars

4

Wife working for

fitness

Nationality

American

2nd Car

GMC Sierra Denali

3nd Car

Bentley GT

4th Car

Maybach 62S,Maybach 62S

Religion

Christians

Profession

American basketball coach

Famous for

Basketball

Currently Club

Vanderbilt

University attended

University of North Carolina

School attended

Kinston High School,Oak Hill Academy

Alumni
Jerry Stackhouse is an American coach who is also a former professional-level player. He now serves as the head coach of the Vanderbilt Commodores men's squad. Jerry joined the team in 2019 and has been looking at the Vanderbilt team. Jerry signed a six-year contract with Vanderbilt in 2019 and extended it in 2022 for a few more years.
Stackhouse has coached multiple teams, including the Toronto Raptors, 905, and the Memphis Grizzlies. Before becoming a coach, Stackhouse was a professional player who played in the National Basketball Association (NBA) for 18 seasons. He represented some teams like the Philadelphia 76ers and Detroit Pistons.
How Much Is Jerry Stackhouse's Net Worth and Salary? More on His Career Earnings
Stackhouse has amassed an enormous sum of money from his basketball player and coach profession. During his playing career, Stackhouse represented multiple teams and had awesome deals with them. Stackhouse currently has an estimated net worth of over $20 million.
Jerry took home $2.2 million as his salary in the first season of his coaching career. His salary increased to $3.1 million with a base pay of $2,876,063, $101,000 in bonuses, and $161,044 in benefits and other compensation.
It is reported that Stackhouse earned around $84 million salary during his professional NBA career. In the 1995-96 season, with the 76ers, Stackhouse received a compensation of $1,987,000. The following season, he took $2,286,000. After that, he played for the Detroit Pistons and his first season salary was $2,583,360.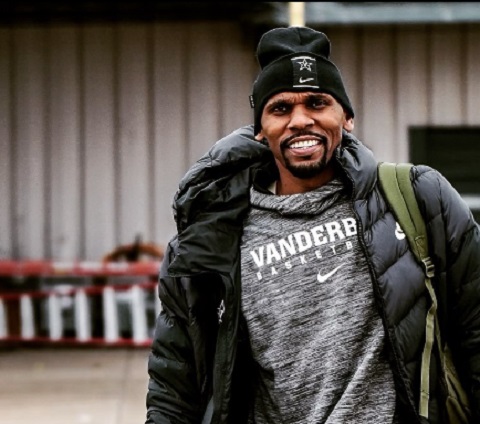 Jerry Stackhouse maintains a lavish lifestyle
SOURCE: Instagram @jerrystackhouse42
While playing for the Detroit Pistons, Stackhouse earned a massive amount, and after that, he moved to another team. After retiring, Stackhouse began working as a coach and initially started his career as an assistant coach. Now, he has been a part of four teams. Apart from his career as a player and coach, Stackhouse has experience working in television.
Stackhouse has worked as an analyst, which may have helped him earn more profit. The basketball head coach lives a lavish life like Kyle Neptune, and his extraordinary life can be explored by following him on Instagram under the username @jerrystackhouse42.
Read Also: Mo McHone and Mo McHone
Married Life: Explore Everything About Stackhouse Wife and Children
Stackhouse is a happily married man who lives with his gorgeous wife, Ramirra Marks. The couple began dating a long time ago and dated for some years. Later, they thought of getting married and walked down the wedding aisle in December 2000. Stackhouse's wife is an independent lady doing well in her life.
Ramirra has her own business and is reported to be working as a manager of Beautycorner. Likewise, she has an active presence on Instagram, where she shares her daily life and events. Also, she is a loving wife who has supported her husband for over a decade.
Jerry Stackhouse with his wife,

Ramirra Marks
SOURCE: Instagram @jerrystackhouse42
Apart from that, Ramirra and Stackhouse are the proud parents of three children. Their first child, Jaye Stackhouse, was born before the couple tied the knot. Jaye followed in his father's footsteps and played the same sports as Stackhouse. Likewise, the duo gave birth to another child named Antonio Stackhouse, who also seems interested in sports.
After that, the family increased when their only daughter Alexis Stackhouse was born. Alexis is a talented lady and also a Syracuse University athlete. The Stackhouse family lives happily.
Stackhouse Career as a Basketball Player
Starting with his early career, Stackhouse went to Kinston (N.C) High School. Also, he played for Oak Hill Academy. His high school career went pretty well, and he later attended the University of North Carolina at Chapel Hill. In his sophomore season at UNC, he had 19.2 points per game and averaged 8.2 rebounds per contest. In 1999, he earned a bachelor's degree in African American Studies.
Furthermore, Stackhouse's professional NBA career began after getting selected by the Philadelphia 76ers in the first round of the 1995 NBA draft with the third pick. He represented the 76ers until 1997. In mid-1997, he moved to play with the Detroit Pistons. After the 1999–2000 season, he had a career-high average of 29.8 points per game.
Playing with the Pistons until 2002, Stackhouse was traded to the Washington Wizards. So, with them, he just played for two seasons. He was later changed to the Dallas Mavericks. Luka Doncic is also a basketball player who played for the Mavericks. From 2004 to 2009, he played for Mavericks. He also played with the Memphis Grizzlies and the Miami Heat in 2010. For the 2011-12 season, he went to the Atlanta Hawks. Before retiring from his professional basketball career, Stackhouse played with the Brooklyn Nets.
Read More.Trey Jason Kidd
Stackhouse Career as a Coach & Analyst
On June 29, 2015, Stackhouse was hired by the Toronto Raptors, where he served as an assistant coach. Later on September 9, 2016, he began working as the head coach of Raptors 905. He was at Raptors 905 from 2016 to 2018. Stackhouse joined Vanderbilt in 2019 on a six-year contract. The coach extended his contract for a few years in the mid 2022.
For the 2018–19 NBA season, Stackhouse worked as an assistant coach for the Memphis Grizzlies. Since April 5, 2019, he has been at the Vanderbilt Commodores serving as a head coach. Apart from being a coach, he also worked as an analyst. He worked as an analyst in various networks, including the ACC Network and Fox Sports Detroit.
Jerry Stackhouse's Family Background and Height
Stackhouse was born Jerry Darnell Stackhouse on November 5, 1974, in Kinston, North Carolina, US. His parents, George Stackhouse (father) and Minnie Stackhouse (mother) raised the basketball head coach. And he also has seven siblings in the family, but some of their details are unavailable in the media.
Jerry Stackhouse's mother,

Minnie Stackhouse
SOURCE: Instagram @jerrystackhouse42
His older brother Tony Dawson is a retired American professional basketball player. He played a few NBA games during the 1990s as a small forward. Furthermore, Stackhouse has an athletic family background.
Read More.John Groce
Physical Appearance- Height And Weight
Jerry is a tall and fit guy with a tremendous physical build. Regarding his bodily appearance, Stackhouse's height is 6 feet 6 inches (1.98 m), and he weighs 99 kg which is also 129 lbs.
Jerry Stackhouse is also interested in golf
SOURCE: Instagram @jerrystackhouse42
Besides remaining busy with his daily schedule, Jerry also loves to invest his time in other sports like golf. For further updates, we can also follow him on Instagram, where Jerry is active under the username @jerrystackhouse42.