Jennifer Jones is a Curler, Lawyer, and Motivational Speaker who is known for her exceptional achievements in the sport. She holds an impressive record, being an Olympic champion, two-time world champion, and six-time national champion. At the 2014 Sochi Games, Jones made history as the first female skip to go undefeated, leading her Canadian team to win the Olympic gold medal in curling.
Jones, along with her squad, achieved another milestone by becoming the first Manitoba-based curling team to capture an Olympic gold medal. In addition to her Olympic success, she clinched a second world championship in 2018. Jones has also made her mark in national competitions, having won the national championship a remarkable six times.
Jennifer Jones Early Life: How did Jennifer begin Curling?
Jennifer Jones was born on July 7, 1974, and her journey in curling began at a young age, as she took up the sport when she was just 11 years old. Demonstrating her natural talent and dedication, she quickly made a name for herself in the curling community.
Jennifer Jones played curling since 11 years old.
SOURCE: Instagram- jjonescurl
In her early years, Jones showcased her skills as a skip, leading her team to victory in the provincial junior championships not once but twice, in 1991 and 1993. Her success continued to flourish, culminating in a Canadian junior championship title in 1991, further solidifying her promising future in the sport.
As Jennifer Jones progressed through her youth and into adulthood, her passion for curling remained unwavering. Her commitment and skill propelled her to become one of the most accomplished female curlers in Canada's history. Over the course of her remarkable career, she amassed an impressive collection of championships, earning her a place among the sport's elite.
Jennifer Jones Curling Career: Jones Curling Accolades
Jennifer Jones has established herself as a dominant force in the world of curling, with an illustrious career marked by numerous accomplishments. At the 2014 Sochi Games, she led the Canadian team as the skip and emerged as an Olympic champion in curling. What makes her achievement even more remarkable is that she became the first female skip to go undefeated throughout the Games, a feat previously achieved only by fellow Canadian Kevin Martin in 2010.
Jennifer Jones and her husband are former professionals
SOURCE: Instagram- jjonescurl
Jones's success extends beyond the Olympic stage. She has claimed the title of world champion not once, but twice. In 2008, she led her team to victory at the World Women's Curling Championship, and she repeated this triumph in 2018. Jones has proven her dominance by clinching the national championship an impressive six times. Her most recent win in the 2018 Scotties Tournament of Hearts allowed her to equal the record for total Scotties championships held by Colleen Jones.
Jones has been honored with numerous inductions and awards, including being named the Canadian Press female athlete of the year in 2014 and receiving inductions into the Canadian Curling Hall of Fame in 2014, the Manitoba Sports Hall of Fame in 2015, and the Canadian Olympic Hall of Fame in 2019. In 2014, she was also recognized with the prestigious Order of Manitoba for her outstanding contributions to the sport of curling.
Jennifer Jones Net Worth and Salary: How rich is Jennifer?
Jennifer Jones has built a substantial net worth, estimated to be over $1 million, primarily through her highly successful curling career. As a decorated athlete, she has earned significant prize money from competitions and endorsements.
Jennifer Jones has an estimated net worth of over $1 Million.
SOURCE: Instagram- jjonescurl
Her most notable achievement was winning the Olympic gold medal in curling as the skip of the Canadian team at the 2014 Sochi Games. This victory, along with her impressive track record, has undoubtedly contributed to her financial success.
In addition to her curling career, Jennifer Jones holds a position as a professor at the University of Illinois Chicago, which likely serves as an additional source of income. While the specific details of her salary have not been disclosed, her role as a professor at a reputable university undoubtedly contributes to her overall net worth.
Read More: How Tall is Jordy Smith? All About Jordy's Net Worth, Earnings and Sponsorships. Also His Married Life and Wife
Jennifer Jones Career Earnings and Endorsements Earnings
Jennifer Jones earned an impressive amount of $153,798 on the 2017-18 WCT in prize money from curling competitions. This substantial earning highlights her success and skill in the sport. In addition to prize money, Jones has likely secured further income through endorsement deals. However, details about her specific endorsement agreements have not been publicly disclosed, and she maintains a private stance regarding her financial arrangements.
Jennifer Jones is married to Bret Liang.
SOURCE: Instagram- jjonescurl
While it is known that Jennifer Jones has endorsements, including sponsorship deals, the specific companies or brands she is associated with remain undisclosed. Jones prefers to keep the details of her financial partnerships private, allowing her to maintain a level of privacy surrounding her monetary affairs.
Read More: All About John Higgins's Net Worth, Earnings, and Sponsorship Deals. Know His Married Life and Children
Jennifer Jones Husband, Brent Laing: Jones Married Life and Children
Jennifer Jones is married to Brent Laing, who is also an accomplished curler hailing from Ontario. The couple exchanged vows in 2012 and are proud parents to two daughters named Isabella and Skyla. Isabella, their first child, was born prematurely on December 13, 2013, although there is no available information about Skyla's birth details.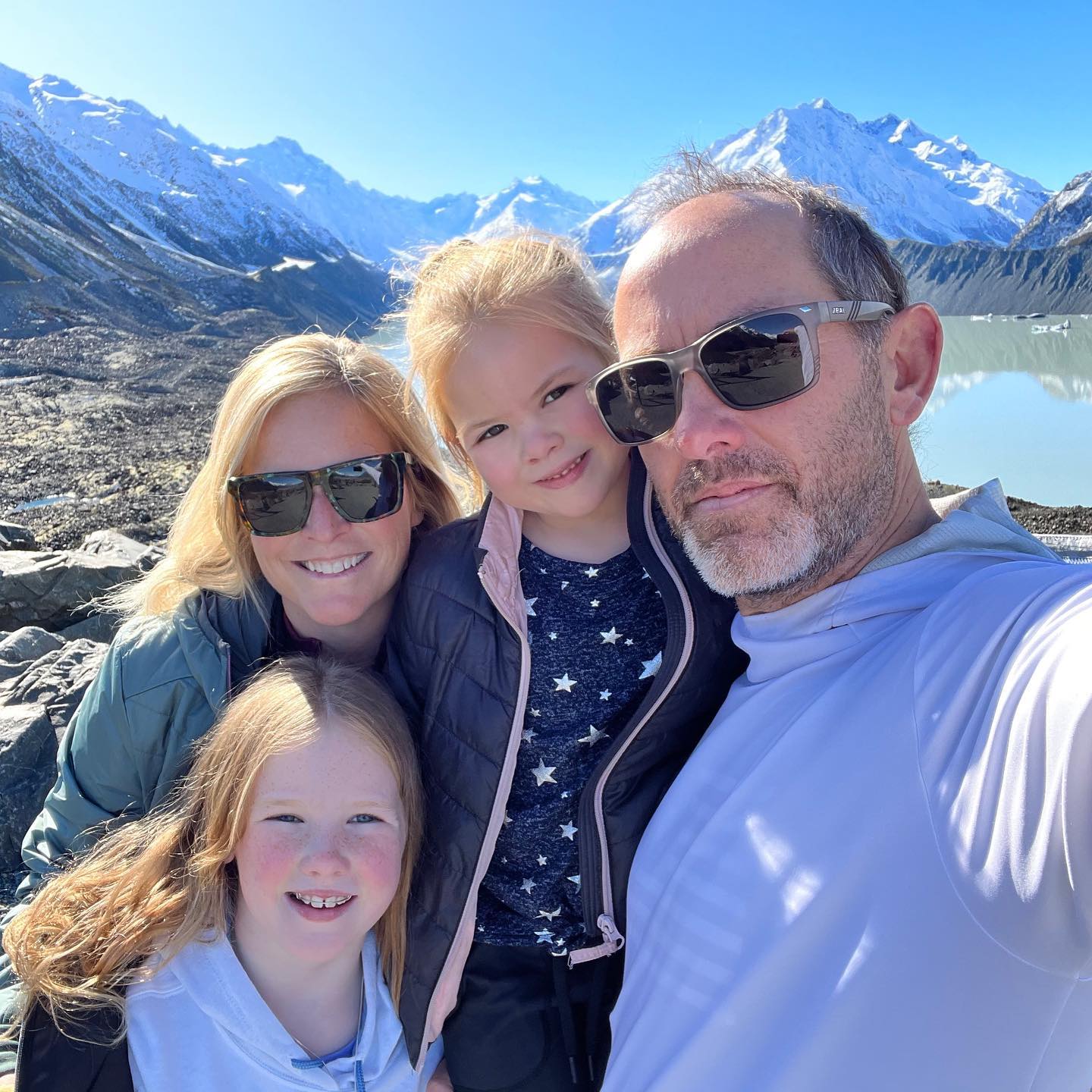 Jennifer Jones with her family visiting Mount Cook.
SOURCE: Instagram- jjonescurl
Jennifer Jones and Brent Laing share a remarkable curling legacy, having represented Canada together in mixed doubles curling. Their combined achievements include an impressive tally of nine national championships, five world titles, three Olympic appearances, and an Olympic gold medal in men's and women's team curling. This level of success speaks to their remarkable talent and dedication to the sport.
While information about Jennifer Jones' parenting approach is limited, it is evident that she values the well-being and positive experiences of her children. In her professional work, she has expressed the importance of prevention and fostering positive childhood experiences.