Jayon Lee Brown, famously known as Jayon Brown, is a famous American football Linebacker for the Las Vega Raiders of the National Football League (NFL). He played his college football at the University of California, Los Angeles (UCLA). He was drafted by the Tennessee Titans in the fifth round of the 2017 NFL Draft.
Jayon Lee Brown, a Raiders linebacker, was born in Long Beach, California, on 16 January 1995. As of 2022, the athlete's age is just 27 years, and his zodiac sign is Capricorn. He belongs to the black ethnic community and has a dark skin complexion. Speaking about his physical appearance, brown stands tall at 6 feet 0 inches and weighs 103 kg.
Jayon Brown's career earnings and net worth as of 2022
The 27-years old linebacker has been making impressive money from his football career. After being drafted by the Tennesse Titans in the 2017 NFL Draft out of UCLA, Brwon played out the final year of his four-year, $2.67 Million rookie contract and made a base salary of $7,35,000 in 2020.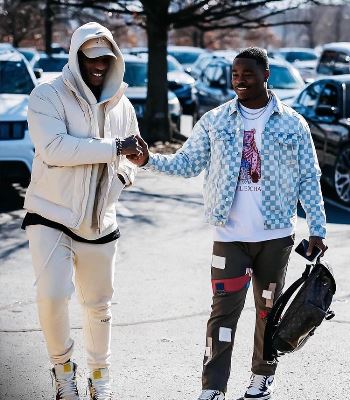 Fashion nova brand featuring Jayon Brown
SOURCE: Instagram
After re-signing the extension contract, Long Beac-born athlete's salary has significantly increased to $1,035,000, including a signing bonus of $125000, a roster bonus of $64,600 and a workout bonus of $25400.
Hence, he has added immense fortunes to his net worth to date. According to our research, Brown's estimated net worth is around $10 Million.
On top of that, he also credits his bank balances via commercial ads, promotions and sponsorships.
Read More: Jayon Brown
Brown's relationship status and love affairs
About his love affairs, he has remained mute and has not shared anything about them, due to which anything about his relationship matter is unknown to the public. Former Tennesse Titans inside linebackers have neither been engaged previously nor seen with any girls. Hence, he seems to be single at the moment.
Football journey and stats of Tennesse Titans Linebacker Jayon Brown
During his four-season with UCLA, he made appearances in 49 games with 21 starts and totaled 220 tackles. He played 13 games as a special player and reserve linebacker as a freshman.
As a senior player in his college football, he played 12 games in total with 119 tackles which tied for 16th on the all-time school single season.
Brown's debut game Las Vegas Raiders
SOURCE: Instagram
First-time All Pac team winner Brown is a graduate student with a degree in political science in 2017. Former Tennesse Titans Linebacker Brown set foot into NFL in 2017 after being drafted by Tennesse Titans. He made an NFL debut in the Titan's season opener against the Oakland Raiders. Brown played four years of his career for Titans from 2017 to 2021.
After completing his contract with the Titans, he decided to sign a year contract with Las Vegas Raiders on 24 March 2022. In his whole career stats as of 2022, Browns has total tackles of 385 and sacks of 9.5.
Stay tuned with Playerswiki