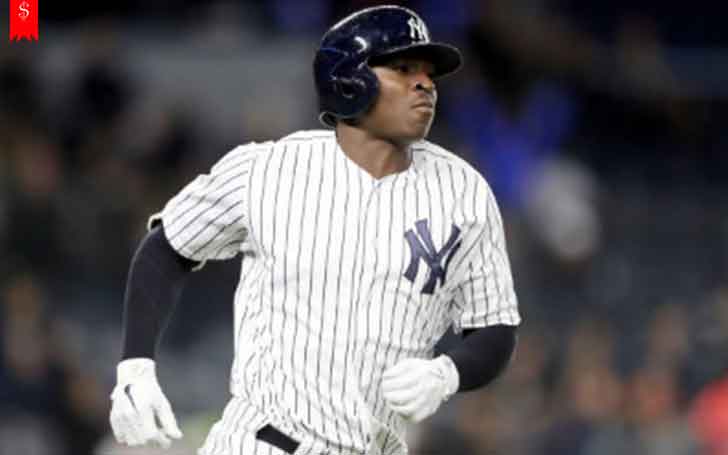 Didi Gregorius, the Dutch professional baseball shortstop also known as Sir Didi Gregorius currently plays for the New York Yankees in the MLB. Having played in the MLB, Didi with his 7 seasons has earned many achievements and awards along with the total career earnings of $18 million.
28-year-old baseballer Didi Gregorius is estimated to be enjoying the net worth of $5 million. So how much salary does he earn? Scroll down for the details on Didi Gregorius' salary, net worth, contracts, career achievements, and awards.
Net Worth and Salary of Didi Gregorius
Well, Didi initially playing at an under-18 tournament in The Hague, played for the Cincinnati Reds till 2012 and as far, now he has played for other 2 teams including Arizona Diamondbacks (2013-2014) and New York Yankees (2015- Present).
With his professional career, Didi is reported to be enjoying the estimated net worth of $5 million. However, Gregorius seems quite low-profiled to reveal his property details, though he reportedly earns massive monetary benefit from his endorsement deals.
The jersey number 18, Didi Gregorius currently playing for the New York Yankees is reported to be enjoying the annual salary of $8.5 million for 2018 season. While the highest paid Yankees' players like Giancarlo Stanton, Masahiro Tanaka, and Aroldis Chapman earn $25 million, $22 million and $15 million respectively.
Probably thinking about Didi Gregorius' other contracts and salary, right? Let's know.
Career Contract and Salary of Didi Gregorius
Soon after discovered by the Cincinnati Reds in 2006, while playing in the playing at an under-18 tournament in The Hague, Gregorius was signed by the Cincinnati Reds on August 6, 2007, for an undisclosed contract worth.
However, after walking his journey with the Reds till 2012, he was traded to Arizona Diamondbacks on December 11, 2012, as a part of a 3-team trade where Cleveland traded Shin-Soo Choo and Jason Donald to Cincinnati ; Arizona traded Drew Stubbs, Trevor Bauer, Bryan Shaw and Matt Albers to Cleveland; Cincinnati traded Tony Sipp and Lars Anderson to Arizona.
And on March 2, 2013, Didi Gregorius signed a 1 year $491,000 contract with Arizona, soon followed by his another 1-year contract worth $506,500 on March 3, 2014.
CAPTION: Didi Gregorius while playing for Arizona Diamondbacks
SOURCE: AZ Central
Again on December 5, 2014, Gregorius became the part of a 3-team trade being traded to New York Yankees where Yankees traded Shane Greene to Detroit and Detroit traded Robbie Ray and Domingo Leyba to Arizona.
Following 3 months, he signed with a 1-year deal with New York Yankees for $553,900, and then on January 19, 2016, Didi Gregorius signed a year deal worth $2.425 million.
Well, it's an astonishing that Didi Gregorius' contracts till now have signed only a year contracts consecutively. His other 1- year contract includes his deal signed with the Yankees on January 3, 2017, and January 12, 2018, for $5.1 million and $8.5 million.
Let's take a look at his career salary sheet.
| | | |
| --- | --- | --- |
| Year | Team | Salary |
| 2012 | Arizona Diamondbacks | $480,000 |
| 2013 | Arizona Diamondbacks | $491,000 |
| 2014 | Arizona Diamondbacks | $506,500 |
| 2015 | New York Yankees | $553,900 |
| 2016 | New York Yankees | $2,425,000 |
| 2017 | New York Yankees | $5,100,000 |
| 2018 | New York Yankees | $8,500,000 |
Till now his career total earnings sums up to $18,106,400 while his career stats averages 2,268 at bats, 281 runs, 604 hits, 270 runs batted in, 136 walks, 359 strikeouts and 0.266 batting average.
Endorsement of Didi Gregorius
Well, Didi earnings off-field is blessed with his endorsements with Nike, Mizuno and Louisville Slugger, though the deep detail of is not disclosed, he reportedly earned more than $500,000 with the deals.
Furthermore, with the sponsors from the Nike, Didi also has an incredible shoe collection.
Probably, the other endorsements are awaiting for this prominent player and hope it will soon be out in future.
Career Achievement and Awards
Well, it's really sad to say but despite his dedication and hard work, Didi Gregorius has not won major awards, but that's not the end. Making professional debut with the Cincinnati Reds in 2007, Gregorius was diagnosed with kidney disorder leading him to miss first 2 months of 2011 season.
However, making his return in the game and playing for the assigned team Canberra Cavalry in the 2010–11 Australian Baseball League season averaging 0.189 at batting, he won Golden Glove Award for the 2010–11 Australian Baseball League season.
CAPTION: Former Cincinnati Reds baseballer Didi Gregorius
SOURCE: Zimbio
After playing incredible games in the traded team Arizona Diamondbacks, Didi Gregorius making his move to New York Yankees and went 4 for 5 with a home run and a career-high 6 RBIs in 2015. His notable achievement named him a finalist for the American League Rawlings Gold Glove Award, however, lost to Alcides Escobar.
Also, Gregorius was named as a Final Vote candidate for the 2017 MLB All-Star Game, but instead of the award, his hands got the all-time record for most home runs in a season by a Yankee shortstop after hitting a home run in three consecutive games from July 23 to July 26, 2017.
Let's look at his career highlights.
Let's look at his international achievements.
International Career Achievements
Didi Gregorius played for the 2011 Baseball World Cup winning Dutch National Baseball Team and the team was awarded the Order of Orange-Nassau. Though he had to forfeit the 2013 World Baseball Classic due to the strained ulnar collateral ligament, he made his second international appearance playing for Team Netherlands in the 2017 World Baseball Classic.
But unlucky this time too, he couldn't continue due to a shoulder injury. Let's see what the future has to offer for Didi Gregorius.
Let's wish him best and stay tuned.
AD Here (After Content)