Halapoulivaati was born on June 16, 1993, in Fort Worth, Texas. He was born under the sign of Virgo. Vaitai is the son of Tongan parents Talikavili and Shirley Vaitai. And he has two younger brothers, Will and Kevin; both play American football. Halapoulivaati stands 6 feet 6 inches tall and weighs 147 kg. He has an athletic body and is of Tongan descent. He is an American citizen and holds an American passport.
Career Highlights and Stats
Vaitai attended Haltom High School. During his senior season in 2011–12, Vaitai was regarded as the 40th top high school offensive line prospect in the USA and third in Texas.
He attended Texas Christian University. Vaitai started five games as a reserve offensive tackle as a rookie in 2012. In 2013, he started seven of the 12 games he played as a sophomore. Five of his starts were at right tackle, while two were at left tackle.
Halapoulivaati Vaitai
SOURCE: instagram@hvaitai_72
The Philadelphia Eagles selected Vaitai in the fifth round, 164th overall. On May 6, 2016, he signed his rookie contract with the Eagles. In Week 5, Vaitai got his first start. He was the starter through Week 11 before sustaining an MCL sprain in that game, which forced him to miss the remainder of the season.
Vaitai signed a five-year contract with the Detroit Lions on March 26, 2020. On November 25, 2020, he was placed on an injured reserve. Vaitai was activated off injured reserve on December 19, 2020.
Halapoulivaati Vaitai's net worth and career earnings
According to sportrac, Vaitai is currently under a 5 yr(s) / $45,000,000 contract with Detroit Lions with signing bonus of $7,000,000, including an average annual salary of $9,000,000 while carrying a cap hit of $10,733,750. His esteemed career earnings as of now are $25,627,238.
Vaitai with his squad
SOURCE: instagram@hvaitai_72
He is worth $26 Million. In addition to football, Halapoulivaati makes a lot of money through sponsorships and promotion agreements, but he hasn't said much about it.
Also, read Dylan Parham's biography and net worth.
Halapoulivaati's relationship status
Halapoulivaati, a Detriot Lions athlete, is married to an American lady. His wife's name is Caitlin Diaz, and she was born in the United States of America. She was a former Women's basketball player.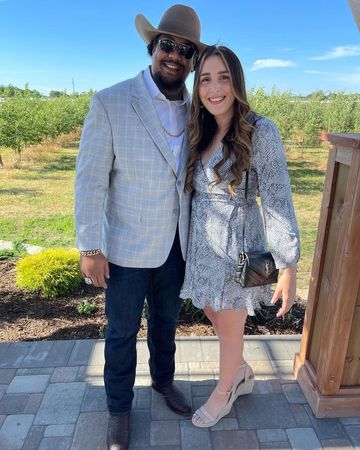 Vaitai with his wife
SOURCE: instagram@hvaitai_72
According to the sources, they are in a long-term relationship with each other. They frequently appear with each other in public places. So, offensive guard Halapoulivaati is a married athlete and lives in the United States with his wife and children.
Explore more athletes at playerswiki.