Goran Pandev is a Macedonian professional footballer who plays as a forward for the Italian club, Genoa, and is the captain of the North Macedonia national football team. He is the country's all-time top scorer with 37 goals, active since 2001. His major achievements include Coppa Italia, Serie A, Supercoppa Italiana, UEFA Champions League, and the FIFA Club World Cup.
Pandev was born in Strumica, former Yugoslavia (now North Macedonia) on July 27, 1983. He began his football career with FK Belasica also the club with whom he completed his youth training. He spent a season with Belasica playing for his country's top-flight tournament, Prva Liga.
Goran Pandev's European Career
Pandev was signed by the Italian team, Internazionale in the summer of 2001 when the Macedonian was just 18 years old. He, though, was loaned to the fellow Italian team, Spezia in July 2002 and later to Ancona. Playing for Spezia in the third Italian division league, Pandev made 22 appearances and 4 goals.
With Ancona, he played in 20 games spelling one goal across all tournaments. In January 2004, he signed with Lazio and would make combined 159 appearances beating the goalkeepers on 48 goals incidents.
He helped Lazio win the 2008-09 Coppa Italia before returning to Inter on January 4, 2010. His second stint with the Nerazzuri is considered the best phase of his football career. During the three years with Inter, he won Serie A (2009-10), Coppa Italia (2009-10, 2010-11), Supercoppa Italiana (2010), UEFA Champions League (2009-10), and the Fifa Club World Cup (2010).
He next started to play for Napoli in 2012 initially moving on loan from Internazionale. With the Blues, he won Coppa Italia (2011-12, 2013-14). After failing to gain playing time at Galatasaray (signed in 2014), Pandev moved to Genoa in 2015. Since then he has made 156 appearances and 28 goals.
Trending Biography: Internazionale midfielder, Christian Eriksen Net worth and Married life
Goran Pandev's Salary and Net Worth
Pandev's recorded salaries since 2014 reportedly sum up to over £11 million. All along from the late to mid-2010s, he was allegedly netting a yearly salary beyond £3 million with some reporting he raked in as much as £5 million post his Champions League and domestic titles victories.
At the end of the 2013-14 season, Gli Azzurri was known to have paid the Macedonian footballer compensation worth £3.48 million.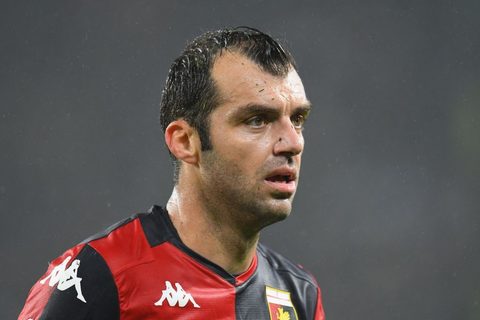 While playing for Internazionale, Goran Pandev Pandev collected a host of honors including winning the Serie A, the Coppa Italia, and the UEFA Champions League
SOURCE: Sem Preinter
He bagged around £2 million from his 2014-15 spell with the Turkish club Galatasaray. In 2016, Genoa signed the six-foot-one striker with a salary worth £1.04 million.
The following season the pay rose to £1. 3million with his weekly salary amounting to about £26,000. Since 2018, Pandev has been deriving an average honorarium within £600,000 - £800,000. Assuming the above details, his net worth could be supposed to be £7 - £8 million.
Also Read: Internazionale forward, Romelu Lukaku net worth and married life
Goran Pandev's Wife, Children, and Family
Pandev is married to Nana Pandeva with whom he shares three children, Filipo, Ana, and Sofia. Nana has been quite frequent on Pandev's Instagram along with their children. The pair has been together for more than eleven years.
Goran Pandev shares three children with his wife, Nana Pandeva
SOURCE: Instagram
His wife Nana can be spotted occasionally with her husband or with the kids cheering for the footballer by the bleachers.
Pandev and Nana are believed to have had their wedding on December 27, 2009. This was reckoned after the former Inter's number 27, revealed the anniversary date through his Instagram on December 27, 2017. The Macedonian is yet to utter the details regarding his dating life with Nana.