Fikayo Tomori is a Canadian-born English professional football player playing for the Associazione Calcio Milan Football Club, known as AC Milan FC, an Italian professional football club established in Milan, Italy. Fikayo also plays for the England national team and has earned three International caps as a senior player.
Fikayo Tomori plays from a center-back position. Since Fikayo's debut in football, Fikayo has played in diverse football clubs in different regions. Fikayo currently plays in the highest Italian football league, Serie A. For his current team, Associazione Calcio Milan FC, he wears jersey number 23. Fikayo is also one of the ornamented players of England's national team.
Salary and Net Worth of Fikayo Tomori
The crucial player for AC Milan FC, Fikayo Tomori, started playing football professionally in 2016, debuting as a senior player from the club Chelsea Football Club. Tomori played for several teams during his six-year, skillful, and experienced football career. Fikayo's football career may be primarily responsible for his conquest in life. Fikayo enjoys a thriving life because of his uncompromising work ethic.
Fikayo Tomori allegedly earns £3,952,000 per year and £76,000 per week playing football for his current club AC Milan FC according to salarysport. The transfer market states Fikayo's current market value as £50 million. In 2022, Fikayo's net worth is $2 million. Tomori's highest market worth as of now is £50 million.
FIkayo posing with his SUV
SOURCE: intagram@fikayotomori
According to the salarysport, the highest-earning player in Associazione Calcio Milan is Zlatan Ibrahimovic from Sweden, who earns £9,100,000 yearly and £175,000 a week as a striker, followed by Brahim Diaz, a Spanish attacking midfielder who makes an amount of £5,564,000 in a year with £107,000 per week.
Read also: 47 Years English Football Manager Gareth Southgate's Team Performance in World Cup 2018; Know The Sportsman's Longtime Married Relationship with and Glen Johnson
Is Fikayo Tomori still single?
Fikayo Tomori is a single athlete as of now. When it comes to his romantic situation, Fikayo Tomori is quiet and introverted by nature. Due to Tomori's reclusive personality, the England sportsman has kept his romantic life a mystery.
Besides, he was linked with a lady named Amber Gill. According to Otakukart, Tomori dated the reality star Amber in 2020. But it is unknown when they separated.
Fikayo Tomori Personal Details
Oluwafikayomi Oluwadamilola "Fikayo" Tomori , better known as Fikayo Tomori, was born in Calgary, Alberta, Canada, on December 19, 1997. Fikayo's star sign is Libra. Tomori is 6 feet 1 inch tall and weighs over 70 kg. Fikayo spent most of his childhood in England. The attractive center-back from AC Milan FC holds English citizenship and is an English national.
Fikayo Tomori
SOURCE: intagram@fikayotomori
Fikayo went to a school that puts a lot of emphasis on England. Fikayo attended educational facilities and institutes there as well. Fikayo's parents are initially from Nigeria. Fikayo, however, has refrained from disclosing his parents' entire identities and fields of competence. Fikayo's parents are both of African descent and of English nationality. Fikayo has preserved the identities and sentiments of self of his siblings. When Fikayo was less than a year old, he moved to England with his parents.
Also, read the biography, net worth, and relationship status of Marin Erlic.
English defensive player Fikayo, who plays at the highest levels, frequently utilizes social media. Fikayo favors Instagram above other social networking networks. A blue checkmark indicates that Fikayo's Instagram account has been verified on it. Though Fikayo also uses Twitter, he is more focused on Instagram Concern over access to secret information is greatest among Fikayo's supporters.
Fikayo has 1.2 million followers under the Instagram handle @fikayotomori. On his Instagram page, Fikayo publishes pictures of football-related activities. Fikayo advertises for his patrons and his businesses anywhere he can. Fikayo is one of the English athletes that receive the most online searches and is one of the most followed English athletes on social media.
Football Career
Club Career
Tomori entered the Chelsea Academy at the under-8 level and advanced through the program. He was a member of the Chelsea youth team that won the FA Youth Cup and the UEFA Youth League back-to-back in 2015 and 2016. Tomori signed a loan deal with Brighton & Hove Albion on January 23, 2017, to play for them for the balance of the 2016–17 season. Five days later, in a 3-1 away loss to National League team Lincoln City in the FA Cup fourth round, Tomori made his Brighton debut. He gave Lincoln the lead with his own goal.
Tomori signed a season-long loan with Championship team Derby County on August 6, 2018. On August 11, he made his professional debut against Leeds United in a 1-4 defeat. He was recognized as the "Player of the Year" during his stint with the team. Tomori returned to Chelsea when his loan period was up, where he was handed the number 29 jersey.
Read More.Glen Johnson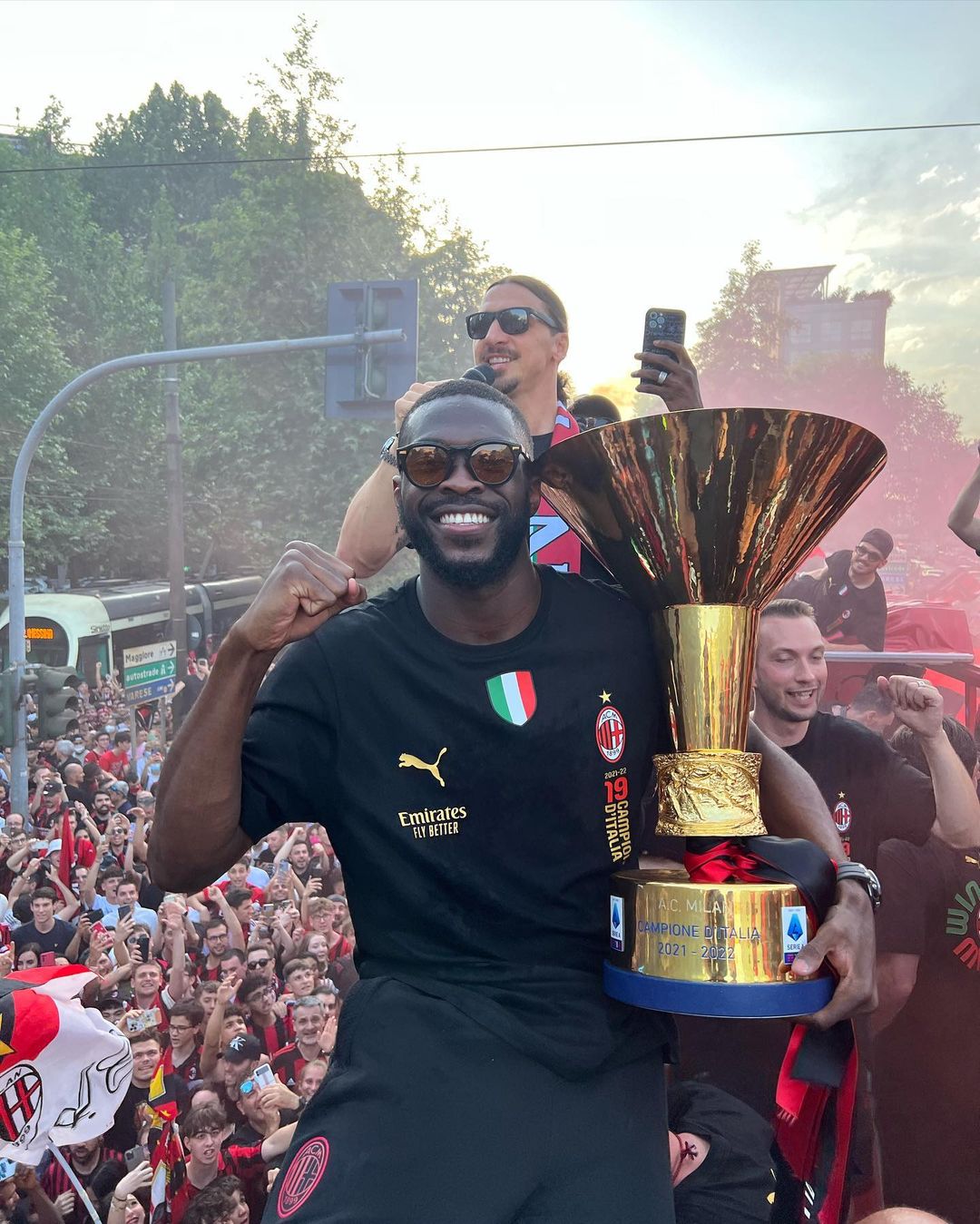 Fikayo carrying Serie A trophy
SOURCE: intagram@fikayotomori
Tomori made his debut for Chelsea against Sheffield United on August 31, 2019, and the match concluded in a 2-2 tie at Stamford Bridge. On September 14, 2019, he scored in a 5-2 away victory over Wolverhampton Wanderers with a long-range curler from beyond the area. The club invoked its £25 million buy option from his last loan, and on June 17, 2021, Tomori signed a permanent contract with Milan that would last until June 30, 2025. Tomori decided to wear Milan's No. 23 jersey.
Milan won their first Scudetto on May 22. Tomori played a crucial role in Milan's defense, which allowed just 31 goals all season (the best number in the league besides Napoli). Milan also only allowed two goals in their final 11 games of the season, which is when the relationship between Tomori and Kalulu began. Tomori extended his contract with Milan until June 30, 2027, on August 12, 2022.
International Career
Tomori qualified to represent Nigeria at the international level thanks to his parents, Canada (where he was born in Calgary) and England (where he had resided since he was a little boy). In a 2020 UEFA Euro qualifying match on November 17, 2019, Tomori earned his competitive England debut against Kosovo, cementing his future with the nation. On his third appearance for the country, Tomori led Canada U20 to a 2-1 victory over England U20 on March 27, 2016.
Tomori with his teammate
SOURCE: intagram@fikayotomori
Tomori's first call-up to the England senior team for upcoming Euro 2020 qualifying matches came on October 3, 2019. Later, after receiving interest from Nigeria and Canada (he had previously played for Canada at a young level), he declared that he was determined to play for England. On November 17, 2019, Tomori made his England debut against Kosovo in a UEFA Euro 2020 qualifying match and will be part of the 2022 FIFA World Cup.
You may uncover a vast range of sports info, gossip, and love concerns on Playerswiki.